I'm sure all of our readers will share the heart-felt sympathy we have for the Japanese people following the recent earthquake.
Japan came out as a strong favourite for us to cover in our country Cloud Computer assessments. The updates in this report include the base data, which now includes Q4 2010 vendor results and the forecast period, which now extends to 2011. Despite the superior spending growth shown in Asia Pacific over the last few quarters we are not predicting strong growth for Japan in latter years of our forecast.
When itemising the numerous spending categories for Cloud Computing the two strongest components are IT Service (of which Internet and Other Services account for the largest part) and Telecom (of which Broadband Service predominates). Of the various Cloud Computing elements Retail Cloud Services dominates current spending due to its inclusion of Broadband and Internet Service: consequentially they contribute strongly to the overall shape of the forecast (see Figure 4). The majority of Cloud Computing spending in Japan will be for services delivered off premise. As with our UK and Dutch sizing activities we started by looking at the total ITC spending by quarter and offering in Japan.
This is quite a generous definition and we even allowed offerings such as printers, gaming consoles, converged devices to be counted for the time they spend associated with these applications. For our latest sizing we have grouped the offerings into new subdivisions in order to make our forecasts more vital. We've been engaged in some interesting discussions about definitions over time and have found some strong disagreements on which classes can be included and whether they can be measured. Of course we have also kept count of the non-Cloud Computing spending in order to judge the relative growth rates and opportunities. The Japanese ITC market is different from many others – in the mobile handset market, for instance, where NTT Docomo helped the country become a very early advanced adopter. It is difficult to compare the attitudes of citizens to other countries, although we suspect that the Japanese are more trusting of authority than those in the UK or Germany for instance.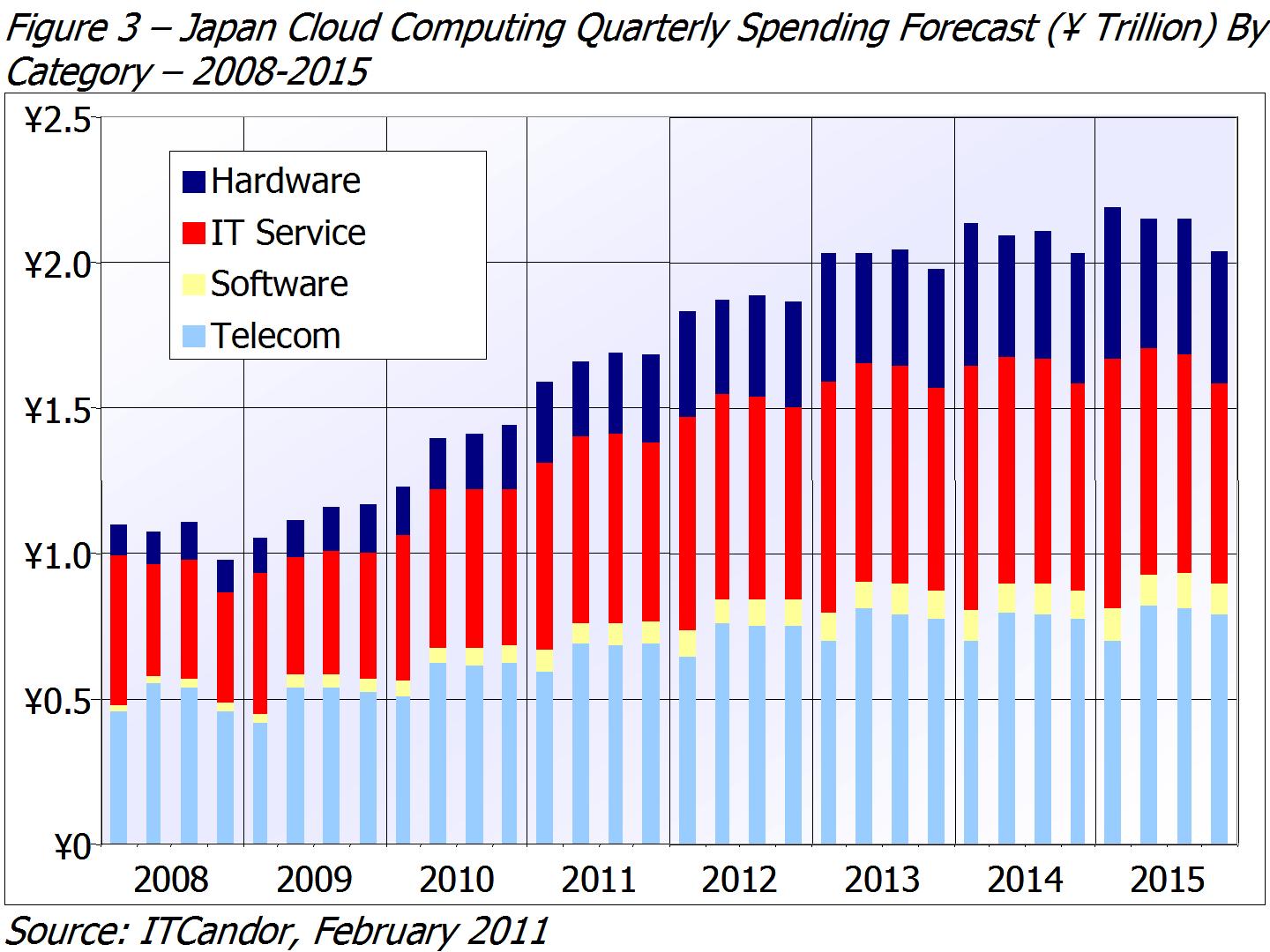 But this is not to say that Japan hasn't got a long way to go to embrace Cloud Computing, not least because the country – like elsewhere in Asia Pacific – is more dependent than the USA on hardware purchases. We believe there will be strong growth for those vendors who embrace Cloud Computing in their strategies – especially if they can use it as a new way to deliver managed services to businesses and better computing experiences for consumers. I found your post interesting and helpful since I am trying to implement an online survey to Japanese companies regarding their awareness of Cloud Computing as well as concerns and challenges they find for their adoption into their processes.
As always the data and forecasts developed here are available for other markets – so let us know if you have specific needs. We've quoted market sizes in Yen of course based on quarterly daily weighted averages as published by OANDA.
We use a broad definition of Cloud components (see later) which favours Telecom service suppliers and its not surprising to see NTT as the leading Cloud Computing vendor.
The combination of Cloud Computing delivering ?2 Trillion per quarter and the tailing off of other spending will see Cloud Computing grow from 15% of the total in 2010 to 26% in 2015. 2010 has shown a strong growth in spending on Cloud Access Devices, which we expect to fall off significantly in the New Year.
While these categories will continue to show strong growth, it will take to a long time after the period of our forecasts before they challenge the size of the two pre-existing services, Broadband and Internet Service. The use of free-to-use social networking, Internet email and backup services is naturally being expanded with the introduction of music and television streaming and other paid-for Internet services. Cloud Access Devices and Cloud Delivery Platforms are the main on premise elements, while we also include half of the spending on Cloud Telecom Connections in this area.
ITCandor believes that more clarity will develop over time for the classes which appear obscure today. When it comes to Cloud Computing there are a number of reasons to consider Japan as one of the key markets. Certainly some of the Cloud Computing activities we have heard of – such as having monitors in all cars to help control traffic lights – have been fiercely resisted elsewhere.
Traditionally it's a country where physical products have been more popular than virtual services. Figure 5 shows the expected development of spending of the smaller areas of RCS – the most talked about elements of Cloud Computing for most American analyst firms.
Equally small businesses (those with less than 100 employees) have found initial Cloud Computing easier to adopt than those companies which run their own IT infrastructure.
Our subdivisions should allow business planners to pick and chose their inclusive classes, ignoring those they exclude.
We predict a strong battle between the managed services suppliers and a new breed of local Cloud Computing suppliers, although it is less likely that the big US suppliers will threaten the dominant Japanese vendors. Google, Microsoft and Yahoo are major players thanks to their Web delivery strengths, although Fujitsu and NEC are also in the top 7. The strongest growth of the various elements is expected in Cloud Development Services, especially in 2011 and 2012.
We don't expect the success of systems companies in building private Clouds for larger companies to lead to those companies spending overtaking smaller organisations and consumers within the current forecast.
As elsewhere Cloud can be cheaper for businesses if customers are prepared to share multi-tenanted sites: if the Japanese are more sociable than others they may make bigger savings. We believe that IBM, Fujitsu and HP's activities in implementing private Cloud for big companies have not yet created significant revenues.
However we note that large companies in Japan account for a higher ratio of spending than they do in countries such as the Netherlands and the UK.
A view of ITCandor's forecast for Cloud Computing spending by company size is shown in Figure 6.