Review How good is the latest iteration of Microsoft's monster development tool, Visual Studio 2013? Visual Studio is the product that has to follow all the twists and turns of Microsoft's developer story.
Visual Studio is loosely coordinated with new versions of Windows, making this the Windows 8.1 edition. The recently released Visual Studio 2013 introduces a new application type called a Cloud Business App. LightSwitch, introduced in 2010, allows you to define data tables using a simple visual designer, and then generates screens for viewing and editing the data.
In Visual Studio 2013, Microsoft has successfully simplified deployment to Azure, so you really can have your web application publicly accessible on an Azure website in moments. The one thing that spoils this easy deployment is that Windows – and therefore Visual Studio – gets easily confused if you use multiple sign-ins, such as more than one "Organizational" (that is, Office 365) accounts, or mixed Organizational and Microsoft (that is, Windows Live) accounts.
Some confusion is hard to avoid, especially given that the IDE now synchronises settings between all the machines upon which you work, provided that you sign in with a Microsoft account. Speaking of the editor, there are some neat enhancements, some of which were previously available as add-ons.
I have heard complaints that CodeLens clutters the code, but you can disable it if you prefer.
For decades, the limitations of spinning disks have held back data center efficiency and constricted architecture decision-making. Hear how Okta automates employee onboarding and offboarding through deep integration between Workday, Medallia's human resources information system, and Active Directory.
This vendor-agnostic guide will help you avoid the pitfalls and choose a solution that really works for your company. If you're in IT, don't make the mistake of assuming that all or even most of this growth will be centered on public cloud services.
The Lightning Migrator is a simple to use tool that enables you to perform your Office 365 Migration from SharePoint On-Premises to Office 365 at Lightning fast speeds.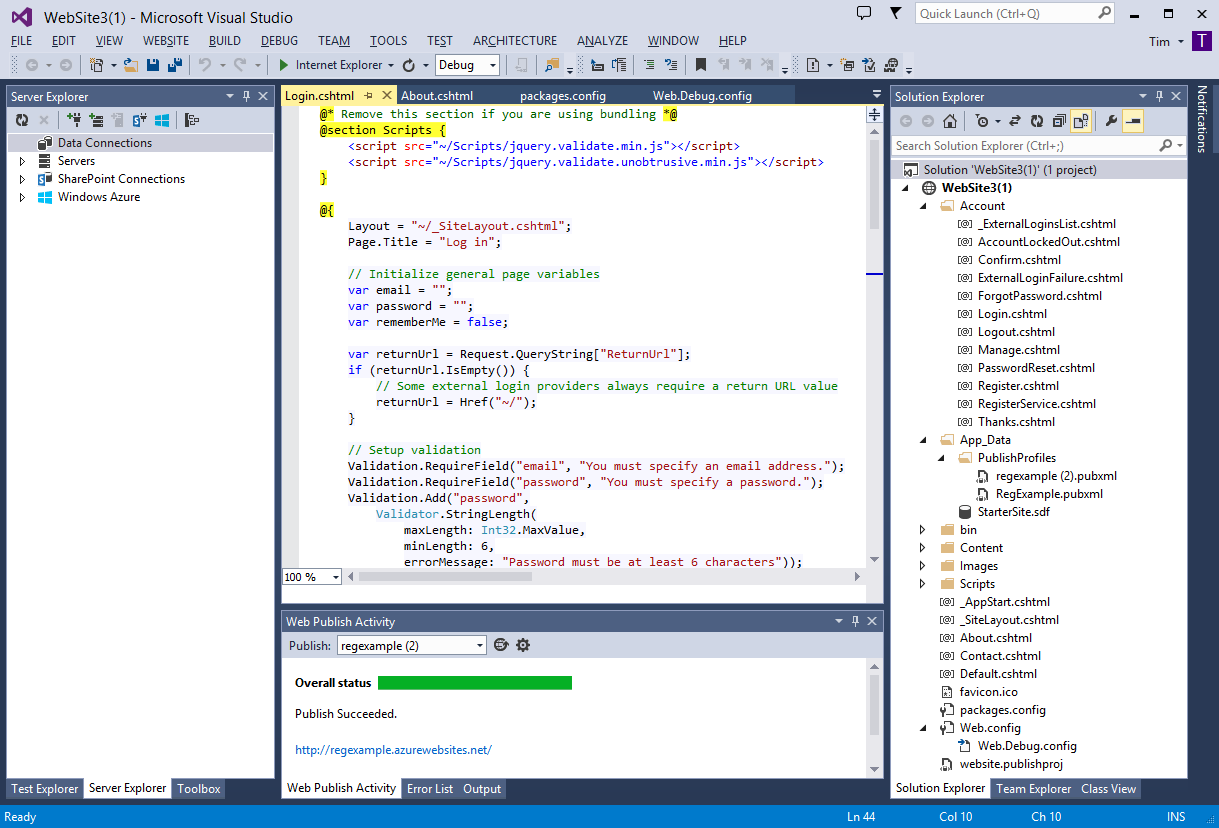 The Lightning Migrator can migrate your content from your SharePoint On-Premises environment to Office 365 SharePoint Online at lightning speeds. Now that the Bing Maps Preview app is in the Windows Store, you can plunge yourself into city streets and landscapes thousands of miles away without ever leaving home. Built from the ground up for clarity, detail and scale, the app showcases more than 70 cities from around the world.
Touch it, tilt it, tap it or turn it to immerse yourself and experience maps in new ways — they dynamically adapt to your vantage point. When you are in Streetside view you'll also see arrows and labels identifying the street, enabling you to tour the city. This app can also help you where you live, too, by saving a favorite route and setting times of the day when you want it to check traffic for you.
Unlike Visual Studio 2012, which introduced a controversial makeover that removed most of the colour from the IDE, this is a relatively minor update, though the size of the product is such that there are still notable changes. This brings together the LightSwitch rapid application builder and the Office 365 cloud platform.
The original version built Silverlight clients, but the latest incarnation supports responsive HTML clients. Lack of documentation and perplexing deployment dialogs spoil the ease of use, as does a bug which prevents the saving of data in debug mode, but I was eventually able to deploy a simple app to an Office 365 team site. One is that building line of business applications on Microsoft's platform is in some respects harder today than it was 10 years ago, hence the LightSwitch focus on easy development. They fall more in the "promising" category, with missing features (no reporting for example) and an odd combination of simplistic tools and underlying complexity. Azure deployment is based on publisher profiles, which the deployment wizard can retrieve automatically after you authenticate with an Azure account. Simply select the content that you wish to migrate, select the target list or library and hit the migrate button.
The target can be an existing list or library whereby you have already created the site structure, or simply select a site.
The app also takes advantage of smart Windows features including Snapview, Windows notification and Live tiles. When you click on an item, you'll see address details and the option to switch to Streetside viewing mode (in selected areas). The split-view map also gives you a perspective to move greater distances without losing your bearings. You can conduct a search for a restaurant or venue and get a route overlay to the destination. Then you'll see real-time traffic notifications directly from the Live tile on your Start screen, or through a notification wherever you are in Windows. Secondly, Office 365 and Azure now form a more strategic platform than the Windows client, since they are cloud-based and can support cross-platform clients. You can also choose an authentication option ranging from internal accounts and Azure Active Directory (which works with Office 365) to traditional Windows intranet.
Choose Web Deploy, hit Next, hit Publish and there it is; a great way to impress clients with a quick prototype. When enabled, this creates hyperlinks above every class and method, showing the number of references to that code, the number of unit tests and how many pass, outstanding bugs and work items, code reviews, and changes.
The hyperlinks work inline, so you do not lose your place in the code unless you click a second link within the window that pops up. Your Office 365 migration can be performed multiple times faster than equivalent CSOM based tools. If you find something you're interested in, you can give friends or family a call with Skype with one click. If you find a restaurant you like you can book a reservation through OpenTable and Windows will automatically snap the app to the side so you don't have to leave the maps preview app.