10.04.2016
76ers guard Michael Carter-Williams dribbles past Timberwolves guard Zach LaVine and forward Shabazz Muhammad during the second quarter.
The Sixers finally ended their extremely long losing streak Wednesday when they defeated the Timberwolves, 85-77. In public, the Sixers will attribute their desire and will for pushing them to the win, but in reality, it may have been because of Tony Robbins. The following article is entirely the opinion of Sean Mahoney and does not reflect the views of the Inquisitr. The Westboro Baptist Church long ago established itself as one of the most despised, and mocked, organizations to ever exist in the United States.
When they first burst onto the scene, Westboro Baptist Church members were quite successful with their rallies, hiding behind the 1st Amendment and law enforcement.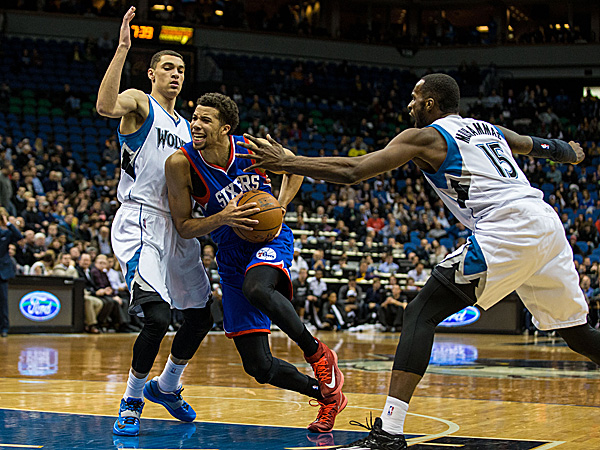 The obvious reactions to Westboro Baptist Church protests usually involved something along the lines of wanting to beat the church members senseless while hurling derogatory names.
More recently, however, Westboro Baptist protests have been met by evermore successful counter protests. Such was the case when the Westboro Baptist Church showed up at Northwest Washington High School in Washington D.C. Led by student organizers, hundreds of Wilson High School students and others from the community, faced off with the anti-gay Westboro Baptist Church members, gathering in front of the school to mount their own peaceful counterprotest, reports the Washington Post.
Along with the Wilson students, others from surrounding public and private schools also came out.
Their Matriarchal figure, Shirley Phelps-Roper, also enjoyed a lot of media attention, giving her additional opportunities to further the Westboro Baptist agenda via blood boiling interviews.
Unfortunately, Westboro Baptist Church members always seemed to very much enjoy these types of reactions. These counter-protests often hurl peace and love, perhaps mixed with some mockery and humor, rather than more hate, back at the Westboro Baptists. Monday morning, to display their displeasure with Principal Pete Cahall, who announced to his students last week during his school's Pride Day event, that he was gay. Parents, alumni, neighbors and members of local churches joined in too, a collective, and peaceful, thumbing of the nose at Westboro Baptist Church.