28.07.2015
In an OK but quickly tiresome segment that seemingly wouldn't end, Judge brought in layer after layer of AAPL discussion on Wednesday's Halftime Report. Pete Najarian said he bought AAPL around 97 and that the BRK guys got in lower a€¦ but Pete was about the only one doing backflips on the program. Then came Toni Sacconaghi, who has a 125 target and said "absolutely" it's "smooth sailing" at AAPL, but only "for now," which he said is important. Kevin O'Leary predicted AAPL trades between 93 and 109 "forever" and said all that matters is whether services top 10% of revenue, and then threw in an "at the end of the day" (Drink).
Kevin O'Leary on Wednesday's Halftime Report said that if he had to pick AAPL or financials over 12 months, he'd have to pick AAPL. O'Leary said if you buy financials now, it'll be the "5th time" you fell for the Fed-is-gonna-hike thing. In an active-vs.-passive debate that seemed to be a referendum on hedge funds, Kevin O'Leary said a lot of hedge funds in 2008-10 started "gating," and as a result trade below NAV.
Steve Weiss made some excellent points about how there are too many hedge funds but that some are definite winners. Judge on Wednesday's Halftime Report gave Pete Najarian a partial Fast Fire on touting TGT the day before. Pete, evidently spurning his brother's general purpose advice a day ago, said he bought TGT on Wednesday at 70.50. Pete Najarian twice in the show mentioned how great it is that no one's talking about Golf Galaxy (Drink). From the dynamic duo who don't get nearly enough time on the Halftime Report, Jim Iuorio suggested the market didn't grasp what "possible" meant from Bill Dudley, and Jeff Kilburg suggested the dollar index is a great sign for Yellen to be dovish. The cameraman caught Mel just before Power Lunch doing an adorable little appearance checkdown. Tuesday's Halftime Report offered panelists another chance to discuss TJX (Drink) as well as Palo Alto (Drink). In another instance of curious math on Tuesday's Halftime, we have the September 55 HAIN calls. But what seemed a potential feel-good moment quickly devolved into a sorry exercise in 1) math, 2) sales puffery and 3) excuse-making, particularly when Judge jumped on the bandwagon to make options trading sound like taking out a CD.
Najarian said the previous HAIN call-buying seemed to "fit exactly" into the WWAV takeout mold.
That's completely fair; he noticed an appealing trade and tried it, and it just didn't work out. Then: "The read I believe was correct Judge," Najarian said, like when the hitter insists he should've been expecting fastball when he got a slider with 2 strikes in the 9th.
He also said Tuesday's move "basically took about 10,000 bucks out of my account today," which suggests that with rounding, the trade probably cost around 12 grand.
Then the type of sales pitch that belongs on overnight cable TV: "If I were in 10,000 shares of the stock, would've lost almost 140 grand. So viewers just learned that those who invest $530,000 in a bad trade lose more money than those who invested $12,000 in the same trade. Honestly, we can't fathom why anyone on Tuesday was paying 15 cents for a September 55 HAIN call. Josh Brown was the only panelist to correctly point out that "the focus on wealth management" is looking in the rear-view mirror, suggesting it'll never be as lucrative as the banks' brokerage businesses used to be. But his CNBC appearances are useless and a waste of time, because 1) he's on all the time, 2) he's constantly pounding the table for one or two of the big banks even though they've been lousy investments for a decade and in bull markets you can do a lot better, and 3) these are boring stocks, proxies on the market in general and vehicles that are far better to work at than invest in.
Judge did thank Mayo for taking his "personal time" to appear on the show and talk about LeBron James.
Joe Terranova said it's "unique" to see an activist stake in a Wall Street bank and suggested it might open a "larger narrative" about whether, after 7 years, banks need to hoard so much cash.
Joe halfheartedly mentioned BlackRock, CME and ICE; the latter two are often touted during market selloffs because of the volatility. Judge, citing FT's dividend report, gave Pete Najarian an opening on Monday's Halftime TO TALK ABOUT HOW AWESOME THE GOLD MINERS ARE!!!!!!!
Speaking of gold, Stephanie Link and Pete talked about the gold standard of second-hand retail, TJX (Drink). Josh Brown said it's "smart" for Tesla to remove the term "autopilot" from its Chinese website.
Judge actually re-mentioned DKS getting Sports Authority's "intellectual property" (snicker), or in other words, its Web address. Joe said, "No one talks about the move in Texas Instruments," which he's fully capable of talking about at any time (including during the commercials apparently). Believability was stretched on Monday's Halftime Report as the gang tried to make TWTR sound like the next Berkshire Hathaway. And assuming it exists, which it probably doesn't, where's the data showing how many cancel or stop logging in after the "major event"? Pete Najarian, who tends to be a momentum trader, said TWTR had a big move Monday and there's been "paper, paper, paper" in the options for a couple weeks.
Jim Lebenthal on Monday's Halftime said Iraq is "pumpinin'" (sic) oil at 5 million barrels a day, and "that in and of itself (sic redundant) is just a huge number," and they're intent on raising, which, combined with other countries having similar intentions, isn't great for the price of crude. Joe Terranova credited Steve Weiss last week for saying the hedge fund community had gotten really short crude. Joe Terranova said HA (half-Drink) is "probably the only investable airline at this point." Jim Lebenthal chimed in with ALK (Drink). Sounds like it's ripe, as CP once was, for one of the greatest corporate turnarounds in corporate history. Pete Najarian said he doesn't see a reason to be in VRX, pointing out Koffler went to neutral, not buy. Jim Lebenthal cautioned that low volatility will enable exaggerated swings and said the VIX is so low that "it's cheap to buy insurance" for the next 3 weeks.
Barely a day goes by on CNBC's Halftime Report where someone doesn't suggest it's a good time to buy a bank stock. For whatever reason (gosh, it's strange how these thoughts come to mind), we started to wonder, when was the last time we heard President Barack Obama claim outrage about Wall Street bonuses? See, we're kind of under the impression that Barack Obama and other would-be critics seem to accept the free-market compensation system while cleverly deploying the term "bonus" when necessary to appeal to their more emotional electorate. Performing a Google search of "President Obama bonuses outrage" or something like that turned up a series of hits all from early 2009 — including some AIG venting in March, and this Jan.
The only thing is, outrages weren't just the domain of Bulge Bracket banks a€¦ but Obama's own government. Evidently, banks have become good enough corporate citizens these days that their compensation no longer inspires outrage. Poser defended a bull call on FL, shrugging off Judge's concerns about mall demise, stating "if you have the right stuff," people will apparently buy it. CNBC's John Harwood made a brief appearance on Friday's Halftime Report, stating some people think the Clintons have made "excessive" money from speaking. Judge speculated that if Trump criticizes something about the Clintons' returns, then people can say he hasn't released his own returns, which "mutes" Trump's criticism. Liesman said the Jackson Hole meeting is "July 25th and 26th, I wanna say." Judge at least corrected it to "August" (twice).
Tackling a punchless opening topic on Friday's Halftime Report, Jon Najarian predicted the market keeps "backing and filling" higher. Jim Lebenthal predicted a "plateau" given that we're in the back half of August but suggested the cash on the sidelines will flow in early September. Anthony Grisanti on Friday's Halftime Report said 1.46% is the next level of support in the 10-year, and through that, we could see all-time lows. Judge and Doc congratulated Josh Brown's NVDA call; Brown mentioned "virtual reality" (snicker).
Kate Moore said BlackRock is getting more constructive on emerging market stocks, including the country of the fortnight, Brazil.
Joe Terranova on Thursday's Halftime reached deep into his greatest hits, telling Yana Barton that Palo Alto (Drink) has been in the "penalty box" (Double Drink) and asking what she thinks. Even though we learned a day ago that the best place to make money is NOT public equities, Stephen Weiss revealed he bought TWTR on Thursday, stating "there's enough noise there" to drive the stock, and maybe the Najarians will even talk about unusual activity. Judge on Thursday's Halftime aired a clip from Trump's morning interview in which Trump asked Judge to define what "mistake" means. In a classy move, Joe Terranova said he wished Trump had referred to the ridiculous and 8th-grade-ish (those are this page's terms) Khan family criticism as a mistake. Yana Barton on Thursday's Halftime Report said "it's still not a pretty picture" in retail. Joe Terranova claimed "a few of us" about 6-8 weeks ago suggested getting long M around 32. Jake Bartlett said the "real driver" of SHAK is not same store sales but "unit growth," which is improving. Jon Najarian explained why he halfheartedly skipped an afterhours trade in SHAK a day earlier. Meg Tirrell on Thursday's Halftime said there are "a dozen different agencies" looking into VRX. Stephen Weiss impressively pointed out that Valeant and other companies won't make allowances for legal fees because then those allowances become targets for settlements. Wednesday's Halftime Report was looking like a rather humdrum, forgettable affair a€¦ until Judge knocked viewers' socks off by inviting CNBC megafox Seema Mody to the table to talk yuan devaluation. Seema delivered a nice recap and mentioned purported Chinese concerns about not wanting to destabilize the global economy but honestly talked too fast for us to keep up. A lot of the folks on CNBC's Fast Money and Halftime Report tend to shy away from discussing politics. O'Leary said he landed in Hyannis 10 minutes after Trump and "was talking to the guys in the airport" and found they're all voting for Trump, presumably because they fear baggage handling being outsourced to Vietnam under the TPP.
Stephen Weiss curiously said he's going to be "neutral" in the presidential politics conversation. Kevin O'Leary claimed that mom and pop farms around Champaign-Urbana are paying gobs to the government in estate taxes when someone dies at their million-dollar enterprises. Jon Najarian said it's a "false premise" to say, as James Stewart apparently did, that the gravy train of ESPN earnings are over. Kevin O'Leary actually suggested Iger should do to ESPN what Jeff Immelt did to his GE Capital unit. Judge's opening topic on Wednesday's Halftime, whether banks are now a buy, seemed a certain snoozer. Kevin O'Leary on Wednesday's Halftime scoffed at fashion stocks and said they just bring volatility to your portfolio.
Scott Nations told Jackie DeAngelis that the only thing keeping crude over 40 is Venezuela and Libya.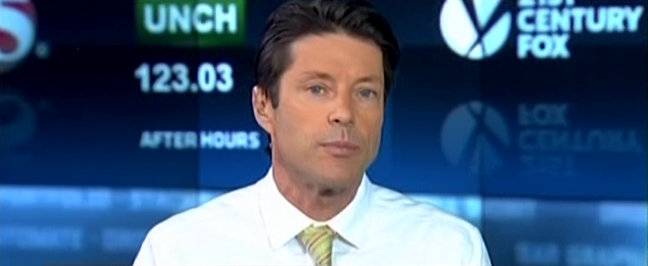 Doc said "luckily" (Drink) he started buying YELP when there was unusual activity, though he took some profits Wednesday. Judge near the end of a rollicking Halftime Report on Tuesday said Carl Icahn tweeted that Trump gave a "great speech" in Detroit. That sort of started the eye-rolling around here, but Judge managed to elicit some reasonable commentary from Icahn, who insisted Trump is "exactly right on" about the economy because productivity, er, capital spending, is at a low for an economy not in recession. Carl hinted that this election is basically going to be like Ross Perot in 1992, a referendum on how screwed do employed people feel.
The only problem with that is that the other end of the rhetoric tends to be a bit, um unbridled, which prompted Judge to ask Icahn if he has "started to question" his own support for Trump. At least one person on Tuesday's Halftime panel has revealed contributing to Trump and attending an event. What we do doubt is the government's interest in shutting down this company, given that it didn't seem to care until a rich guy made a big short-selling presentation, and after that, only mildly.
So Herbalife has apparently exerted some kind of Jedi Mind Trick over government, the Internet, the legal system and Wall Street. Maybe the problem for Ackman and Fichthorn is that they haven't been able to reach all of Carl Icahn's Archie Bunkers out there. Judge asked Fichthorn why he quietly financed the movie when everyone would think Ackman was behind it. He shrugged off the 60something price of HLF and curiously said, "I think stocks largely are decoupled from their fundamentals, but the fundamentals at Herbalife are still fine, right?
More interesting than the recycled Herbalife conversation on Tuesday's Halftime was John Fichthorn's description of a company we'd hardly heard of, Primerica. Jim Lebenthal on Tuesday's Halftime Report said he's long DIS and thinks the bad news, a year old, is priced in. Joe Terranova stressed that it's a story about all the financials and not just a banking story.
Perhaps trying to rebound from a Brexit forecast bungle (that was basically correct in the long run), Joe Terranova on Tuesday's Halftime said he "fully" expects the Fed at Jackson Hole to telegraph a 25-basis-point hike in September.
Stephanie Link curiously said "we gotta get through earnings first," even though it seems earnings season has gone well. Fichthorn said automotive is in "kind of the beginning of a, of a down cycle." He said KMX and HOG are most at-risk. Jim Lebenthal admitted he's long GM and said the valuation would only be relevant if there's a recession coming.
We thought, given that he was speaking during the Halftime Report, that Donald Trump would complain about Tesla disclosure and identify some unusual options activity. Nearly the entire hour Monday was turned over to Trump's speech to the Detroit Economic Club, but Judge was able to squeeze in a few words from his obviously overstocked panel. Jim Lebenthal said he sees a lot of pro-growth measures in Trump's platform, but "I've got one big problem with it.
John Harwood curiously said Trump's deficit of 8, 9, 10 points is "a very large margin in American presidential politics," news to those who remember Jimmy Carter +33, Bill Clinton +30 or even Mike Dukakis +17. Ben Laidler, dubbed "the biggest bear on the Street," cited "economic policy uncertainty" around the world for his market cautiousness on Friday's Halftime Report. Josh Brown grumbled that "we keep hearing this thing about manufacturing is is, you know the underlying data is not- it's not coming back, guys.
Friday's Halftime opened with a panelist cheerleading session as everyone gushed about tech stocks and FANG (at least the first 2 and last letter; if you drop the 3rd letter, which some seem inclined to do, it becomes a much different acronym).
Jon Najarian said GPRO is up 27% for the last month and predicted the tech run keeps going. Judge asked Doc why Doc doesn't own AAPL when Judge already knows the answer (there wasn't heavy option activity). John Spallanzani suggested people were looking at AAPL in the low 90s because it's a bull market, and people are looking for discounted stocks to buy.
Doc trumpeted how great the online brokers and life insurers did Friday and pointed out which ones were a "great opportunity" to buy prior to Friday, for those able to do retro trades. We think Josh Brown said "the vicissitudes of fashion" in stating he doesn't endorse COH or KORS.
Josh Brown bought BMY "immediately, right on the open." Brown said maybe non-pros don't understand, "Risk actually goes down as a stock plunges like this. Scott Nations told Jackie DeAngelis that gasoline was actually up Friday, so it was the dollar leaning on crude.
Doc actually got Fast-Fired on his dreadful FEYE call buy but contended he saved himself gobs of money by using a spread. Joe Terranova on Thursday's non-Ackman-is-the-greatest-stock-market-genius-of-all-time portion of the Halftime Report asked Steve Liesman how the Fed restores lost credibility.
In the minutes of Thursday's Halftime Report in which they weren't talking about the greatest corporate investment in the history of corporate investments, Jon Najarian cracked open the door a bit on an apparent issue with Square. Judge for some reason, like those "Price is Right" games where people affix 3 prices to 3 items and then have to switch them around, forced all the panelists to rank Nike, Under Armour and adidas in the order of gold, silver, bronze.
Dane Leone of BTIG said biotech is in the "early stages" of recovery, so you want to pick the clear leader, which is CELG, which he gave a $138 target. Doc really didn't say much of anything about PWR except it had a bad miss and weak guidance. Evidently, anyone who sells a stock at a profit gets the first 11 minutes of the Halftime Report. Judge said he spoke to Ackman prior to the program (not sure what prevented Bill from going on-air again) and that Bill reported making $2.6 billion on Canadian Pacific, which Ackman called a "great example" of shareholder activism. Kate Kelly, apparently assigned to the desk to play the bad cop on this day, said the timing is helpful for Bill because Pershing Square is down 19% through July.
Our government decided "there's enough bad publicity about this; we better say something or else we might look asleep at the switch like 2008 or Enron" but otherwise declined to co-sponsor a rich guy's stock market gambit.
Doc said PSX, because he likes the stock and Buffett likes the stock (and Judge pointed out Ackman was called "Baby Buffett" by Forbes).
Judge's hyperbole at the top of the program seems to be an overreaction to Bill's carping on Monday, May 2, that despite the fact Judge conducted a first-class interview, "You list our worst investments. The good news from this dubious segment is the implication that Bill still has Judge on speed dial and presumably will make further contact with the program. Extending a recent dubious trend, Judge's opening on Wednesday's Halftime Report was so useless, we virtually fell asleep (and should've). The hook was supposedly whether the "smart money" naysayers are correct in predicting correction. Weiss credited Joe Terranova for touting PSX; Joe mentioned adding it to his Halftime Portfolio a few weeks ago. Jeff Kilburg said the anemic GDP number "chop-blocked" the dollar, but he expects it to resume its upward bias.
Steve Weiss knocked the "poor corporate governance" (Drink) of TSLA-SCTY and said it's "lunacy" to think of Tesla buyers picking up some solar panels.
Weiss said HLF "mildly avoided being deemed a pyramid scheme" and called the stock a short. Jon Najarian on Wednesday's Halftime said KATE had "just a nightmare," but he put on a longer-term spread because of the shellacking.
Stephen Weiss said hospital stocks just can't get out of their own way and suggested managed care instead. Weiss said he likes NBIX and explained how some drug companies have "mortgaged the future" by reaching arrangements with big-cap pharma. Tirrell said Read thinks both parties believe in the "inherent" (sic) (Drink) innovation of the pharmaceutical industry. Tirrell turned the tables on Stephanie Link, asking Link if she wants to be in LLY ahead of Alzheimer's drug data.
Pete Najarian said the dividend is the "most interesting" thing about STX and a reason to own it. But everyone on Monday's Halftime Report seemed to think it's not the time to jump into oil equities. But now, Joe said he needs to see "further liquidation on the equity side" in the energy and materials space. Joe indicated energy is more of a long-term play and not a good trade for the next couple of months.
Stephen Weiss opted to offer viewers of Monday's Halftime Report a public service Trade School. Weiss said you have to divide biotech into "emerging biotech" and "mature biotech." (Which saved Pete Najarian from having to say, "The biotechs! Weiss you can't own the "emerging" names unless you're a pro, then he pointed out he's long SRPT and likes the sector (presumably the "mature" variety). Josh Brown said Judge's "round-trip" claim of GE is "much ado about nothing," given that the stock's covered about a whole dollar and a half.
Dana Telsey said LB in 3-5 years will be "stronger than it is today." Telsey also mentioned "bralettes" (the WSJ recently did a great feature explaining the bra scene). Pete Najarian said Telsey likes LULU and TJX, and the "only problem" he has with those is that they're around 52-week highs.
In an opening that simply refused to end, Judge handed over Monday's Halftime to another Kevin O'Leary dividend speech. O'Leary offered that "at the end of the day" (Drink) (4 times) (seriously), dividends are the mother's milk of stock market returns. Meanwhile, Steve "risk-off" Weiss said the hunt for yield continues, and the 10-year can reach 1%. Josh Brown on Friday's Halftime said each of the FANGs has something "idiosyncratic" going for it. Jim Lebenthal said, "I really don't believe that FANG is a useful acronym anymore," stating NFLX should "obviously" be taken out of the mix. Josh Brown suggested DDD NVDA as a replacement for NFLX partly because of "virtual reality" (snicker) and was allowed to talk up this concept for several minutes during the program. Terreson predicted $60 a barrel by end of 2017 and suggested the "abundant" bad news is already in the stocks. Josh Brown backed XOM and CVX and called those names a "smart place" for investors seeking total return. Meg Tirrell, who's letting the hair grow long, explained on Friday's Halftime why MCRB was taking a hit. Jim Lebenthal said the biotech rally "doesn't seem to be lasting." But Josh Brown said buyers are "back in control" in the biotech space. Jim Lebenthal said you want to stay out of stocks that are having a "troubled merger" such as CI. Judge on Thursday's Halftime for some reason tried to push a very reluctant panel into discussing Ford; no one was the least bit interested, and the crucial opening minutes were about as exciting as the 4th quarter of a Tampa Bay Buccaneers preseason game.
Joe Terranova said "peak autos are here" but told Judge that's not what would take the market down. Pete Najarian said it's "way overplayed" that Ford is "a great read-through" on the economy.
Judge on Thursday's Halftime brought back Rich Greenfield so that Greenfield could explain his (snicker) downgrade of Facebook last Friday. Greenfield admitted he missed the "blowout" quarter but, seeing the stock come in since Wednesday's aftermarket, "I think there is really a fear of decelerating growth in the back half of this year" and especially 2017. Joe Terranova said the one thing people are underestimating about FB is its international potential.
Jon Najarian on Thursday's Halftime Report reiterated how he called AMZN a sell into Prime Day but said he now thinks they'll knock the earnings out of the park. Joe Terranova said he's "rather apathetic" toward GOOG's direction but said he'd be "more inclined" to look at AMZN, FB or even NFLX.
The talk of the Halftime Report was (Zzzzzz) AAPL, but it was FB dominating the opening of Wednesday's 5 p.m. Karen Finerman though said the stock has "a ways to run" and that FB at 131 with the quarterly update is better than 122 without Wednesday's info.
Defying gravity, Pete Najarian on Wednesday's Halftime said Apple service revenues are starting to "slide up" (sic).
Kevin O'Leary said "the services number is getting interesting" and then claimed the "kicker" to the AAPL story is the possibility of Trump allowing it to repatriate (snicker) at 10%. Later, he piled on, calling AAPL a "huge laggard in technology" and pointing to its hardware slide as not meriting the term "staple.""You don't see those kind of drops in product sales in staples. Gillis had to defend his recent negative AAPL opinion, telling Judge from the floor of the NYSE, "absolutely I do not regret making that call" and shrugging off Apple's "typical" quarterly move.
Josh Brown said "I don't understand" how Weiss could argue AAPL is not a "staple." But Weiss got a chance later on for the same debate with Tavis McCourt. Judge on Wednesday's Halftime brought in CNBC superfox Meg Tirrell, who's letting her hair grow long, to lead the interview with Kadmon CEO Harlan Waksal, who insisted "the present is what is important," not whatever Sam Waksal did back when. Judge said the company has an "enormous amount of debt" and "enormous rate of cash burn" and asked Waksal how he can assure investors. We couldn't figure out why anyone should get excited about 1) the stock or 2) the interview; Waksal said "it's hard for me to know" why the stock was slumping Wednesday.
Doc said X has had a "phenomenal" run, and he laments not keeping it longer in his Halftime Portfolio. Judge decided to shake up Tuesday's Halftime with one of the toughest gets on CNBC: Dick Fuld Jim Cramer. Jim Cramer started off saying there's a "weird restaurant ennui" going on, likely the first time we've heard "ennui" on the program. Pete Najarian affirmed he's got MCD calls and admitted he "probably should be cutting them off" but nevertheless insisted there's "something to hang your hat on" in the report. Joe Terranova said the restaurant space isn't bad if you're in DPZ, but if you're in TXRH or NDLS, you're having a rough day.
Steph Link mentioned LULU and said "the easy money's been made in this group" but said NKE is probably the most appealing of the bunch.
Joe said he likes the direction of UA inventories, and he's OK with taking a shot at the stock in the mid-30s. Atul Lele, a Halftime Report guest on the same program as Jim Cramer, predicted the Fed would be "more aggressively" raising rates (snicker) than the market thinks.
Pete Najarian and Jim Cramer praised Steve Wynn's stock buy months ago when WYNN rolled over. Scott Nations said Morgan Stanley's $35 crude call is "pretty optimistic," but the direction's right.
Joe Terranova said the problem in oil is that everyone is looking for the "home run trade," while the "easy money is over." Joe predicted Brent will begin to outdo WTI, which will help refiners. Judge began Monday's Halftime Report with a fresh update on whether the Hillary Clinton tweet permanently destroyed biotech stocks. Les Funtleyder said biotech historically is "battered down by Democratic administrations, only to run a lot afterwards." But he did caution that biotech is sensitive to rising rates (snicker). Pete Najarian on Monday's Halftime said September 130 calls in MCD were popular, and he bought the calls. Stephanie Link said MDLZ might get HSY, which would be good, and if not, might get gobbled up by KHC. Judge referred to "Nordstroms" (sic) (Drink) and then handed off the subject of retail to Pete, who said virtually nothing. Ross Levinsohn claimed Yahoo is a "scaled player that's an alternative, uh, to Google and Facebook that, that really is focused on premium content" (snicker).
He claims he didn't watch anything that was all over prime-time cable television this week? The president's press conference with Mexico's president ate up nearly all of the Halftime Report, but Judge did manage to squeeze in a few moments on Facebook and Rich Greenfield's downgrade to neutral.
Greenfield said, "I think expectations is really the issue here." Which is what he or anyone could say about 7,000 stocks.
Sechan added that the fear factor is fueling stocks; "When we stop worrying, we stop rallying. Josh Brown said he "absolutely" thinks a GPRO earnings beat could happen, and if so, that's your opportunity to exit.
Josh Brown explained how Italian mom & pops could vent their wrath in an Italian referendum that could cause a selloff. Judge on Wednesday first said the Dow had hit "16-8" before correcting himself, then got tripped up over what NHTSA stands for. Have Pershing Square staffers found a replacement 'fun little activity' now that HLF has settled? But Guy Adami suggested the multiples may not be any higher if certain bank entities don't have the backing of the overall company's balance sheet. The Halftime show didn't feature Doc bragging about scalping NFLX from the Monday afterhours "whoosh" featured a tired refrain of Netflix headwinds. Kevin O'Leary said it's "very disturbing" that Netflix is talking about spending $6 billion on new content. Ross Levinsohn is a likable and capable fellow who should be running something really big right now. But when it comes to opining on the worth and future of Yahoo, something he's asked to do about quarterly on CNBC's Halftime Report, you'd be more likely to get a pointed opinion from Dwayne "The Rock" Johnson.
Explore commentary on Qualcomm Inc and hear what the experts at TheStreet are saying about QCOM. He said he agrees hedge funds have been "significant underperformers," but so have long-only mutual funds. Bob Iaccino said crude goes "a little bit sideways." Brian Stutland though said he sees new 52-week highs in crude. In February 2010, the president was asked about Lloyd Blankfein's $9 million bonus and Jamie Dimon's $17 million bonus.
Doc said he's owned it "basically" since Judge "called" (sic actually emailed according to original story) Steven Ballmer and Ballmer said no comment. Joe also said the SHAK experience would be much better if you could order ahead of time online. Fichthorn conceded the sector is "cheap" but claimed that after rising $10,000 over 10 years, car prices are going down. According to the disclosures listed for Spallanzani during the program, he owns calls in basically everything. Fast Money crew got a whole show's pay for delivering a Final Trade as more than 50 minutes were preempted by a presidential press conference, which sacrificed a pair of great outfits and hairstyles from Missy Lee and Karen Finerman. But he admitted Jana has already been an activist in the name, and that Ackman hasn't dabbled in that space before. But Pete Najarian said "quite frankly" the most impressive thing about TSLA is how "Teflon" the stock is. 1 financial advisor, Andy Chase of Morgan Stanley Private Wealth, must be a big deal, because Tuesday he got even more time on the Halftime Report than Bill Ackman generally enjoys. Joe Terranova said a lot of KR analysts are throwing in the towel, which is when you want to buy. Steve Liesman countered that according to the WSJ, neither candidate is talking about that.
Doc said repatriation "proposals" (snicker) could either be a big positive or big negative.
Brian Stutland, whose name was misspelled in the graphic, said he thinks gold hit a "brick wall" in the morning, but he'd buy around 1,310 or 1,320 and watch it go to 1,400. On the Halftime Report, Pete Najarian (who did double duty) actually mentioned the "VR" element (snicker) of FB. Jim Iuorio said he's got a 38 target and is building his thesis on a possible Fed tightening in September.
Mark Schoenebaum, given the opening of the program, did not say VRX is the Rodney Dangerfield of stocks but touted BIIB, explained what's going on with CELG and GILD, then lukewarmly endorsed PFE in the big pharma space. Bob Peck, who accelerated Ross Levinsohn's TWTR-buyout timeline to possibly sometime in 2017, said he couldn't discuss ratings but did take his NFLX target down to 110. They took $165 billion in money from the government and now they're going around giving out bonuses and giving people bonuses that really, in many cases, did not do a very good job and, in many cases, took the bonus and left right after the bonus. Josh Brown questioned, "At the end of the day' (Triple Drink), what's to like about MU when it can't control its market. Nobody at least on the Halftime Report or this page is suggesting he's a bad guy or a lousy investor.
Jim Lebenthal knocked White's "here comes the sun" suggestion but said he's in the stock because "it generates a ton of cash." Josh Brown said he's long but doesn't need it to go to 185.
Terreson didn't really answer that question but said he thought early in the year that refiner estimates were too high and still sorta thinks that, though some valuations have gotten interesting.
If you make a national presentation out of at least 3 investments, and all turn out to be awful, one of which involves a company that piles on debt with the goal of raising drug prices to pay it off a€¦ what's a TV host supposed to do, pat you on the back? Jul 29, qualcomm stock buy or sell 2015 Find out the latest news headlines for QUALCOMM Incorporated QCOM. Buy, sell and hold ratings for QUALCOMM Incorporated QCOM stock -- includes historical recommendations and average analyst recommendations.