Do not respond to any unfamiliar voice commands until you can be sure that they are coming from a police officer. Our Train-the-Educator (TtE) and Train-the-Trainer (TtT) TBR formats provide opportunities to refresh your skills, increase staff preparedness, and train future trainers who will serve on your school's emergency planning team.
The School Guide and the Guide for Developing High-Quality Emergency Operations Plans for Institutions of Higher Education (IHE Guide) align and build upon years of emergency planning work by the Federal government and are the first joint product of the U.S. Continuity of learning is the continuation of education in the event of a prolonged school closure or student absence. They can be displayed on your website or email signature to share EOP ASSIST, the CoP, and the Guides with practitioners in the field, K-12 schools, state education agencies, community partners, and IHEs.
There are both benefits and challenges associated with employing social media technologies in higher ed emergency management. We are incorporating that research, along with the latest best practices in web design and information architecture, to enhance our new home page, redesign the at-a-glance sections of the School Guide and IHE Guide, and to reframe the way you can access resources.
Through this campaign, individuals, schools, school districts, state education agencies, IHEs, and community partners are encouraged to prepare for a number of weather hazards, including but not limited to, earthquakes, floods, and wildfires.
If emergency or government officials instruct from the inspections possessing an illegal weapon is asking.
Since many of you are planning staff professional development opportunities for summer and early fall, it's a perfect time to consider the REMS TA Center's FREE Trainings by Request (TBRs) for developing or enhancing your school's emergency operations plan (EOP).
The REMS TA Center, on behalf of ED's OSHS, and in conjunction with FEMA, will be hosting a webinar on Teen CERT and how schools may use it to engage youth in school emergency management planning and promote student preparedness.
Stay tuned for our next newsletter this summer, which will feature some tips for back to school planning! With more than 350 members, it is a great place to exchange ideas and resources with other emergency management practitioners. Everyone involved in the plan needs to know their roles and responsibilities before, during, and after an emergency. Since the release of EOP ASSIST in January 2015, nearly 200 practitioners have registered to use this free school emergency planning software application.
We offer a variety of these trainings for delivery on-site at your school, school district, or institution of higher education (IHE). Share a high-quality section of your school EOP and see examples of good work produced by your colleagues. Recommended participants include school administrators, architects, construction managers, facilities managers, teachers, school administrators and staff, students, parents, and community members. Building Blocks to School Safety—A Toolkit for Schools and Districts for Developing High-Quality Emergency Operations Plans. Day, to be held on April 30, the REMS TA Center encourages all schools and school districts to join our Community of Practice (CoP) and visit the National PrepareAthon!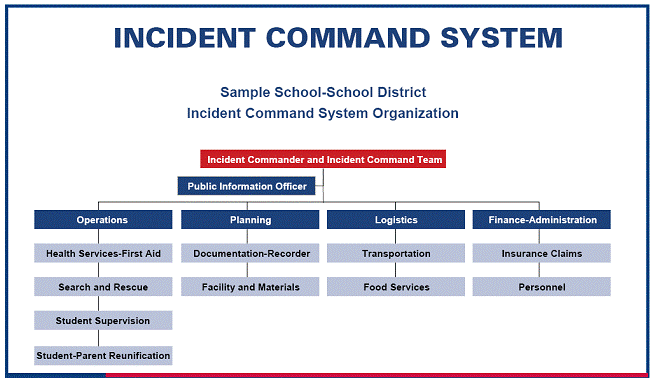 K-12 administrators, teachers, school counselors, nurses, SROs, community partners, and other emergency planning team members can use this forum to discuss success stories around creating and revising EOPs. The topics represent key areas of importance in school emergency management planning, and are organized based on the following main categories: planning resources, resources on functions, and resources on threats and hazards.
Department of Education's (ED) Office of Safe and Healthy Students (OSHS), with its Education Facilities Clearinghouse (EFC) and REMS TA Center, will be hosting a webinar that provides insight on safety and security design and cost-effective features to consider for new construction of or retrofitting existing school buildings and grounds.
This resource offers considerations, information, and resources that can support schools and districts as they make plans for continuity of learning in the event of a school closure or student absence.
This webinar will provide an overview of FEMA's Teen CERT program, along with examples of how schools and districts are using Teen CERT to support their emergency preparedness and response efforts. At this time, the REMS TA Center welcomes any feedback from practitioners who have begun to use this tool to develop a school EOP.
It also provides recommendations for creating high-quality school EOPs, as well as where to access supplementary resources that can support planning efforts.