The Fire and Disaster Management Agency (FDMA) of the Ministry of Internal Affairs and Communications started operating the new Centralized Management System for Fire-fighting and Disaster-relief Helicopter Operation (hereinafter called the "New System") in April 2014, in which the technology of the Disaster Relief Aircraft Information Sharing Network (D-NET) is utilized. Other functions and user-operability have also been significantly improved such as transmitting a message in a written form about a registered location or disaster status from an air-born helicopter to the ground by working with the NMS-01, a map information display device for helicopters of NAC. Emergency Response and Disaster Management are different domains of activity with different information sharing requirements.
The function is now commercially available at NAC as part of the function of the NMS-01, a map information display device for helicopters.
The standards work of the Open Geospatial Consortium (OGC) plays a key role in addressing this need.
The "New System" is also able to share information with other aircraft management currently in use, so it is expected to spread further in the near future. Although aircraft played a major role in disaster relief in the aftermath of the Tohoku earthquake, it has become apparent that improvements are required in information sharing, mission coordination and enabling all-weather operations. JAXA is contributing to realizing a safe and secure society by steadily advancing projects for the next-generation air traffic management system (DREAMS), which will provide key technologies to achieve the safety and operational efficiency goals of CARATS, Japan's long-term vision for its air traffic management system. With a view to creating the world's first system of its kind to improve the safety of passengers and crew, JAXA is conducting research and development of onboard safety avionics technology to prevent turbulence-induced aircraft accidents (SafeAvio) that uses Doppler light detection and ranging (LIDAR) to detect turbulence in advance and automatically control and suppress the lurching of the aircraft.
Rescue operations within 72 hours after a natural disaster are by far the most important in the event of a disaster. JAXA supports enhanced provision for an eventual large-scale disaster by developing the necessary technologies to implement "Integrated aircraft operation system for disaster relief (D-NET2)", which assists collection and sharing of disaster information through the integrated operation of aircraft such as helicopters, unmanned aerial vehicles (UAVs), and satellites, for efficient and safe rescue operations by disaster relief aircraft.
Many aircraft played a significant role in after the aftermath of the Great East Japan Earthquake and Tsunami which hit Japan in 2011.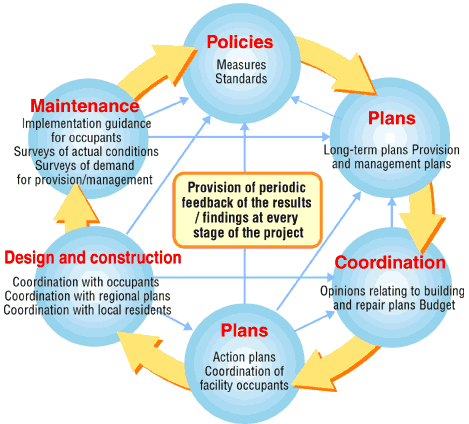 When a large-scale disaster such as an earthquake occurs, many helicopters fly into the disaster-hit area from all over Japan to conduct relief operations such as information gathering, emergency rescue, and transportation of people and goods.
However, yet many challenges remain in the development of even safer and more efficient aircraft operation technology in the view of the predicted future large-scale disasters. The system is an updated version of the operation management system using conventional mail format to that with the server client format, thus it is robust even at the time of a disaster. The information contents were decided after discussions between JAXA and agencies responsible for fire-fighting, disaster prevention and medical helicopters. The net result of open standards is that Emergency Response and Disaster Management stakeholders have more information available to them before, during and after an emergency or disaster occurs. To strengthen the capability to respond to any future large-scale disaster, JAXA is pursuing the development of a disaster relief aircraft operations control system to make safer and more effective use of disaster relief aircraft assets. With the DREAMS (Distributed and Revolutionarily Efficient Air-traffic Management System) project, we are conducting research and development to provide key technologies to be adopted as international standard in order to realize ICAO's (Global ATM Operational Concept) as well as to contribute to operation-related agencies by transferring technologies. Because the functions of ground transportation networks have diminished capacities during this period, effective use of aeronautical and space equipment is of the utmost importance for optimal operation of disaster relief aircraft. The conventional operation management system allows FDMA centers to track the position of all helicopters equipped with the system in real time no matter where they are in Japan.
JAXA has been developing a Disaster Relief Aircraft Information Sharing Network (D-NET) that enables more efficient and safe aircraft operations management by promptly allocating an optimum task to each aircraft depending on its capacity and functions through data communication and information processing technology. Adding to this, the new D-NET based will enable sharing of information including details of disaster-stricken areas and their status among centers and helicopters (seven aircraft as of March 2014).
Systems that implement OGC standards reduce the time required to find, analyze and update crucial information.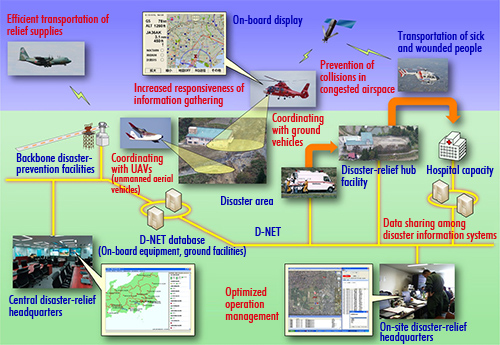 Speeding the flow of location information means more lives and property saved and less risk for first responders. The system includes satellite observation and communication for greater efficiency and information management capability. The FDMA and JAXA will continue to cooperate in order to contribute to the smooth collaborative activities among ground offices such as disaster-relief headquarters and aviation operation HQs in the case of a large-scale disaster, making possible more prompt relief activities based on safe and efficient operation decisions. Since 2009, JAXA has been evaluating and renovating this system in cooperation with the Fire and Disaster Management Agency (FDMA) and Kobe City Fire Department.
The "New System" is compatible with the D-NET data standard, which summarizes the necessary information that should be shared for safe and efficient disaster relief operation planning.
JAXA is also developing technologies to expand the use of unmanned aircraft in disaster relief operations. The new Centralized Management System for Fire-fighting and Disaster-relief Helicopter Operation introduced by the Fire and Disaster Management Agency (FDMA) of the Ministry of Internal Affairs and Communications was developed based on the IMS-01, a helicopter operation management system of NAVICOM AVIATION CORPORATION (NAC).
The efficiency of D-NET has been evaluated and verified at the disaster-prevention day comprehensive drill and wide-area medical transportation drill on September 1, 2012, as well as at the "Kinki Region Emergency Fire department support drill" on October 27, 2012.