On a cold January night in an icy church in Boston, I stood amongst more than a hundred Haitian community members feeling a strange proximity to the tragic earthquake that struck earlier that day in a hot distant island about which I knew little at the time. New to public health at the time and with the events unfolding so rapidly, there were many aspects of the response that hold a lot more meaning to me now that I more regularly engage in emergency response work.
The Commissioner of Public Health for the Commonwealth of Massachusetts, and my boss at the time, John Auerbach, summed up the experience saying, "We needed to be responsive to the behavioral health and other immediate needs that were associated with an event outside of our state and outside of the nation. Haitian Americans desperately tried to locate friends and family members in Haiti and, in some cases, get them medical care. Another aspect of the response was to coordinate reunification, transport and housing for long-term medical care for Haitian American victims of the earthquake. This was my first experience as a professional working on an emergency response, and it inspired my career path and my approach to cultural competence and working with vulnerable populations in a crisis. Comment All comments posted become a part of the public domain, and users are responsible for their comments. A recent Red Cross survey asked 1,058 adults about their use of social media sites in emergency situations.
Immediately after the earthquakes struck Haiti, the Ushahidi team adapted the platform for crisis reporting and mapping for the area.
Most people are already familiar with the American Red Cross and the speed with which they jumped into action after the January earthquakes. In a June 2010 survey of the DomPrep40, an advisory board of disaster response practitioners and opinion leaders, nine out of 10 respondents said they are not staffed to monitor social media applications and respond in a major event. I think we will see a continued growth of real-time action and information based services for emergency response and I'm hoping it means that organizations and responders can leverage that data and those tools to integrate them in the efforts they already take. The 2010 earthquake in Haiti occurred when I was exploring the field of public health and working in the Commissioner's Office at the Massachusetts Department of Public Health (MDPH).
From this experience I gained new perspectives and lessons on the impact of a local response to the international disaster. Massachusetts has one of the largest Haitian diaspora populations in the US with about 150,000 Haitian Americans. We hadn't anticipated that a global event could require this type of internal state-specific emergency response. Working with CDC and HHS' Office of the Assistant Secretary for Preparedness and Response (ASPR), MDPH reallocated emergency funds to address the needs for this unique situation, where the event occurred in another country but assistance was needed at home.
Additionally, an influx of Haitian children orphaned by the earthquake were adopted by relatives in Massachusetts. The earthquake highlighted how mental and behavioral health needs to be included in emergency planning–trying to address these needs in the midst of a crisis is challenging and potentially harmful. Auerbach said it best in his reflection of MDPH's response to the Haiti Earthquake, "We prepare for all-hazards but need to be flexible and aware that work plans can completely change.
I'm joining a panel to talk about the response for support after the Haiti earthquakes last year.
It found that if they needed help and couldn't reach 9-1-1, one in five would try to contact responders through a digital means such as e-mail, websites or social media. The photo or video taken on a phone and then posted to the web can change the conversation, alert news media to issues or new developments, and change the course of response. Anyone in or outside of Haiti could use the tool via the web or on a mobile phone to make reports with voice, text or video; the reports were then mapped and sources verified. Within just three hours of the earthquakes hitting Haiti on January 12th, the Red Cross had set up a mobile fundraising mechanism that let people donate $10 (or any other amount they wished) from their phone by sending HAITI to 90999.
This system allows families to search through images taken post-earthquake in Haiti, and specify certain characteristics. As organizations, responders, and service providers prepare for disaster response and create strategies to continue improving, remember that we continue to increase the level to which the global community of citizens feels embedded and integral to local support. Yet, 90 percent of respondents also felt that the public expects some action based on social media applications. The impact of the Haiti earthquake on Boston's Haitian community offered a unique view of how a state health department can respond to an international emergency to serve diaspora populations within its borders, the importance of mental health in emergency preparedness and response, and community resilience. It also has some of the nation's top hospitals and international organizations, including Partners in Health, which was already an established medical entity in Haiti. My contribution to the panel is to provide context about the use of social media in emergency and disaster response as well as an overview of some of the tools we saw deployed last year and we may see in the future.
If web users knew of someone else who needed help, 44 percent would ask other people in their social network to contact authorities, 35 percent would post a request for help directly on a response agency's Facebook page and 28 percent would send a direct Twitter message to responders. Volunteers stepped up to translate text messages, people who have never visited Haiti or knew anyone there started tagging photos to find missing persons. As we saw with the Haiti response, language can be a huge barrier to response rate as we rely on people to help translate messages at an un-approachable rate.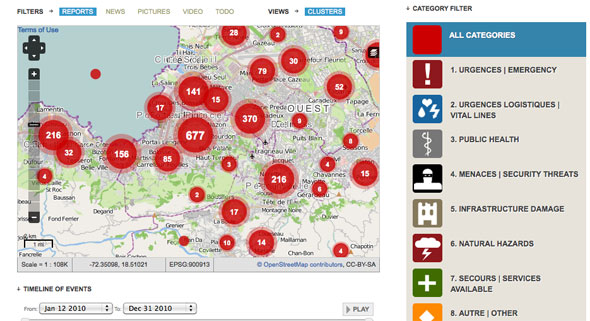 Within 24 hours of the earthquake, key public officials in Boston began emergency coordination meetings discussing options for airlifting victims to Boston hospitals and for sending supplies and volunteer health workers to Haiti. A hotline of volunteers speaking Creole, French, and English provided mental health counseling and answered questions about the situation in Haiti. There was not a set plan for a local response to an international emergency, but a response was needed in this case. A similar example is that of an Atlanta city councilman who chose to post a message to Twitter asking for a medic to respond to an unconscious woman on the street rather than to dial 911.
It's incredibly important for organizations and responders to remember that just as those in need turn to the network for help, you can also turn to the network to help you respond. And finally, context; what is really happening on the ground and how to designate a hierarchy of response mechanisms and priorities (for example, the Red Cross had 79% of funds going to food and water alone. And finally, measuring impact as it reflects back on the priorities for responders as well as those working to engage the rest of the world in targeted support. Haitian community-based organizations received mini-grants to provide onsite support to grieving community members, hold support groups, and build community resiliency. In addition, all aspects of the response needed to match Haitian culture, heritage, and language. The Health Department answered questions from the public and from potential donors and volunteers and coordinated responses with other federal agencies. The state collaborated with Haitian-American groups to give daily briefings in Creole to keep the community informed.
But as more and more calls came in from Haitians living in Massachusetts, it quickly became clear that this was an international emergency impacting the local population. It was not the conventional type of emergency for which states typically plan and are funded.