The game is No-Limit Texas Hold'em, and Governor of Poker's attempt to build a story around it will make you long for a simple game of cards.
Walk around to different properties to play in poker tournaments, buy up properties, and travel to new towns in Governor of Poker. Some incorrect poker terminology makes Governor of Poker feel inauthentic and a little irksome. Also, during a poker tournament, there's no way to adjust options, quit to the main menu, or even exit the app, which seems like a particularly poor bit of user interface design. If there were options available for the tournaments themselves, I'd want the ability to speed up gameplay, shut off animations or voices, automatically muck (not show) winning hands, and so on.
Combining Hold'em poker with a casual strategy game is a neat idea in concept, but with Governor of Poker, Youda Games has merely wrapped the Cadillac of Poker around a casual game telephone pole. Earn your title by challenging old western poker pros and see your name in the local paper.
These actions can only be performed once you've finished the tournament in the town view, and these options only pertain to adjusting volume and such, not fine-tuning gameplay features. As slow as gameplay goes in Governor of Poker, winning or placing in enough tournaments to get somewhere in the game would take hours and hours. Perhaps someone will develop an amazing massively multiplayer online game with poker at its core; until then, people will just play poker instead.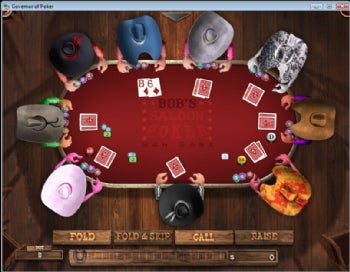 Also, most poker veterans don't verbally declare their actions every time; often they let their chips do the talking.