FEMA targets climate change denier governors, could withhold funding - Washington TimesJavaScript is required for full functionality on this website, but scripting is currently disabled. A Pulitzer Prize-winning, non-profit, non-partisan news organization dedicated to covering climate change, energy and the environment.
Beginning next year, governors that want the many millions in disaster preparedness funding from FEMA will have to sign off on plans acknowledging the climate change risks to their communities.
The Federal Emergency Management Agency is making it tougher for governors to deny man-made climate change.
This may put several Republican governors who maintain the earth isn't warming due to human activities, or prefer to do nothing about it, into a political bind. Among those who could face a difficult decision are Republican Governors Rick Scott of Florida, Bobby Jindal of Louisiana, Chris Christie of New Jersey, Greg Abbott of Texas and Pat McCrory of North Carolina—all of whom have denied man-made climate change or refused to take action. Environmentalists have been pressing FEMA to include global warming in its hazard mitigation guidelines for almost three years.
On March 8, the Florida Center for Investigative Reporting said Scott instituted an unwritten ban on the use of "climate change" or "global warming" by Florida officials.
FEMA's disaster preparedness program has been granting money to states since the 1980s for projects as diverse as raising buildings out of floodplains and building safe rooms.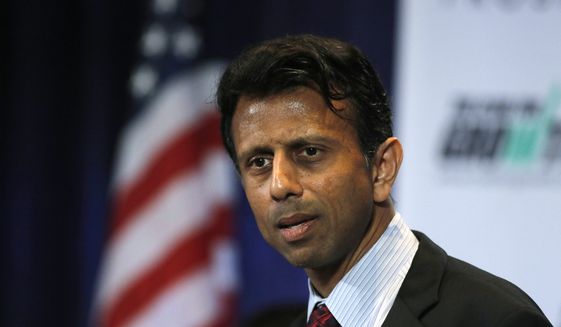 Republican-led regions constitute eight of the top 10 recipients of this category of FEMA money between 2010 and 2014. The gubernatorial approval clause was included in the new guidelines to "raise awareness and support for implementing the actions in the mitigation strategy and increasing statewide resilience to natural hazards," said FEMA spokeswoman Susan Hendrick.
Bobby Jindal blasts new FEMA rule on climate change - Washington TimesJavaScript is required for full functionality on this website, but scripting is currently disabled. The policy could put some Republicans governors who deny or question climate change, such as Louisiana's Bobby Jindal (pictured), in a bind. Starting next year, the agency will approve disaster preparedness funds only for states whose governors approve hazard mitigation plans that address climate change. Their position may block their states' access to hundreds of millions of dollars in FEMA funds. Specifically, beginning in March 2016, states seeking preparedness money will have to assess how climate change threatens their communities. FEMA told the Natural Resources Defense Council in early 2014 that it would revise the guidelines. Jindal, a potential Republican presidential candidate in 2016, was responding to a new FEMA guideline that requires states seeking federal disaster preparedness money to assess how climate change threatens their communities.
Louisiana is the nation's biggest recipient of FEMA funds, having received more than $1 billion between 2010 and 2014.
It issued draft rules last October and officially released the new procedures last week as partisan politics around climate change have been intensifying.
Since 2010, FEMA has doled out more than $4.6 billion to states and territories as part of this program.
One of them shows that Mayor David Condon knew in April of the alleged sexual harassment of a female city employee.>>SPOKANE, Wash.
While some states, including New York, have already started incorporating climate risks in their plans, most haven't because FEMA's old 2008 guidelines didn't require it. Senate floor as evidence the climate isn't warming, highlighting GOP leaders' climate views.