The Anadarko team consists of talented individuals who set ambitious goals and take disciplined risks to achieve them. The first step in ensuring emergency preparedness is to conduct a comprehensive risk assessment to identify potential hazards that could hinder or stop operations. Once the risks have been ascertained, proactive response actions are identified and recorded in the Facility Emergency Response Plan or the Regional Contingency Plan. Anadarko operates within a tiered response framework, consistent with the National Incident Management System (NIMS). Incident Management Team (IMT): Provides response operations outside the capabilities of the ERT. Crisis Management Team (CMT): Manages crisis-related issues at the Anadarko Executive level. The concept of emergency planning is a derivative of the existence of innate manmade and naturally occurring risks and hazards. Once risks are identified, mitigation measures can be implemented and emergency scenarios can be addressed. Companies should also consider the benefits of a business continuity plan (BCP) to counteract the impact of risks and hazards.
Risk recognition can occur through many paths, including inspections, audits, and job hazard analyses. Our response level is determined by the complexity of the incident, the risk to personnel and the public, the impact on the environment, and the need for mobilized resources. The Public Security Technical Program, a federally-funded program led by the Defence R&D Canada – Centre for Security Science (DRDC CSS), funded a project to integrate hazard simulation models (HAZUS) into the evolving Multi-Agency Situational Awareness System (MASAS) national emergency management framework.
MASAS is the Multi-Agency Situational Awareness System originally developed by the New Brunswick Emergency Measures Organization, which was funded by GeoConnections as part of a multi-agency situational awareness initiative with the intention of expanding MASAS to a national deployment. The impetus for the project was the desire to integrate Hazus hazard simulation models into the MASAS national emergency management framework so that emergency personnel could use the data from the simulations in their response plans.
Fixed response or control centers might not be accessible by their staff during a real emergency. A few examples of the risks topics we evaluate include health and safety, environmental, security, medical and natural disasters. Exercises enable us to rehearse potential emergency situations, provide training to key staff, and verify the adequacy of emergency response activities and equipment. The chart below offers examples of hazards, assets at risk, and potential impacts created by those threats to existing hazards. The probability and impact severity of a risk should determine the priority level for planning and mitigation the hazard. For the Web Risk Assessment Management System (WRAMS), Galdos built a registry service for storing and managing the hazard models as well as web-based client applications for using and administering the registry.
Hazus is a natural hazard loss estimation software package based on geographic information and developed and freely distributed by the Federal Emergency Management Agency (FEMA).
Estimating the potential for damages and losses caused by natural hazard threats is an essential element of risk-based planning and decision making at all levels of government. EmerGeo provides fully integrated situational awareness technology and services to help manage risk in emergency management for enterprises and all levels of government. Other risks may be present, depending upon the regional location and operations being conducted.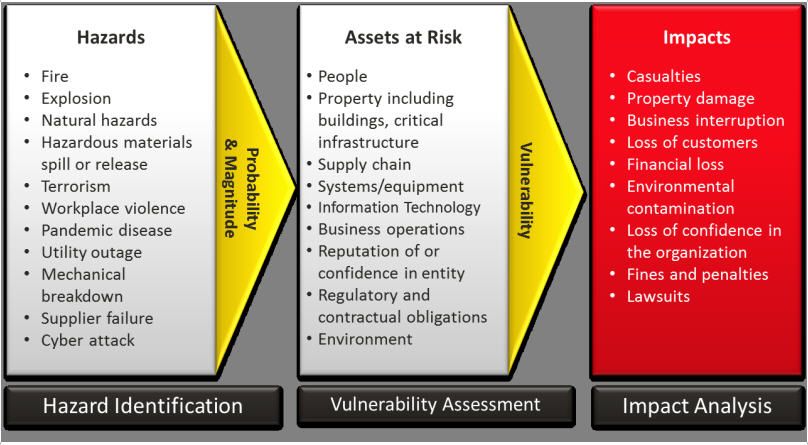 In order to plan for emergencies and mitigate as necessary, potential risks and hazards must be identified and evaluated. Enable information to flow effectively between emergency first responders, command posts, staging areas and Emergency Operation Centers (EOC). Evaluate each hazard rating for probability and severity resulting from an accident or emergency. Communicating information among emergency roles and agencies through a role-based publishing function.
Ready.gov offers a basic risk assessment guidance table to aid in performing risk assessments. Providing a common operating picture or situational awareness view that brings together data from multiple emergency management software applications and technologies. Presenting the right level of detail and functionality (tools) to the right role in each emergency organization.
EmerGeo Mapping and situational awareness tools provide a complete solution to integrate, analyze, and disseminate information for optimal emergency management decision making. MASAS is intended to better enable emergency management practitioners in preparing for and mitigating the impacts of emergency incidents through timely sharing of geospatially-referenced information.
The hazard simulations could not easily be integrated with the national emergency management system, which made the hazard models difficult to share with the emergency personnel who needed to use the actionable data from the simulations for planning and decision making.