Information about issues relating to the 2011 Tohoku-Pacific Ocean Earthquake changes daily. At this current time, due to the large scale of damage caused by the earthquake and tsunami, prefectural governments in the affected areas are not currently accepting material donations and volunteer applications from individuals.  Please check individual prefectural websites (listed below) for updated information. As Japan begins its long process of rebuilding after earthquake and tsunami and as it works hard to resolve the situation at the Fukushima nuclear plant, the Japanese government and private sector are eager to minimize the impact on the food and agriculture industry. To assist those outside Japan to take advantage of the information available here in Japan and to understand the situation on the ground related to food, agriculture and fisheries after the earthquake, we will be publishing intermittent special reports over the next few months. The full extent of damage to the Japanese fishery industry is not yet known; however it was catastrophic in Iwate, Miyagi and Fukushima prefectures which were the closest to the epicenter. As for the direct damage to the dairy industry caused by the earthquake and tsunami, information is still incomplete.
One reason that Japanese mineral water bottlers are not able to increase production to meet demand is a lack of plastic bottle caps. Tochigi prefecture, the second largest producer of fresh milk, suffered not only from the loss of cattle and pigs in mudslides caused by the earthquake, but also because power outtages have made it difficult to store milk at a low temperature. For example, monitoring conducted on some fish including mackerel, in the sea around Chiba (southeast Japan) showed that the level of radioactive cesium was well below the set national standard. Imported bottled water can now be sold without labels written in Japanese, making it easier and faster for foreign beverage manufactures to get product into the market.
Concern is also growing among Japanese consumers, and TV programs have been inviting experts to explain that it is safe to eat fish.
The UN stands by the people of Japan, we will do anything and everything we can at this very difficult time.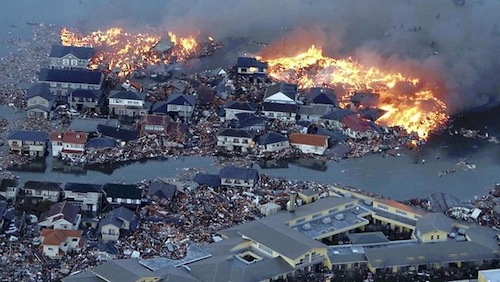 Martin Foster says in more than 30 years in Japan, today's quake was the "biggest I have ever experienced at first hand". We are in contact with the Japanese government and I have asked our Ambassador in Tokyo to offer all assistance we can as Japan responds to this terrible disaster.
Our Embassy and Consulates-General across Japan are in touch with local authorities and making contact with British Nationals to provide consular assistance.