Building an Emergency Plan provides a step-by-step guide that a cultural institution can follow to develop its own emergency preparedness and response strategy. Emergencies covered include natural events such as earthquakes or floods, as well as human-caused emergencies, such as fires that occur during renovation. Examples from the Barbados Museum and Historical Society, the Museo de Arte Popular Americano in Chile, the Mystic Seaport Museum in Connecticut, and the Seattle Art Museum show how cultural institutions have prepared for emergencies relevant to their sites, collections, and regions.
As a training coordinator from 1992 to 1997, she organized a variety of courses for the institute nationally and internationally.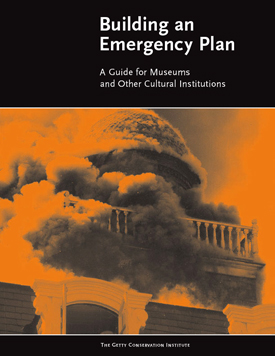 Several chapters detail the practical aspects of communication, training, and forming teams to handle the safety of staff and visitors, collections, buildings, and records.
She was an adviser for the AIC Task Force on Disaster Mitigation, Response, and Recovery, which developed a draft workshop curriculum on this topic. Previously, she was a conservator at the Canadian Conservation Institute (CCI), where her responsibilities also included participation in the institute's emergency response team activities. She has worked as a general assignment reporter, where she covered a variety of emergencies (bombings, earthquakes, brush fires, arson fires) and learned firsthand about the devastation they can bring.
Dorge is a professional associate of the American Institute for Conservation of Historic and Artistic Works (AIC), and a Fellow of the International Institute for Conservation of Historic and Artistic Works (IIC). She has also worked as an education writer and has developed training materials for IBM Corporation and other companies.