To be honest, I cannot answer this question with an exact number because although a cliche, sky is the limit when working as a freelancer.
I see in my Google Analytics a lot of people find me through asking questions like "how much does a graphic designer make", or "how much a freelance marketing consultant makes", and alike.
In this post I will try to explain how to make as much money as you want working as a freelancer.
First and foremost, forget about how much money you used to make before you started working as a freelancer. A lot of freelancers who come from low socio-economic countries like India, Pakistan, the Philippines, even Eastern European countries, think it's impossible to make a good living as a freelancer. I know speaking "in theory" isn't convincing, neither useful, so let me put it into perspective. I will give you examples how much money a marketing consultant and a graphic designer can make, working as a freelancer, from what I have seen in my experience so far. How much money you can make as a freelance graphic designer you can find out by your ability to work with clients like me. If you open popular freelance job boards, you will see there are designers, willing to work for as little as $5 or $10 per hour. I am sorry I have to break this for you but if you are one of those designers, unless you improve drastically your designer's skills, that's about all the money you can make as a freelance graphic designer.
If you are a true artist though, for whatever reason you charge as little as 5 or 10 bucks per hour – stop right now. Maybe someone at some point told you that you need to cut your prices in order to land designing jobs.
When you charge $5-10 per hour for whatever designing skills you have, you put yourself in front of all those clients who don't care about quality – they have costs as their highest priority. You may land a job with them, alright, but you will never get to land a job with a quality client who would appreciate you for your artist skills. If you are a good designer, you can start charging anywhere between $25 to $50 even on websites like oDesk and Elance. If you are a great designer, with a little help from a marketing professional, you can position yourself right and start charging top dollar for your work right away. As your experience as a freelancer grows, you can start taking only fixed price jobs with clear terms of collaboration where your hourly rate could amount to $75 and $100+ per hour. Anyways, back to the question how much money a marketing specialist can make when working as a freelancer.
Majority of marketing experts who charge $7-$10 per hour are not very knowledgeable about marketing at all. They know some SEO, they may be able to handle your blog scheduling, browse your google analytics data, assist you in various marketing tasks like web research, competitors link profiling, etc. You can find decent freelancers for 7 to $10 per hour but sooner or later, they all increase their rates when they realize they are worth and can get paid more for their services. The freelance marketers who work for years at $7-10 are probably good workers who cannot work on their own and are happy with the place they are at.
If you are smart and willing to learn and improve, you can grow, too – your wage is not set in stone and you don't have to stay at the same level forever. If you can think independently though and help clients with strategy planning, then you can charge more.
From $25-35 for social media marketing planning, through $50 per hour for team training and management, to $75+ per hour for consulting, marketing project management and coaching. And as your experience as a freelance marketing consultant grows, you will be better at estimating the time and effort needed to complete a task. To name a few – complexity of the task at hand, how experienced you are, how skilled you are, how busy you are, what the turnaround time is, how well known you are, how referable you are, and so on.
Read my 3-part series about setting your prices as a freelancer – on your freelance profile, when charging by the hour, and when applying to fixed price jobs.
And let's not forget when working as a freelancer, you have the freedom to decide how much you want to work. Your income is proportional not only to your hourly wage but to the amount of working hours you put in.
And if you choose to work 20 hours per week and can land only high-paying gigs at $100 per hour, you income would amount to 8K per month. All of these scenarios are possible – it all depends on what you want and what you are capable of.
If there is one takeaway in this post, it would be that anything and everything is possible. Everyone wants to know what they can earn and what to charge, but realistically it is dependent on the task, experience and customer as you pointed out.
But I think you have given some great ideas and limits to consider for people when pricing and I am sure they can now head off and give it a go! Anyways, you are absolutely right – there ARE people willing to pay top dollar for quality so continue in the same direction; positioning in front of those clients is key! This is such a broad topic, Arslanali – at some point, i will write a series of posts about marketing our freelance services. Make your blog posts both search-engine and readers friendly PLUS get access to other goodies! I wouldn't be debt free and building wealth if it weren't for the free tool from Personal Capital.
I wouldn't have been able to answer this a few years ago, but since I paid off over $75,000 of debt, I can say I manage my money with Personal Capital. After I started this blog, I realized there was an opportunity for me to earn money by writing. Everybody can earn money by freelance writing but for this you have to be very good in English language(I am sorry if you only know urdu language).
One of the easiest ways to begin making money with your writing is to find a site that pays you for each article you write. Once the work is submitted, the client reviews and either accepts it or requests revisions. The key to getting these jobs is to look for work in which you have non-writing related experience. While you can apply for jobs directly on LinkedIn, you want to use a more subtle approach if you are networking. Numerous opportunities exist for freelance writers online, but it can be hard to get a start. Taking advantage of a freelancing platform like Elance seemed a no-brainer to me, because real, paying clients were already there, looking to hire someone who could help them.
Instead of goofing around with cold calling, networking, and marketing myself online (not to mention good ol' fashioned prayer), I could just start applying to jobs that very same day. And given that I started with no formal experience or training whatsoever, I think that earning money on sites like Elance is something that just about anyone can do.
Many of the jobs posted daily on online freelancing sites don't require the expertise of an established professional.
Lots of clients are just looking for someone who is reliable and puts some care and common sense into their work. If you look closely, you'll see that the client's post itself gave me all the info I needed to do the job. The stories they needed were short, super simple, and followed a clear formula that was easy to replicate; in short, the main character was a boy who visited famous places and always learned 3 things about them.
I made $340.00 writing these fun little stories in my first days of freelancing, and I was stoked! There are plenty of other jobs on Elance (and other sites) that can be done by any conscientious person with an eye for detail, including proofreading jobs, virtual assistance, research, and lots more. On the surface, the thinking behind this move appears to make sense — having accounts at more freelancing sites means more potential job opportunities.
To understand what I mean, imagine that an Elance client is considering hiring one of two freelancers.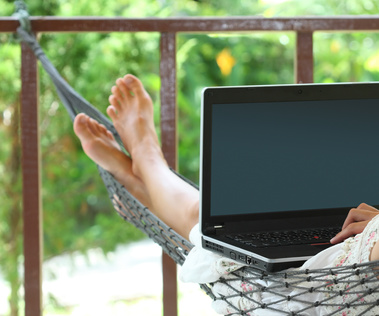 Naturally, all else being equal the client is going to choose the freelancer with more positive reviews. I took advantage of this simple fact by using Elance exclusively, rather than diluting my results by freelancing on multiple sites at once. So, contrary to the natural urge to "diversify" your freelancing work across multiple sites, you'll actually do better if you focus on just one instead, at least when you're first starting out.
Though I admittedly started off pretty clueless, one thing anyone can offer clients is an exceptional experience. That's why, starting with my very first client, I went out of my way to do simple things that I knew they would love. The bottom line is that clients want to hire (and rehire) people they like, and who make their lives easier.
By being that person, you'd be amazed at the advantage you can get in the online freelance marketplace, regardless of how little you happen to "know" when you first start out.
But today, sites like Elance have made freelancing one of the best ways to make real money online.
Thousands of jobs are posted each day, and snagging enough of them to make a nice living is very doable if you're willing to go the extra mile. If you've been looking for a reliable way to make money from home doing something you enjoy, I hope you'll give online freelancing a try. Danny Margulies is a copywriter and 6-figure Elancer on a mission to help parents earn great money from home. I am making 6 figure earning on elance from last 5 years & 88% of my earning is coming from repeat clients. I am very interested in freelance writing; however, I have never done any freelance writing before. I was personally inspired to look for a way to work from home by my friend Shannon, who successfully works from home knitting the cutest baby and kids hats with four kiddos a€" three of which are home with her all day long.
Freelance writing is a legitimate and viable way to make either a part or full-time income online.
I'm here to share my journey a€" what worked for me a€" as I broke into the freelance writing game last year.
If you check out my Hire Me page, you'll also see that I highlight some additional areas, copywriting being one of my most favorite. I don't limit myself to just these areas, but I do feature them on my website for a reason. You can acquire writing samples by publishing posts on your own blog, by guest posting on other people's blogs or by securing unpaid writing gigs.
Lastly, don't shy away from writing for free (gaining a regular unpaid contributorship) in the beginning. Both Pinterest or Contently could be the primary place or an additional way that you display your writing portfolio. My Hire Me page has some samples, but also walks a client through what I have to offer them. I've found that it works best to have a templated pitch ready in your email drafts folder.
If you're female, my advice to you is to also think like a man and apply for writing jobs that you are even remotely interested in or qualified for.
Determine how many jobs you're willing to apply for on a daily or weekly basis and be consistent. Making money as a freelance writer from the comforts of your own home is totally doable a€" I'm proof! Use these samples when you draft your pitch and keep a sample pitch email as a draft in your email. This is just the tip of the iceberg when it comes to starting a successful freelance writing business, but it's enough to get started.
Subscribing via email is the best way to stay connected to all the fun stuff happening here at Living Well Spending Less, and we invite you to join more than 300,000 subscribers in receiving regular updates!
Freelance writing is one of the best ways to earn money in Online, it doesn't need any additional technical skills. Great tips Meet..but how to reach people effectively when you have all these stuffs on place? Gina, this was the first article I ever read that you wrote and it was the beginning of my freelance writing career.
They are used to getting paid low wages and think it's normal to be so when they are freelancers, too.
After all, that's why we became freelancers – to put ourselves out there and to work on a world-class level. Unfortunately, I was one of them when I was starting 5 years ago but in my defense, I didn't know better. You can find a marketing expert literally for all type of wages between $7 and $70, even on freelance websites. They have heard this is all in the marketing domain of any business so they called themselves marketing experts. The latter is harder to be found on freelance job boards – working directly with clients is a better option. So you will be able to take more fixed price jobs and calculate your pricing in such a way that your hourly rate would amount at $50 or $100 per hour even if the gig is not as high level as coaching but e.g.
I see people who proudly exclaim how they hired someone on Fiverr to do three hours of copy and pasting blog posts into Word documents.
I am glad you are already at that stage, Lorraine ?? – with your experience as a freelancer growing AND your schedule filling up with assignments, you definitely should consider raising your rates accordingly. While I don't classify myself as a great writer, having a blog has taught me about topics people want to read. While I didn't make money until about two months into my freelance writing journey, I know you can do it in 30 days or less. Some of you might think how to make money by freelancing online when you have got no experience.
For example, enter a search for real estate job boards if you worked as a realtor or finance job board if you have a background in banking.
In addition, you can make connections with people who may be interested in hiring you for freelance writing. It is important to get to know your connections before you ask if they are interested in hiring you. Find out as much as you can about the companies or clients with the job postings, and never give away your work for free or pay a fee for a job. To become a freelance copywriter and make money using Elance, a popular online freelancing platform where hundreds of jobs are posted each day.
The client even gave me topics to work with, so essentially all I had to do was search Google for some cool facts about each destination, and plug them into the story's template. It wasn't long before my jobs history was more impressive than my more experienced competitors. Please be aware that we only promote advertising from companies that we feel we can legitimately recommend to our readers.
Remember always focus on building relationship with clients instead of delivering single job to each one of them.
A Believe it or not, there are a few ways to accomplish this and not get sucked into a scam. A I dona€™t have the crafting skills personally, so I needed to figure out how else I could utilize my skill-set to accomplish this. It started out as my side-hustle (as I assessed its viability to support my family) and is now my full-time gig. Here are five steps to help you get started making money from home as a freelance writer today.
Determining 2-3 main niches (writing topics) will give you a focus as you later look for jobs or guest posting opportunities.
I spent the last decade as a financial advisor, which made this a good fit for my primary niche.
These are the types of writing jobs that I'd like clients to seek me out for and I have samples to back them up. If you know of people in your sphere of influence that have blogs, ask them if they'd let you guest post. I did this (at one point I was writing for free for four different outlets) and I still do for two websites. I was able to secure this opportunity after responding to an online ad they had looking for new contributors. In addition to your own website, you could also display samples on your own Professional Writing Pinterest board or establish a Contently profile (this is my friend Renee's). My Pinterest board houses all of my samples and allows my content to be seen by almost anyone, with the additional perk of being able to be re-pinned by others as well. That way you can tweak it to accommodate whatever writing job you're applying for quickly.
Have you been blogging for awhile (it doesn't matter if it's socially or professionally)? I had read somewhere that men will apply for jobs that they are roughly 60% qualified for, whereas women needed to be virtually 100% qualified or they won't apply. You never know what you'll get, what will pay well or where that opportunity can lead! Even though my client roster is almost full at the moment, I still apply for 5-10 new jobs on a weekly basis. If you're just getting your feet wet, start by figuring out what you want to write about and trying to secure some samples.
She also offers editing, virtual assistance and business coaching services and recently launched a course, called 30 Days or Less to Freelance Writing Success for aspiring writers for the web.
Our newsletter offers a weekly dose of inspiration & encouragement, and many of our readers tell us it is the highlight of their week!
I started freelance writing several years ago and my clients mainly came from referrals, then from Linkedin.
I've been teetering on the edge of freelancing for a while and the thing that scares me most is pitching for work. To do so, we should break free from the assumption we can make more money compared to what we used to make.
I can always tell you what I don't want and I can always tell you what should be changed in a first draft design. I felt really uncomfortable hiring her at this price (because i know better), gave her a few chances to raise her price accordingly by emphasizing i want her and nobody else… still, she did apply with this price. The thing is that this is the beauty of freelancer that you don't much require any experience or you can start with zero experience. Many times, you will find clients with ongoing work so that you don't have to spend all of your time hunting for jobs.
While you won't find the massive number of jobs as in the general job boards, you will also have less competition. You can include information from previous careers, especially if you are willing to write for clients in those industries. Join writers' groups and you can learn about other sites where you can make money freelance writing.
LinkedIn is best used in conjunction with other methods of finding online writing work rather than making it your sole focus.
A In fact, Ruth wrote a post about this very topic not too long ago, called 15 Smart Ways to Earn Money at Home.
Since it can be hard to determine whata€™s legitimate and whata€™s a scam online, I wanted to share with you my experience of whata€™s worked well for me. My husband is a SAHD and I'm the breadwinner a€" I'm highly motivated to get and keep well-paying clients!
Health and fitness topics interest me a€" if you ask my husband, it makes for a lot of my conversation topics! Are you a part of any social media groups or forums where you could ask if anyone's looking for guest post submissions? Another reason that your pitch would continuously go through revisions, is that over time you'll have better and better samples to display. I list that I've been blogging since 2010, which is true a€" it just wasn't for money!
In June of 2015, she plans to be writing and traveling around the US in an RV, young family of four in tow! Now I'm doing ghostwriting and consulting on top of the writing I do for my own sites. I can tell you why I want something changed but I certainly wouldn't be able to tell you how to change it. I would never pay ANYONE the equivalent of $1.66 an hour for any kind of work, no matter where they lived in the world. If you're struggling with money, you can only cut so many expenses until you hit the bottom.
She is a freelance writer who went from making $0 a month to over $4,000 in only six months.
All you need is a computer connected with 24 hour internet and good English language skills like writing and spoken etc.
However, for most people who need a paycheck, the focus is first on how to make money freelance writing. You won't get rich with these sites, but they can be a great way to break into the world of freelance writing and begin getting paid. The writers know up front how long the content should be, what the subject is and the rate of pay. You often start out with payment as low as $5 per 500-word article, but you can find sites that will pay you $35 or more for an article the same length.
Flexjobs is a site that focuses solely on jobs where the workers can telecommute or work full-time from home, and it often includes writing jobs.
In addition, you will only be sorting through job listings in a subject that you are knowledgeable about. I hadn't finalized my niches at this point (or the main theme of my website), but I wanted to have content to refer potential clients to, that represented my writing style and skill-set. I want to keep my marketing efforts going strong and be selective about the new clients that I take on, rather than letting my lead pipeline dry up! There are tons of website where you can start your work within minutes by signup free and completing your profile up to 100 percent.
Of course, the higher-paying sites are stricter with their requirements, so it is best to begin with the sites that are more accepting of beginners, such as Textbroker or Writer Access.
The writers provide details about themselves and explain why they are the best fit for the job and submit a proposal with their rates. Those freelancers are able to work with designer's programs like Photoshop, Illustrator and alike but that's about all they can do.
I just keep reminding myself that a lot of people still don't mind paying for quality over quantity. Writers need to be as proactive as possible when it comes to getting and retaining clients. I'm going to provide you insight into how to get started and earning money in 30 days or less. I've been able to achieve many of the goals I set for myself ever since starting this blog and launching my business.