The Queen Mary's Hospital Roehampton in south London was founded as a military convalescence hospital in 1915 to rehabilitate first world war amputees. Warfare has often been credit as the driving force of many useful inventions, from the stirrup to the jet engine to the first widespread use of antibiotics. World War I was a driver of plastic surgery because the conflict was largely fought in trenches.
All that created a need for surgeons to develop new plastic surgery and maxillofacial procedures.
Overall, the British Army was totally unprepared to care for the huge numbers of injured soldiers and especially unprepared for the 15 percent of all soldiers who had been wounded in the face, according to author Murray C. While cosmetic plastic surgery has advanced light years beyond what was done and known in the 1920s, the roots of today's rejuvenation surgery are found in World War I. Because so many soldiers and civilians were terribly disfigured, medical science needed new ways and techniques for making veterans more presentable and able to lead more normal lives.
Sir Harold Gillies (1882 -1960) and his cousin, Sir Archibald McIndoe revolutionized plastic surgery while treating facial trauma on soldiers, fighter pilots and civilians who had been disfigured by bombs, shrapnel and burns.
The British serviceman, below, became the first plastic surgery patient to be treated for war wounds and scarring over many years.
Hundreds of thousands of men wounded by bullets, flying fragments and fire needed extensive bone, muscle and skin grafting to restore their appearances.
To see our content at its best we recommend upgrading if you wish to continue using IE or using another browser such as Firefox, Safari or Google Chrome. The surgical records detail the groundbreaking work of Dr Harold Gillies, the pioneering plastic surgeon who developed some of the world's first successful skin grafts during the Great War. But massive facial injuries were created for the unlucky soldiers who stuck their heads up for a peek at their foe. While primitive by today's standards, as the man grew older, he had more surgery until his appearance was barely noticeable.
Gilles created a procedure known as tubed pedicle which used the patients' own tissue to aid reconstructive plastic surgery and reduce the odds of rejection due to infection.
Gillies conducted the first modern plastic surgery to remake a sailor's face; the man, above, received skin grafts on severe facial injuries around the eyes. Gilles and McIndoe were later joined by two other doctors, Rainsford Mowlem and Henry Pickerill, a dental school dean. Spreckley, a Lieutenant from the Sherwood Foresters Service in the British contingent, 16th battalion.
It became a district general hospital (while retaining its special services) in 1960 and has been a community hospital since 1998.In 1970, the London Metropolitan Archive (LMA) received the hospital's accumulated archive material, which it regards as having national significance. The four men were the only four full-time plastic surgeons in England at the start of WW II in 1939.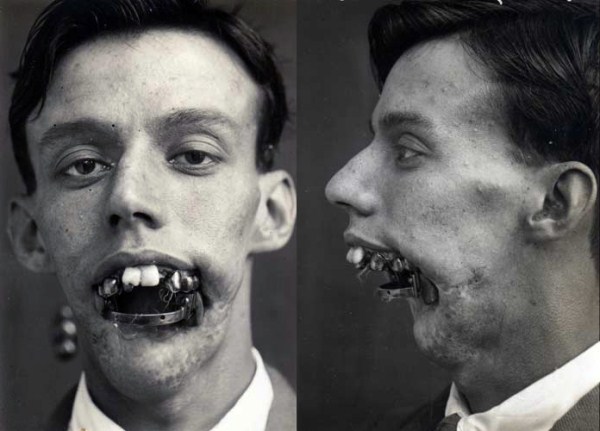 He was Gilliesa€™ 132nd patient and was admitted to the hospital in January 1917 at the age of 33 with a a€?gunshot wound nosea€™. Plans to demolish the old hospital prompted the formation of the Archive & Museum Group in 1999. Funding from the Heritage Lottery Fund in 2008 supported a three-year project to record and transcribe 60 oral histories, catalogue them for the hospital website and place copies of the CDs and transcripts in the LMA.
The 60 recordings have been achieved with trained volunteers using Marantz PMD660s sound recorders.HLF funding meant that the oral history project had to be accessible to hospital staff, patients and the wider community. This was achieved by creating a mini-museum in the hospital, incorporating an audio system (designed by design agency Dot co) and introducing touchscreens featuring 33 soundbites from longer oral histories.
A mobile version was also made and taken to local libraries, a school, local societies and a hospital ward.We considered the activity levels in the hospital between 1950 and 2000 and decided on a cross-section of patients and staff divided across the major departments.