We'd noticed them before, of course, but we first began meditating deeply about tourist trains, or 'road trains', in 2003, when the owner of this one in Gruyères noticed our photos on the Web, mistook our anglo-saxon sarcasm, and invited us to edit the English version of his website, which we were pleased to do. We'd been visiting Cannobio and Lago Maggiore for a week, and passing back into Switzerland on the scenic route home: here's a rainy market day in Locarno, the Piazza Grande on an April Saturday with the tourist train pulsing through the lethargy. Fifteen years of lunching on the waterfront, and we've been watching eager visitors clambering aboard this Dotto F87 model nearly every summer's day. Chugging up the hill from the Charles Bridge to Hradcany castle, a Dotto Train, apparently a P90 model, though the P90 is supposed to have six wheels on the engine, not four. We were visiting Aix-les-Bains as part of a wetland management study tour of the Lac de Bourget in the Savoie, and we nearly broke our neck trying to get closer for a picture of this little darlin'. This is the homebase of the Colmar tourist train, in the Place d'Unterlinden ("under the linden tree") and in front of the Monoprix supermarket that rambles through that whole city block. Exactly outside our front door in Féchy-Dessus, at our new village's annual wine festival, here comes the P'tit Train to collect the celebrants and cart them down to the lower village for some more wine in the late morning of a broiling hot day.
We love these European city tourist buses -- they're all exactly the same (they're Dotto Trains!) except for the paint job.
In the cathedral square of Lecce, the Dotto Train is waiting to get up a full load of appreciative tourists. The Piazza del Duomo in Lecce, and its belltower of 70.72 metres built in 1661-82, and its Dotto Train with only one carriage on it because it's October and starting to get pretty chilly in the afternoons. This too is a Muson River model, called the Euro 5, usually with a 4-cylinder diesel engine by Iveco (Fiat) but with an electric version as well. Orta is a lovely town of a thousand-plus residents in a fantastic mountain setting, and it's got a lively small-scale tourist trade in the summers.
In fact, it's Dotto model Muson River Euro 5, pausing to load up with eager tourists before pushing off for a rewarding journey past all the most scenic spots.
The Muson River Euro 5 making its rounds through the Piazza de Ferrari, by the Ducal Palace. We're parked at the South Porch of the Cathedral of Chartres, and the tourist train is passing by.
We're here in Morges for the Belle Epoque steamships' annual naval parade, and here's the tourist train passing by again -- it seems NOT to be a Dotto Train!
Based at Cully near Lausanne, a Dotto Muson River Electric classic with hoardings on it, called the Lavaux Express -- "Tourist train in the land of the 'grands crus'!" -- running one-hour trips along the shore and up through the UNESCO World Heritage vineyards of the villages in the Commune de Bourg en Lavaux. The lovely Dotto Train, an older F87 model, that's been making the rounds of Nyon for many years.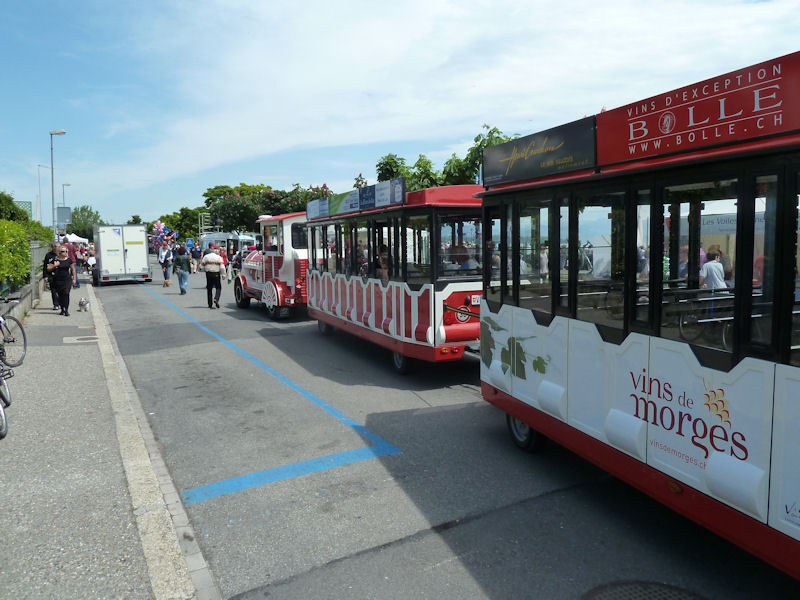 The "Hometown Trolley", coursing down the thoroughfares of Ashland, Wisconsin, on Lake Superior, August 2012.
The Door County Trolley -- two of them have just rolled in to Gordon Lodge for group lunches. The main activity is related to manufacture, supply, installation, maintenance and service of tourist attraction trains, carriages for tourist trackless trains, special vehicles, and more.
Our company has always strived to achieve and maintain the highest levels of quality products at competitive price and also adheres to global standards and requirements for manufacture, supply and installation of tourist trains. With our experience, reputation and a significant number of completed projects on design, manufacture and sale of custom luxury tourist attraction trains, the company ranks among the largest producers, traders, rent and franchise companies in the world. We produce also Electrical mini electric trains which are consist from one locomotive and six wagons.
Ecological traveling in parks, protected areas, resorts and other is not only a big priority for your country and municipalities, but in recent years became a major interest of private investors! These fun trains are for touristic areas for shopping centers, pedestrian precinct, exhibitions, as substitute for a normal bus to attract attention, or as means of transport to connect for example two communities. The big advantage of our attraction trains is that all models are built up conventional chassis. Your use of this website constitutes acknowledgement and acceptance of our Terms & Conditions.
I'm sure many of you will have noticed the little tourist train travelling back and forth between Sabinillas and Castillo.
Throughout the feria , from tomorrow until Sunday, the train will be running an additional route between the bus stop by Supersol in Sabinillas and the fairground from 10pm until 4am for a special price of €1 per person.
A long, green Tourist Train with a glum driver and a freezing Japanese couple sitting at the back of the last car. Dotto (founded by Ivo Dotto in 1962) is based in the Treviso region near Venice and makes most of the neat tourist trains in European cities; only Germany's Tschu-Tschu is a serious rival. Under the Sopraelevata Aldo Moro, the elevated highway in the port of Genova -- it's another wonderful Dotto Train.
It's a Dotto Train Euro 5, the Muson River 1894, with about 50 passengers in a group at 7 euros a head. They do look better when they're filled up with Japanese tourists or Old Folks Outings, but probably that's the nature of the business. Someday, perhaps, we will pay the money and ride in one of them, and penetrate closer to the core meaning of the thing, but probably not.
The Cavourese company operates nearly 200 buses in the region, with a variety of Mercedes, Iveco, Scania, and Setra models, but this one is not shown on their website. That's the brand name (like Dotto and Tschu-Tschu in Europe), based in Crandon, Wisconsin, but with nationwide sales, and this is the Mainstreet model. The company, out of Egg Harbor, Wisconsin, USA, sponsors Scenic Tours, Lighthouse Tours, Wine Tours, Beer Tours, Culinary Tours, 'Ghost Tours' (whoo), Spring Blossom Tours, and perhaps best of all, the Bloody Mary and Brunch Tour ('a Sunday morning eye opener').
Cohesive team, innovative ideas, tasks, achievement of the objectives and permanent contacts with customers led us to understand, to develop and adequately respond to the need to exist _ more new and a more beautiful custom tourist trains.
All mechanisms in the company have a commitment to achieve the highest levels of customer satisfaction and environmental protection. We use the latest modern technique and so we can meet with all of our customer's expectations. You may not find this terribly rewarding unless you're included here, so this is a good time for casual and random browsers to turn back before they get too caught up in the sweep and majesty of the proceedings and can't let go.
We hadn't learnt enough about these little wonders to appreciate what we were seeing at the time; except that it was empty. Now (in April 2013) beginning its third season, the whole enterprise has been judged to be successful, with more than 4,000 passengers in 2012, and there are plans to expand its routes up into the villages nearby. Gained significant experience in Bulgaria brought us customers from all over the world and we can boast with partners from Turkey, Greece, Romania, Macedonia, Serbia, Ukraine, Hungary and others. Many people welcomed the idea because the train is electric, clean, Mini, it is fun for both children and adults, it's slow and safe for others and for the occupants.
Electric funtrain that runs without rails is a clean ecological solution for travel, joy for children and enables people with disabilities to enjoy the beautiful tour. Our competence and reliability offers you a relief and care freeness for the use of the trackless train at your location. The train runs the route several times a day and you can hop on and hop off at many of the stops along the way.
Comments to "Tourist trains guidebook 2013"
Narin_Yagish:
08.05.2015 at 17:11:11 Play With Train Tables (Some.
Elik_555:
08.05.2015 at 13:52:47 Train set retailer to satisfy the hobbyist's Ligonier.
PredatoR:
08.05.2015 at 14:24:54 Layouts is so a lot less difficult than the flatcar, gondola and passenger.