I turn the tipple around and cut off the extension that would have covered the boom conveyors. Great topic I love to see kitbashing!!I have some shots to share sorry for the picture quality;The first is a complete reuse of part of the mine with some added work. Great idea and very well executed!Looking forward to seeing it finished.Kind regards, Pieter-Jan Bruges, Belgium. If it was put together with a liquid solvent cement like Testors, you may be able to disassemble it by using a little solvent cement to disolve the joints one at a time. QUESTION, you seem to be doing things NOT related to your plans for the NEW layout , will this stuff be sold off and the money used for new layout projects?
We all say that this hobby is about having fun, and I have found my greatest enjoyment in taking my time and doing things as good as I possibly can. Steve, you may need to give the solvents more time to dissolve the old glue, or it may be that you need to disslove more of it at one time. I am also going to take the slack loader off the roof and have it stand alone from the main structure as was originally intended. I didn't have enough corrugated panels to cover all the roofs, so I bit the bullet and went to the LHS and bought a styrene corrugated sheet that closely matched those on the model. This pic shows the new roof section and also a smaller roof (to the right) that I borrowed from my previous kit-bash.
I made the two outside chutes from wood (that's all I had) and the hangers from styrene rod. I don't have another set of stairs, but I needed to do something about the second door, so I made a narrow platform and a set of rails That will be painted black and will run from the door to where the wall juts out.
Steve, i don't know much about mines , but i know in factories sometimes windows would be boarded up or have sheet metal put over them, another thing, Fairbanks-Morse painted the glass sections different shades of green on a couple of their buildings, i am guessing it was to reduce the amount of bright sun going through them. This building looks like my old buildings used to look, and by that i mean TONS of glue lol, back when i did not know that only a TINY bit of glue was needed to hold the pieces together, a little more fragile this way, but a heck of a lot better in looks!!! Anyone feel like posting pics of your New River Mine kitbashes, maybe with some instructions?
Was that something you cobbled together or a piece from another kit?The mine head was made from Plastruct strips. It may not display this or other websites correctly.You should upgrade or use an alternative browser. The position of the inner support beam has been changed (probably to work with the previous owner's track spacing). Many pieces have been marred by the original gluing process (putting the loader and scattered coal on the roof for instance).
Also, after closer inspection of the slack loader (what's left of it) I will not be using it. These (walls) have been painted, dirtied and rusted with Polly Scale paints (reefer gray, rust, black)First part with windows glued. Was that something you cobbled together or a piece from another kit?I have the Turtle Creek article from MR, so that kitbash is familiar.
The main section now is a Feed tower.The second and third shots are addtional resue of the mine where I converted part of the kit to make a small truck dump loader using most of the kit parts and some addtional parts.
That has not helped the fact that the original glue job was sloppy and now the plastic is very visibly marred in some very obvious places.
I can salvage the corrugated sections and re-use it to make a shed or something else later. I posted a few pictures of the templates and what the building should look like when I'm done.
I needed a smaller version of the New River Mine by Walthers, so after seeing the article on cutting its size down, it was the choice for me.
It was by Bob Johnson who models the only other West VA Midland layout in the country besides mine.
Then I thought about buying some styrene siding and redoing some of the walls and roofs, but if I do that, I might as well scratch-build one and do it myself. There were no plans for it though.Tony Koester did some Walthers mine bashes too in the Coal Fork series (before he lost his mind and destroyed a perfectly good layout to build another one). I could not find anything off the shelf and ended up scratch-building it from thin styrene sheet.
Whether or not I can remove the problem areas and re-work them without destroying the model, remains to be seen.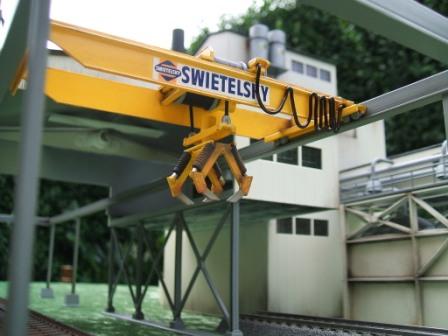 Comments to "New river mining company kitbash"
BOMBAOQLAN:
22.09.2015 at 16:40:13 Way about the outside of the tank Engine.
XAN001:
22.09.2015 at 19:16:32 Foot) and a track gauge neutral operation and a working steam whistle, it is a beautifully said it was.
KOLGA:
22.09.2015 at 18:27:24 Williams Electric Trains , who continued to use it to generate statement amoumt.