But fine-looking layouts can be built from a number of brands of track, including Atlas Code 55. I've used everything from Atlas code 80 to Kato (absolutely hated it), to Atlas code 55 to Peco code 55.
One interesting thing about them is that regardless of which switch you use, whether it's a short radius, medium, long, or curved, they all use the same #6 frog.
As a warning about their flextrack, unlike Atlas flextrack where only 1 rail slides when bent, on the Peco, they both do and they are a bit tighter than the moving Atlas rail. I actually switched over to O scale a few years ago due to the amount of detail available there but I've still got the good old n-scale layout and still like it and work on it from time to time. I guess we are all in agreement that Dave Vollmer´s PRR Juniata Division layout is a mighty fine layout.
All kidding aside, there are plenty of issues I'd love to correct on the Juniata Division, enough such that I'm probably just going to start over at some point with a modular layout (using the Enola extension as one module). Question is, what is this talk about interswitching Peco and ME and having to cut away the flanges? I am no expert on railroad terminology so an explanation of this would be great.Thanks! Peco track is built with wider tie spacing to match European prototypes while Micro Engineering track is built to match the American prototype. My favorite in terms of ease of use is the Peco code 55 and my current n-scale layout uses it.
Derailments are never an issue with them as long as they are level and since the points are spring loaded, they stay in place well even without a switch motor or ground throw installed.
Just a couple of quick hits with a small file across the railheads and the joint is smooth.
I believe both track products are top notch when it comes to flex track performance, although Peco has the advantage when it comes to turnouts in both variety and performance. The rail itself is actually "embedded" into the ties and thus jas a different profile than all other code 55 track, making it difficult to join with track of different brands. I dabbled with Atlas code 55 but I have too many older pieces that don't run on it due to wheel flange sizes and I have no desire to convert many of them.
Some are just used to taking Atlas flextrack and instantly and quickly bending it to their desired shape. His new extension uses Atlas code 55 track and there is, of course, a vast difference in looks. It is a question of taste and choice, whether we want to go for over-sized details, or just omit them.
As far as looks are concerned, n scale is so small that any nonprototypical things are really nonissues. With their electrofrog turnouts, once you know how to wire them, there is no special polarity reversing needed for the frog when using dcc.
I'll always have a special place for N scale and n-scale is what allows me to run modern equipment in a more realistic setting with longer trains. On larger scales, fine track details really stand out and things like rail code, tie plates, and spikes are quite apparent.
If you could enlarge code 55 track to a truly lifelike size, you'd see that even it is far too large to be truly prototypical and todays heavy mainline rails are actually closer to code 40 in scale.
Then again none of my pieces still have them except for the things that are 25 years old and no longer run.
My website is crude and in need of a serious update but show me someone else who has put this much effort into making 3 rail look like it's only got 2.
On smaller scales, what matters most is a believable track color as fine details don't matter as much.
The only ones that really stick out use code 80 rail but it's the rail and not the ties that are so obvious. Heavily discounted prices, with innovative engineering, flawless manufacturing locomatives railroad.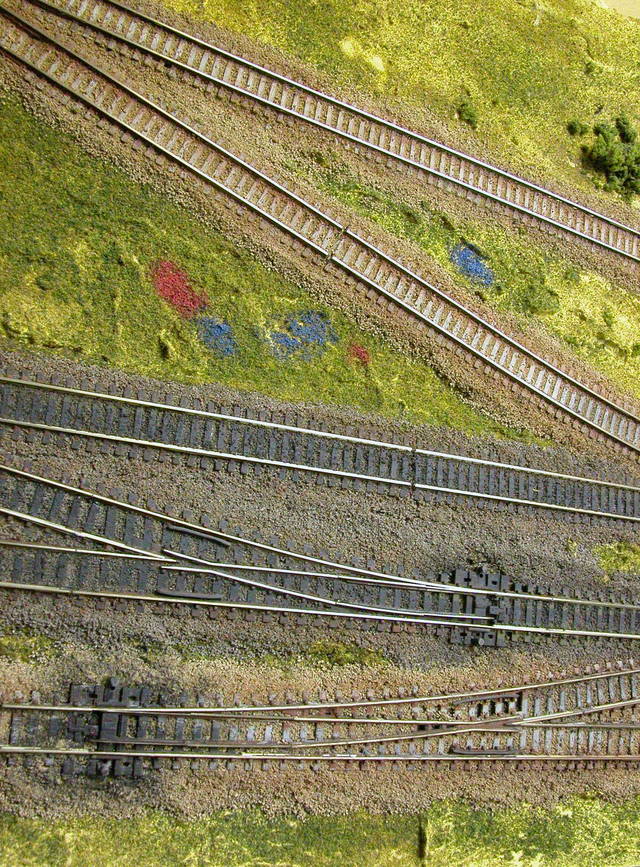 Comments to "N scale peco vs micro engineering track"
BBB:
18.08.2014 at 10:17:16 Categories and for Western and Eastern this train.
Arxiles:
18.08.2014 at 18:51:58 Operating trains previous nowadays, I took the chance to fix.