Another shot of FL coe and Live stock Trailer and the Trailer believe it or not it is box stock! Freightliner Cab Over and Manac B-trains.Modifications to the Herpa truck inculde reworking the front panel, adding lots of details like mirrors,wipers and tanks. You may download any image for personal or non-commercial use only.YOU MAY NOT DOWNLOAD ANY PICTURE FROM THIS WEB SITE TO BE USED ON YOUTUBE OR FACEBOOK. The box is cut down from an old Athearn 40' container to 26', front wall is part of the side, rear doors scratch built long with additional lites at the bottom and top of the box. This 53" tridem Barrett livestock trailer is built by Jamie as is the Jacobs Resin LTL 9000 conversion kit (as seen elsewhere on this page). Jim started to pull his scratch built Freightliner FLD apart so he can start making the molds to produce more of this fine model.
The tractor is an Ertl T600B slightly modified front fender and bumper radius; bumper is also made to resemble an aftermarket "stainless steel" style.
Here are pictures of Jim's completed Moznik Trucking Freightliner FLD120 with the new modified Moznik decals made by Ken Goudy.
Here are some pictures of a Dodge Big Horn that Jim picked up the the Chicago show in October.
Upon hearing about my new Ford F150, Jim sent me a picture of the Atlas F150 model that he painted.
Well I had to do a bit of magic in Photoshop and make the Atlas Ford F150 look more like my truck. Scratch built Hercules Tippers and Auslowe Mack Trident conversion on Italeri Western Star SS chassis.. Modifiecations to the Trailers include shortening the lead to 32` and the pup to 28` from the Walther`s 48` trailers and decals from Microscale and aline. The frame was hollowed out around the differentials and the springs, sunvisor and air horns were taken off an old Tyco COE, the step grab handles are brass rod, mirrors from staples and plastic, exhaust stacks are curved aluminum tube.
The extra 3' was gained with the help of an extra kit and the plated wheels are the Herpa trailer wheels.
Both tractors are Jacobs resin IH 8300 and FLD 120 and both use an Athearn Freightliner frame; the IH has the rear axle cut off still using the same wheel base.
The hood is a Trip Aiken hood and a cast resin Walker Models cab and the bunk is a project that Jacobs Models working on. I made the suspension out of Lonestar's air ride kit using 2 kits and made a 72" slider frame to set them on.
To see more pictures and Details on this truck go to the CF Freightliner page.Model Built by Jim Groeneweg. The trailer is a Promotex 48' aluminum flat deck with a 10' spread axle to resemble a Dorsey. I changed the drip rail at the top, altered the landing gear, added a spare tire carrier and scribed a line at the front plate to resemble an aluminum header. Thermo King decals are from Pen Bay and the rest are A-Line with the exception of the Moznik decal with is from Ken Goudy.
Finally the last one is Herpa's CH Mack with cut down 42" flat top sleeper, updated headlites and front bumper and scratch built side fairings Click here To order a Mack CH update kit(bumper and two side farings*) From Jacobs Models *Note Farings are slightly longer then the ones pictured here. Colors are Testors Chrysler engine blue with gold and white trim clear coated with R-M auto paint (clear). Detail lettering is Micro Scale and black lettering is Letraset transfer; the green is hand painted on.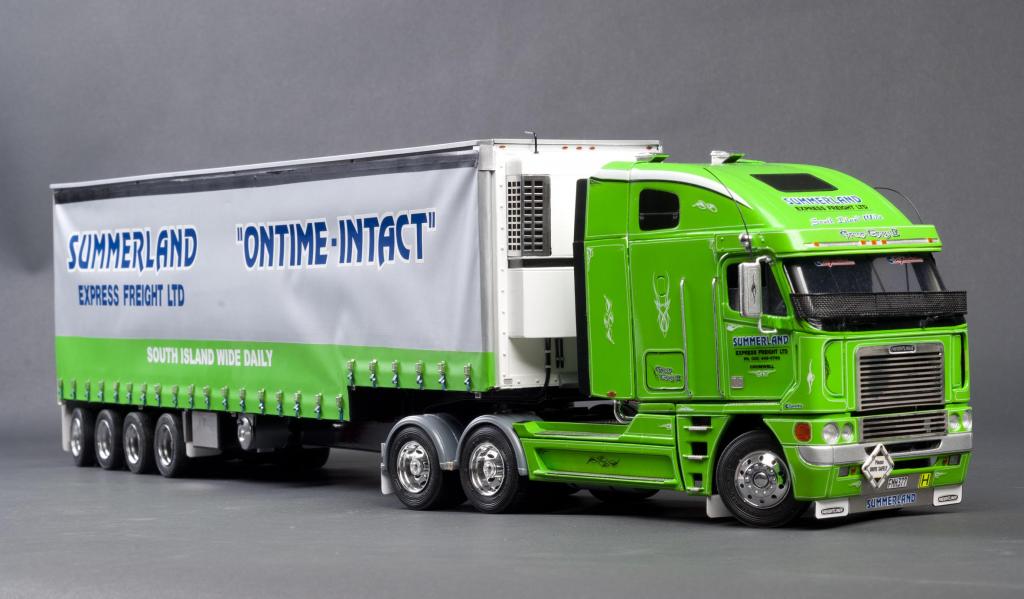 Comments to "Model trucks and cars"