The 2005 LCCA annual Convention during the week of July 25th to 30th included many train-related attractions in the area – from visiting the real trains on static display at the National Museum of Transportation to an excursion from St.
The members of the Chicagoland Lionel Railroad Club transported and set up their large modular layout in the host hotel for enjoyment of convention-goers and the public.
LCCA members considered themselves ambassadors for the hobby, and they eagerly shared their knowledge about Lionel trains with visitors. Conventioneers purchased the On-site Convention Car – a green Operating Giraffe Car marked for the St. The large modular layout of the Chicagoland Lionel Railroad Club was set up in the host hotel for the enjoyment of conventioneers and the public.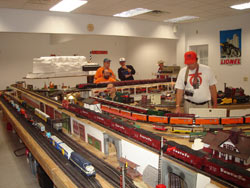 This miniature outdoor steam locomotive transported LCCA guests in open gondola cars along a 2.5 mile track through a forest. This year's fourth in a series of limited edition Milwaukee Road cars is manufactured by Lionel and will include their Centennial markings on the end of each car. This layout was comprised of 32 2x4-foot modules which, If installed end-to-end, would extend to128 linear feet. Persons brought their pre-1970 Lionel trains to the Convention site for expert free appraisals.
The Train Show in the Trading Hall on Saturday was filled with trains and accessories for sale, including hard-to-find items.
This layout owner coached a young visitor how to operate trains equipped with Lionel's TMCC control system. To meet the demand, The Milwaukee Road developed these cars as portable water and fuel storage facilities. Only one person per table received the pink car – a rare and unique collectible that can not be purchased, only gifted to lucky recipients.
Comments to "Lionel railroad club st louis"