Accordingly, We believe that when you decide to go to Command Control that you do so with the least anxiety, the best support, the most security and choose a system that you decide is best for you.
I have been a fan of Kato for years, and so when they came out with their SD40-2 with ditch lights I was eager to get my hands on one.  Like any Kato, this is a very smooth running locomotive. Though technically a two-decoder install, the DH165K1A and SFX004 work together seamlessly.  There is very little overlap of CVs between the two, so you can program them as a single unit.
I like the fact that since this model represents 1990s-era prototype, that Kato went the extra mile and lowered the Santa Fe headlight and left off the marker lamps. The SoundBug is preloaded with generic diesel sounds (the instructions say it is from a SD38-2). This vibrant, full sound enhancement to the Kato SD40-2 loco is accomplished with a 100% drop-in decoder.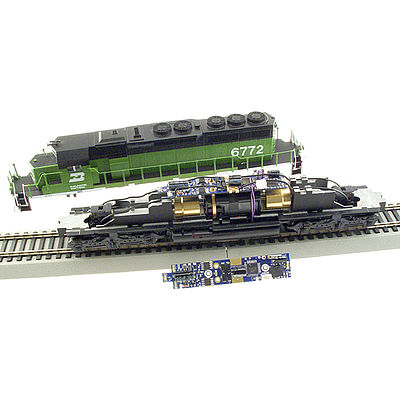 If you do not like it, send it back for your refund or exchange (subject to restock charge at discretion of Tony's Train Exchange). 119 is 77 in hexadecimal, which for this variable means that the intensity in an advanced consist is 7 and the intensity for solo running is also 7. Thankfully I haven't been able to make this locomotive do this, so maybe Digitrax has fixed this issue.
If you're one of those modelers who wants completely authentic sounds, this might disappoint you, though the decoder can be programmed with new sound sets.
Simply by removing the stock circuit board from the locomotive and dropping in MRC's 1806 digital decoder.
The factory-installed speaker enclosure in the fuel tank makes it easy to add sound, though at the expense of some weight.
The grabs are cast in some kind of plastic and are a little thick to my eye, so I'll probably eventually replace them with metal ones. I did notice that when the decoder is muted it still makes a bit of static noise, though it's not really noticeable unless your ear is close to the locomotive.
Comments to "Kato sd40-2 sound decoder"