These injection moulded HOn30 vee tippers were originally designed for a well known former Japanese narrow gauge manufacturer.
This page includes catalog illustrations of the Joe Works, Joe Works Miniland and Sango models, including some planned but never released pieces. Both forney models use the "Miniland" chassis (which has been referred to as a "slot train" for its limited performance). These drawings from the instructions of the original Car Stop 'Dachshund' model show the tank version (I have not seen any other illustrations of this version).
The Kyosan and German Kraus models appear to use the standard "Miniland" chassis which could be built with either two or three axles.
One version of the shay also used a pair of these chassis for the trucks; I'm not sure if it is the Mich-Cal or if it was a version of the Class A shay on the first page.
The superstructures of all the Miniland pieces are very nice, although some are a bit small for their prototypes. Originally imported by "The Car Stop" in Canada as a partially assembled kit containing a built up frame, rolled and soldered boiler and bent and soldered cab and tender. The forneys on the third page (above) would probably look very good with a better drive having larger wheels and main rods. Note that on the original, the pilot was attached to the lead truck if a 2-6-x version was desired.
BCH a repris en differentes livrees le locotracteur Plymouth dont l'allure industrielle peut convenir a des reseaux hors USA. It is a question of the owner's willingness to modify an engine that may be a collector's piece. The later version included some other changes (can motor, different pilot and coupler mounting).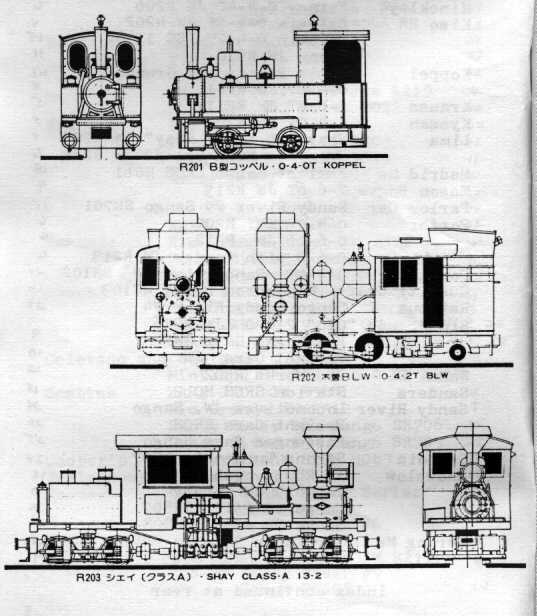 Comments to "Hon30"