Nearly a year ago, in the deep dark places of internet geekdom where few travel, a buzz was generating over a tiny locomotive that had yet to hit the shelves.
Responses from the internet forums varied wildly from "It's cute, but it's not prototypical, so I'll pass", to people foaming at the mouth because they couldn't be told when or where it would be available. Disregarding the Minitrains F&C based on its appearance is akin to judging a book by its cover, and quite a mistake to make. The locomotive runs on a coreless motor, mounted vertically in the frame, with a flywheel mounted above the rear of the motor.
Recently, at the 2014 Narrow Gauge Convention in Kansas City, more new models from Minitrains were displayed. In a future article, I will discuss the options available to turn the "cute" F&C locomotive into a semi-scale model worthy of your highly detailed layout, by adding a new boiler and cab from Toma Model Works of Japan. Like the mythical Phoenix rising from the ashes, Minitrains is back, and they are beginning to turn some heads.
Tomfoolery and Hyjinkery crossing scales, challenging conventions, and devolving into madness. Hi guys, The kit of the Porter is available again and can be ordered from Yoshiya Kobayashi - see link to his site in the first post of this thread.
Pre-Production photographs were circulating of a cute little 0-4-0 that didn't seem to have a prototype, and only slightly resembled an American style locomotive. Power is collected from all 4 driving wheels, and the headlight is a yellow-white LED with a constant lighting circuit hidden in the smokebox.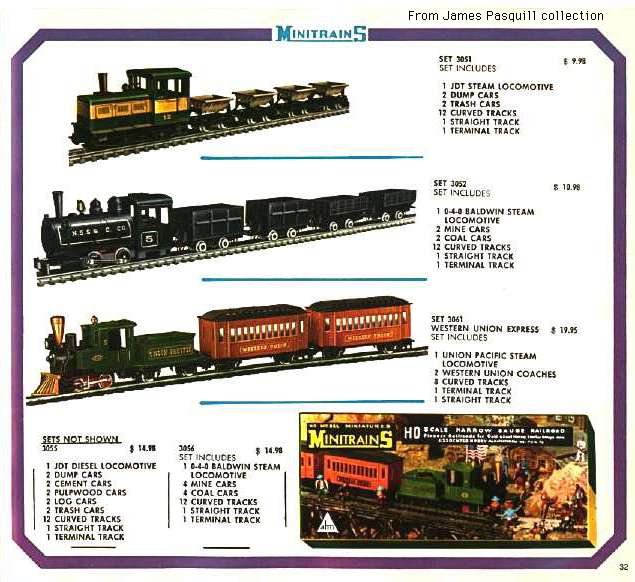 The offerings were a 0-6-0 saddle tank loosely based on a Rio Grande & Southern prototype, and a 0-4-4 Forney that resembled an early version of the famous "Maine" locomotives. With the addition of two new locomotives and rolling stock coming in the future, there has never been a better time to begin a Narrow Gauge adventure. Not much could be discovered about the little teakettle, which in pictures was alongside 4 late 1800s style passenger cars. The F&C was a fictional shoestring narrow gauge line that appeared as comic panels in railroading magazines in the middle of the 20th Century drawn by Disney artist Carl Fallberg. I experienced no stalling problems running the locomotive through "dead" frog PECO settrack turnouts, which I attribute to the weight, balance, and longer wheelbase of the locomotive. Like the F&C locomotive, not much is known about these two new offerings, other than that the Forney is reportedly due to be released in February 2015. No specific release date could be found, no MSRP information was available, and no one could tell anyone where to get this "thing". Fallberg had a knack for drawing highly detailed scenes of the mischief and misfortunes of a narrow gauge line in the American West. I have put it on a torture test layout with 4" and 5" radius curves, set the throttle at 30% and forgotten that it was running behind me while I worked on something else, only to remember that it was still gliding away behind me when I got up to get a drink. The headlight did flicker a few times, but I attribute that to dirty track, and not design or manufacturing processes.
Based on photographs, the two new designs share the same general mechanism as all current Minitrains locomotives, so performance should be similarly impressive.
It was almost as if this little model was a leaked photo from an undisclosed test track of the latest offering from Audi, or something akin to the F117 stealth fighter. The Minitrains model admittedly is somewhat of a caricature, and because of that, a good portion of model railroaders will probably pass over it for something based on prototype reality. Quiet, smooth, and responsive are not adjectives that are typically associated with small steam locomotives, and "good running" has been the Holy Grail of HOn30 modelers since the early days of Thatcher's Inlet and Elk River Lines by Dave Frary and Bob Hayden over 40 years ago. The locomotive and four wheeled tender come equipped with standard European style "Loop and Post" couplers.
MinitrainS began life as an AHM import in the 1960s, as an inexpensive way of HO modelers to add a narrow gauge industrial line to their layouts. The initial offerings from AHM were a semi scale versions of a Plymouth switcher, and a saddle tank locomotive. If it is your intent to run the Minitrains items coupled together, it is not an issue, but if you want a semi-scale appearance and operation, knuckle couplers are a must have item. These early models bear only name heritage, and general design characteristics of the F&C Locomotive.
Just like anything else, a conversion to Micro-Trains couplers is possible, but not without cutting, drilling, and tapping the locomotive, so it is a permanent modification.
Comments to "Hon30 trains for sale"