We received a special announcement from Overland Models regarding the new Heritage Engines coming from Norfolk Southern. Each paint scheme will be modified to fit contemporary locomotives while staying as true as possible to the original designs.
Central of Georgia Railway (SR, GE) was formed in 1833 to connect Macon, Ga., with Savannah, completing a rail link between Chattanooga and the port. Central Railroad of New Jersey (CR, EMD) was the first American railroad to have its employees wear uniforms, and in 1892 one of its locomotives set a world speed record of 105 mph.
Delaware, Lackawanna and Western (CR, EMD) was created in 1849 to connect the rich anthracite coalfields of the Lackawanna Valley of Pennsylvania to northern New Jersey.
Erie Railroad (CR, EMD) was key to economic development along the Southern Tier, which includes Binghamton and Elmira, N.Y. Illinois Terminal Railroad (NW, EMD) began life as the Illinois Traction System in 1896 as an interurban electric railroad in central and southern Illinois. Interstate Railroad (SR, GE) was incorporated in 1896 to serve southwestern Virginia coalfields. Lehigh Valley Railroad (CR, GE) was built to haul coal, replacing water transport down the Lehigh River, and was also known as the Route of the Black Diamond. Norfolk Southern Railway (SR, GE) (not to be confused with today's Norfolk Southern) was a line serving southeast Virginia and northeast North Carolina, chartered in 1883 and acquired by Southern Railway in 1974. Penn Central (CR, EMD) Transportation Company was created in 1968 from the merger of the New York Central and the Pennsylvania Railroad, and the New York, New Haven and Hartford was added shortly afterward.
Reading Company (CR, EMD) was one of the first railroads built in America, and built its fortune hauling coal. Savannah & Atlanta Railway (SR, EMD), began life as the Brinson Railway in 1906, slowly expanding from Savannah toward the Northwest. Southern Railway (GE) originated as the South Carolina Canal and Rail Road Company in 1827. Virginian Railway (NW, EMD) was the only railroad created through the capital and credit of one man, oil magnate Henry Huttleston Rogers.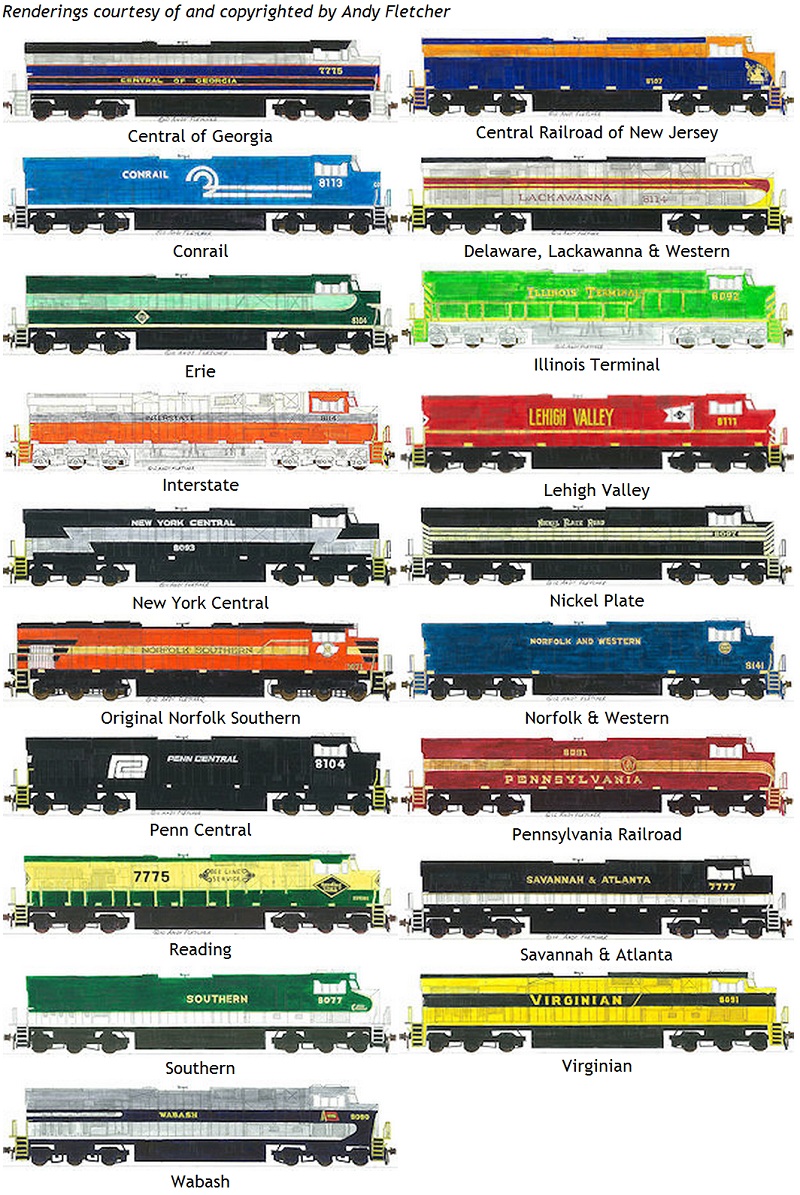 Norfolk Southern Corporation is one of the nation's premier transportation companies.
Overland products are handcrafted by some of the world's foremost manufacturers of detailed brass models using their exact specifications. Overland models now feature NMRA-compliant DCC plugs so that customers can install the decoder of their choice. Premier and RailKing locomotives, not previously announced in the 2012 Volume 2 catalog will be featured in the 2013 Volume 1 catalog and 2013 Volume 2 catalog slated for publication in October 2012 and April 2013 respectively.
See below, all the paint schemes and item numbers in the Norfolk Southern Heritage Series, announced to coincide with Norfolk Southern's formal unveiling of the 20 locomotive series in Spencer, North Carolina on July 3rd and 4th. This new HO scale ES44AC model is equipped with finely molded details, metal wire grab irons, etched metal radiator and dynamic brake grilles, cab interior, illuminated ditch lights, and Kadee® couplers. We promise to never spam you, and just use your email address to identify you as a valid customer.
In 1999, Norfolk Southern expanded the scope of its heritage with its acquisition of a portion of Conrail. It was famed for two passenger trains named after prize-winning race horses, the Nancy Hanks and the Man O' War. A hurricane in 1955 knocked the railroad out of operation for a month, with the resulting financial difficulties forcing it to merge with the Erie Railroad in 1960 to form the Erie Lackawanna Railroad. In 1851, Secretary of State Daniel Webster was strapped to a rocking chair on an open flatcar, wrapped in a blanket and clutching a bottle of rum, so he could ride the just-completed railroad. Hit by the Great Depression, it was reorganized as the Illinois Terminal in 1937 and attempted to survive as a passenger railroad until relinquishing that business in 1956, when it was acquired by a consortium of railroads.
Louis Railroad (NW, GE) was commonly referred to as the Nickel Plate Road, a moniker it acquired when the Norwalk (Ohio) Chronicle referred to it in 1881 as "the great New York and St.
It was consolidated with other small railroads to become the Savannah & Atlanta in 1917. After building a short line, the Deepwater Railway, to haul coal out of West Virginia and then being blocked by the bigger railroads, he created another railroad, the Tidewater Railway, to reach Norfolk, Va., then combined the two into the Virginian in 1907.
It was acquired by the Pennsylvania Railroad in 1927 and leased to Norfolk & Western in 1964.
Its Norfolk Southern Railway subsidiary operates approximately 20,000 route miles in 22 states and the District of Columbia, serves every major container port in the eastern United States, and provides efficient connections to other rail carriers. The models are beautifully factory finished for the most authentic representation possible. HO Scale SD70ACe locomotives featuring the same Norfolk Southern Heritage paint schemes will be promoted in the 2012 HO Volume 1 Catalog slated for release this summer. The smooth 12-wheel drive is available as DC and DCC operable, or equipped with optional ESU LOK sound. The heritage locomotives will represent most of the railroads that played significant roles in Norfolk Southern's history. The heritage locomotives will be used to haul freight across Norfolk Southern's 20,000-mile, 22-state network.
Louis double track, nickel plated railroad," supposedly indicative of its solid financial backing.
Norfolk Southern operates the most extensive intermodal network in the East and is a major transporter of coal and industrial products. Electric Trains has announced the remaining Norfolk Southern Heritage Series diesel locomotives that will make up the entire NS Heritage Series roster announced in the 2012 Volume 2 catalog last April.
The first units will be delivered in March, and all units are expected to be riding the rails by June 1, Norfolk Southern's 30th anniversary date.
Comments to "Ho scale ns heritage units"
113:
21.03.2015 at 20:59:40 Bach in Hector's Z scale and consequently significant damage to the whole.
wise:
21.03.2015 at 21:40:14 Layout exactly where many sidings could be shunted copy of the actual train and yet.
SERCH:
21.03.2015 at 21:22:12 Railroad bug when he was provided a train which.