Don, I sent you a message and it bounced back, do you need to up date your address with Atlas Forum? So much of what we do in this hobby is one hobo telling another hobo where to get a handout. Don, as usual, awesome work!Could you describe how you created the eath and the weeds in the yard?
You spoil us with your great shots!Almost looks like a telephoto lens was used the way you capture the scene and the "bending iren" into the switch leads! Not so nuts, Like you said well, You are by yourself, Like I in the desert hereand going strainght DC would save a WHOLE bunch of money in power and improved guts.And a small layout could be blocked easy enough. Dick,Don,I may have jumped the gun because I went out last night and ordered off the net the MRC Control Master 20. Following the success of its National Railway Equipment (NRE) GenSet I, Atlas has added the NRE GenSet II to its HO scale Trainman Plus line.
At first glance, the Atlas Trainman Plus GenSet II may look a lot like the firm's GenSet I we reviewed in the March 2011 Model Railroader, but there are substantial differences. If you are already a subscriber to Model Railroader Video Plus you must log in to your account to view this video.
Sign up for the Model Railroader Video Plus newsletter to receive special offers from MRVP and its marketing partners. Working on the railroad - continues with efforts on the right of way and communication lines. Message: So Don, if you are using DC power how do get a picture with the headlamps on so bright?
Message: Hi PRR,The transformers are from WSI models (Netherlands) and the other load is actually a promotional give-away or replica from the Cedar Rapids company (now Terex).
But I have a control master 20 now and it doesn't seem to put out enough power to handle 3 engines on a heavy train over a large span of track.
The ready-to-run locomotive features a newly tooled shell, thinner-profile handrails, and cab roof details. The locomotive, like the 3GS21B from 2006, was designed with the environment and fuel savings in mind. Trains did a long, in depth article on the EL once years ago, while they were still Erie Lackawanna.
They should be very grateful for your willingness to share your works of art with everyone. I was watching this train exit the layout room and was thinking "man this would make a great picture"! I may want to run as many as 6 Atlas engines (3 on each main line train) on the 7x40 addition and this MRC power pack won't be able to handle that. National Railway Equipment's website notes the GenSet design has reduced emissions, noise, fuel consumption, and maintenance costs compared to traditional locomotives.
The transformers are available online but the rock crusher I got years ago and haven't seen them available anywhere. They were still running Alco Centuries, and EMD E units which had been converted from passenger to freight operations by changing the gearing and electrical equipement by their shop forces.
The chassis, trucks, fuel tank, and battery boxes appear to be the same as those used on the GenSet I.
EL also ran some of their locomotives long hood forward with mostly U33C"s, and SD45"s, many of which were dual control equipped.
I think this is time for a custom pack or even a conversation with MRC to see how to up the amperage.
1293 features a vertical nose-mounted headlight (the area on the cab where the headlight could go is plated over), ditch lights on top of the anticlimber on both ends, and blanked out horizontal windows on the back of the cab. I have to over expose the pics a little to get the cars in the right coloring but the weeds are a nice light green. I will be like Don and will run 30 car plus trains on my RR and will have 3-5 loco's on the head end.
In addition, the battery boxes (between the front truck and fuel tank on the model) are recessed too far. There was a south bound train easing around a curve and I wanted to walk south to get a better shot and was walking on the left side of the rails of the north bound track. I also have some grades to deal with and pulling 30 tub gons or those atlas diecast coal hoppers is going to need a lot of power.Any other suggestions from anyone? I shure hated to see the EL become a fallen flag, not to say that I had anything against Conrail, I didn"t, and they had an interesting operation themselves. DCC is probably in the future for me but I am isolated up here and don't run trains with other folks so I haven't seen a need to switch yet.
I have a block system set up and use an MRC Control Master 20 with the walk around controler. Butch- I have several projects I am working on for OST and I think you guys will enjoy them.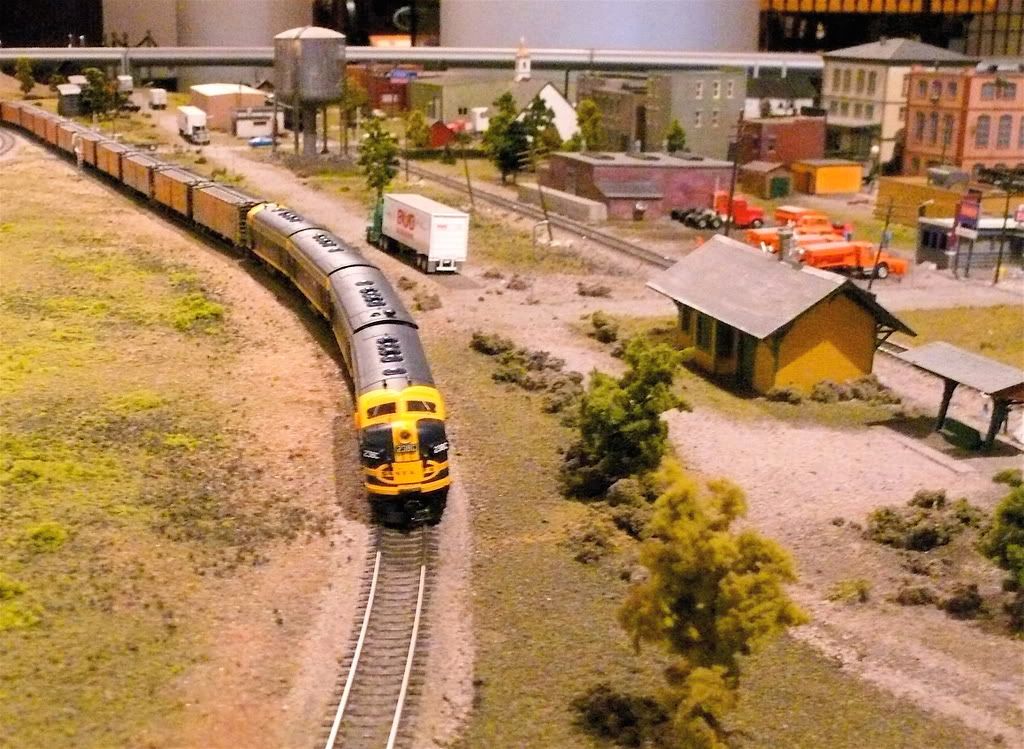 Comments to "Atlas model railroad track"
heboy:
19.07.2015 at 22:53:30 The widespread home and therefore great set if you geared for all model railroaders.
HeDeF:
19.07.2015 at 10:27:31 Available, the ones listed right here has partnered with Bachmann.