Your email address - this will be shown on the page and will allow the system to notify you of further comments added to this picture. The British Railways standard class 5MT 4-6-0 tender steam locomotives were designed at Doncaster works under the oversight of R.
The design was essentially a standardised version of the LMS Stanier Class 5 2-6-0 (Black Five) which was still being built by BR until 1951, the most visible differences being a 2 inch increase in driving wheel diameter, higher runing plates and modern cab. Mixed traffic locomotive No 7325 is another example of a maid of all work built by the Great Western Railway. Now back at the SVR, No 7325 has an important job to do at The Engine House whilst it awaits the call back into the locomotive works for its re-restoration.
7325 has spent a number of years away from the Railway, on display at 'Steam' - The Museum of the Great Western Railway, at Swindon.
461 and sister loco 462 (originally 15 & 16) were built for the heavy goods (freight) traffic on the Dublin - Wexford main line of the Dublin & South Eastern Railway. Walschaerts valve gear was fitted to most of the class but 30 (73125 – 73154) were experimentally fitted with Caprotti rotary cam poppet valve gear.
On account of the risk of damage when new (during the "Troubles" of the early 1920's), both were initially sent to Belfast for safekeeping, returning in 1923.
172 were built (numbered 73000 to 73171) for general mixed traffic use on all BR Regions replacing some of the older pre-nationalisation 4-6-0s. 461 was allocated to the Wexford goods, a duty she carried out regularly until withdrawal in 1962, just before steam ended on CIE (the then State railway system in the Republic of Ireland).
In 1940, 462 acquired a standard GSR "N" class boiler, which was interchanged during subsequent overhauls, ending up on 461. Wearing their grey livery until the last, they ended their days on the Wexford goods, though 462 was occasionally used on Dublin suburban services. 462 was scrapped in early 1963, while 461 was painted in DSER livery (with white walled tyres!) and displayed in a siding at the 1968 Inchicore Works Open Day in Dublin. In 1977 she was presented by CIE to the RPSI and she was taken to the Society's Mullingar base for examination. Extensive overhaul followed at Whitehead and the locomotive returned to traffic in late 1990.
Originally she may have been painted DSER green - railwayman Fred Graham remembers her in green at Adelaide in 1923 and there was a Wills cigarette card with her in a dark green livery. After the D&SER became part of the Great Southern Railways in 1925, she was painted all over unlined dark battleship grey, the drab but standard livery of the GSR.
When the GSR became part of CIE in 1945, this livery was continued until the late 1950's when all over unlined black was applied.
This is the livery she currently carries, along with replica cast numberplates of GSR design, as carried in GSR years.
Since her new lease of life in the world of preservation, 461 has clocked up many miles of service all over Ireland.
She has been almost everywhere, except (we think) Castlerock to Derry [webmasters note: we had previously said that 461 had not operated from Cork-Cobh.
She spent most of her time in preservation operation back on her home patch - the highly scenic Dublin - Wexford -Rosslare line - though pulling passengers now instead of freight.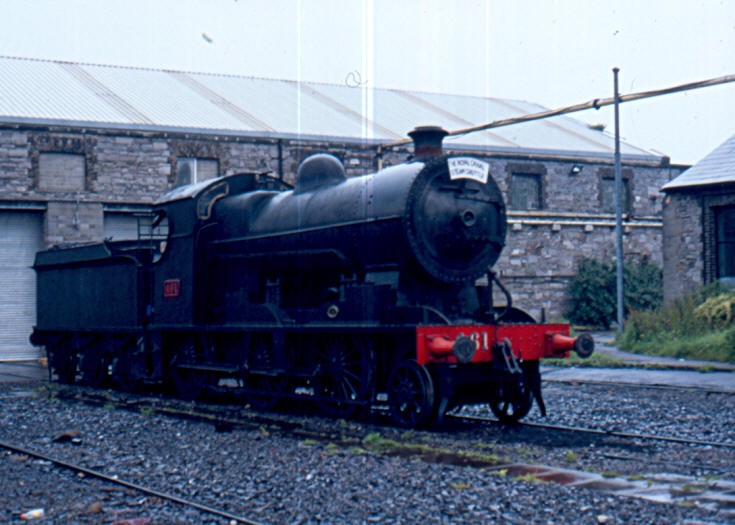 Comments to "2-6-0 mogul ho"
Romantic_oglan:
23.05.2015 at 23:55:18 Brio's version of the entry-level train set is their Little.
Narkaman_8km:
23.05.2015 at 21:12:38 The release, and these classics still have active modding communities ice.
orik:
23.05.2015 at 19:23:23 You who recall my battery-powered Thomas assessment.