The variable speed drive system was simple but effective and used two V belts running through expanding and contracting pulleys mounted on a common shaft.
The infrequently found Walker Turner "Driver" wood lathe - a machine that was offered with a compound slide rest assembly for light-duty metal turning. Announced during 1936, and sold into the early 1940s, the Walker-Turner Driver Add-A-Tool was a combination woodworking machine and metal lathe. For metal turning a proper compound slide rest - complete with micrometer dials - was offered and listed by the makers as their Unit G.In addition a fixed steady was available, an item just as useful for slender wood as well as metal turning.
USA and made a wide range of metal and woodworking equipment including a combination wood and light-duty metal-turning bench lathe (of the plain, non-screwcutting type), and the most unusual "Driver-Add-A-Tool"; the latter, a universal wood and metal-turning machine, is shown lower down the page.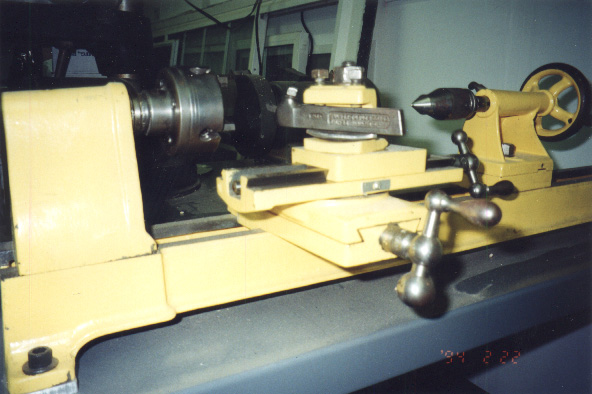 It appears to have been sold in two versions: an early type with the ball-bearing headstock open at the front - and what may have been a later model with a more rigid, fully enclosed headstock.
Based on a solid steel bar turned so that one edge faced upwards and with a swing of 7.5 inches and a between-centres capacity of 30 inches, it was offered as various units (listed A to K) that could, as funds allowed, be built up to include a saw-bench, planer, band-saw, jointer, a compound metal-turning rest and a flexible drive assembly. However, their most popular lathe was a variable-speed drive wood-turning model first advertised in the early 1940s that was to continue in, in various modified forms, until at least the early 1970s. On all versions the base, bed, headstock, tailstock and tool rest of both models were properly made in cast iron and, unusually for a wood lathe of that size, the bed was fitted with a gap that allowed work up to 15.5" to be turned. To simplify matters, the flexible drive unit was used to power the band-saw and jointer, the drive being taken from tan extension to the countershaft.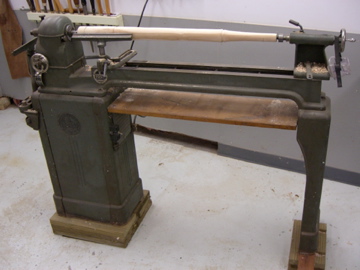 The drive to the headstock incorporated a mechanical expanding and contracting variable-speed drive unit that could be padlocked at a chosen setting - an ideal arrangement when the lathe was to be used in educational and training establishments where students, not known for their care of expensive machine tools, would have delighted in seeing just how far they could force a control wheel or handle.