Fred's specialty is figurative wood carving and sculpting and beside original wood and bronze sculptures, he offers one of a kind, custom designed relief, ornamental, and architectural woodcarving. Fred works closely  with Celeste Liturgical Fabric Art Studio for which he paints and  designs religious tapestries & hangings. If you are looking for an original, one of a kind, wood carved religious sculpture for your place of worship, you might want to take a look at Fred's religious statues. Today, Fred specializes in one of a kind, custom carved religious sculptures, religious relief carvings,  liturgical fabric art, and church art restorations.
Woodcarving and Religious Sculptures By Fred Zavadil, Windsor, Ontario, also serving Detroit, Michigan and area.
Fred is recognized as one of the best wood carvers in North America and his custom bronze and carved wood sculptures are known to wood carvers all around the globe. Fred's favorite carving wood used to be Honduras (Honduran) Mahogany but the species are commercially exhausted and therefore protected to prevent their extinction.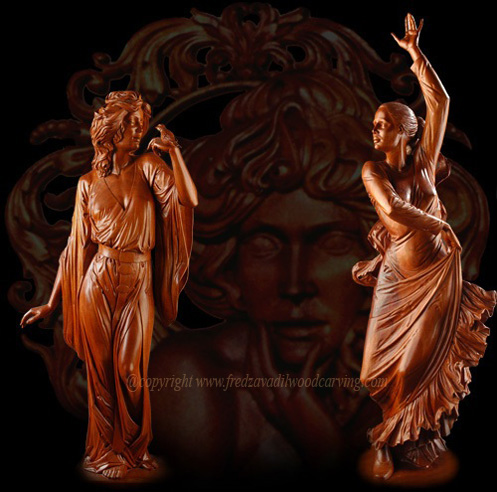 Once in a while, as time permits, Fred donates a small carving or wood burning to carving organizations and institutions to help raise money for promoting the art of woodcarving. Custom Woodcarving and Religious Statuary in Windsor, Ontario, Canada and also serving Detroit, Michigan, USA. He can design and carve original  liturgical art pieces and  religious statuary for your place of worship including  resin, bronze, and wood religious sculptures, carved processional crosses,  and religious relief wood carvings. He has an extensive experience in designing and creation of religious statuary suitable for any worship environment. In the past nearly 20 years Fred won best of show or best in masters in almost every woodcarving competition he entered, including first, second and third best of show (2008) in the biggest woodcarving competition – The Woodcarving Congress in  Davenport, IO – this was the first time in 43 years of the Congress' history that one artist captured all three top awards.  Fred's highly detailed realistic bronze and wood sculptures and portrait busts can be found in  private and corporate collections and in religious institutions in North America and  Europe. He also serves clients who desire  unique wood carving designs, carved decorative art, and original wooden sculptures for their homes. He worked as a wood carver and sculptor with two companies specializing in liturgical art in the past and has been working as an independent artist for the past 15 years.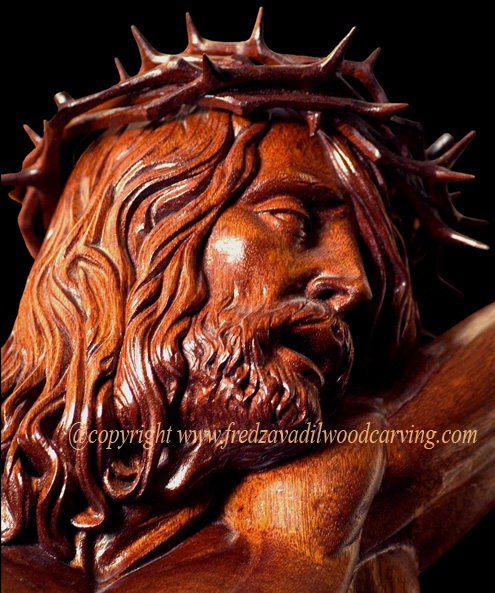 Beside wood, Fred also works with bronze, resin, terracotta, and other media and can carve or sculpt almost any given subject – small to larger than life size.
He can give his wood carvings depth and color without painting them and even when he paints some, he makes sure that the wood is visible under the paint. His portfolio includes carved wood sculptures, figurative and ornamental relief carvings, carved decorative panels, railings, banisters, and fireplace mantels. Michael, Pieta,  Stations of the Cross, religious relief carvings, and many other religious art pieces and carvings.