Dozens of ideas, loads of how-tos, and the latest advice on the projects and products you need to improve your home today, plus special offers.
From style to tile, find tons of inspirational photos, ideas, and how-tos for brand-new rooms, quick upgrades, and big and small fixes, plus special offers.
Monthly advice on how to make your home eco-friendly, including energy and water saving tips, healthy home products, green remodeling, and more, plus special offer. 1?4 cedar Get eleven 10-footers.Igloo Ice Blue MaxCold 50 cooler with threaded drain plug. After checking out the description I was all in and decided to get one, specifically for this project. I used a 50 quart Igloo cooler for this project and dry fit the slats to see how many I'd need to cut. Now measure the height of the cooler and figure out how many slats you need – in my case it was 6 slats for each side for a total of 12 slats. You'll want enough slats to cover the entire height of the cooler plus an extra 4 to 5 inches.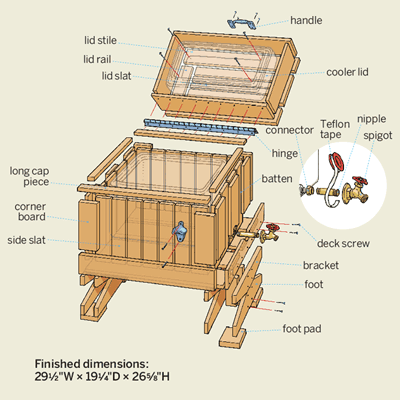 Apply wood glue to the legs, position the slats between the legs, pre-drill two holes on each side of the slats, and screw the slats to the legs. Cut one front slat to size and dry fit it between the two sides to check the cooler will fit. You're gonna build a little shelf on top of the frame so that the lid closes easily and the frame looks a bit nicer.
This is a great project for Father's Day – and perfect for a novice woodworker! I'm also keen to have a go at the cool cooler – maybe the landscapers fitting the pool next door may have some spare pallets for me! Am trying to teach grandsons use of tools for building small projects, help me do repairs, create some lawn sculptures using their own creativity. You can see I changed it up a little by using 2 x 6 boards for the shelf the cooler sits on. This is a small aesthetic preference but will affect the look of the cooler once it's finished.
Add wood glue, pre-drill two holes on each side of the slats and screw them to the legs just like you did with the sides. Cut those slats to size and attach them to the cooler frame like you did in the previous step.
I want to lift the tank off the ground, build insulated housing around it, and be ready for the next power outage! Build a similar cooler with storage underneath and shelves elevated above the lid and use the lid as a work surface.