Finding a still picture of Norm's shop is not easy, but I was able to find this shot taken a few years back. It includes plans for dedicated woodworking shops, as well as for shops in shared space, such as garages and basements.
If you're a Visio user, the Wood Shop Visio page has woodworking templates and stencils for laying out a home woodworking shop.
The shop, 50' by 30', will be built on a hillside, and there will be ground-level entrances to each level. In fact, if you're planning your shop layout, there's a lot to be learned from this discussion thread at Saw Mill Creek. In planning your shop, Charlie recommends seriously considering wall hanging tool cabinets with doors deep enough to store chisels etc.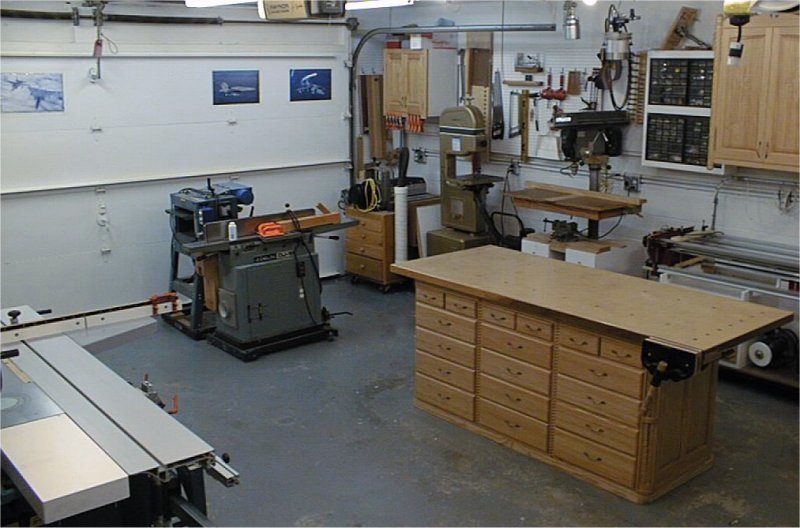 Note how his layout of each side (below) let you see not just the floor plan but also the side view of every wall.
It must be getting a good reception as it's the bestseller from Amazon's woodworking section at the moment. This shop plan, available in Visio format, is a well-thought-out layout for an expansive 42' x 30' shop. This shop plan, available in Visio format, features dust collection, sanding station, planer, table saw with extension and router, bandsaw, and more.
This shop plan, available in Visio format, has layered diagrams for walls, electrical, cabinets, and equipment. Most of the woodwork carried out in this 10x16 shop area is cabinets and sectional built-ins.
In designing his shop, Larry got great advice from the fine woodworkers at Saw Mill Creek, which I highly recommend as a forum for information and advice about all things woodworking. To quote Charlie, one side is the "clean, quiet area" - a place for contemplation, layout, assembly and finishing.
Very well equipped, this is a serious shop, with tools, shelving and workbenches in abundance. The right half of the shop is The Space of Dust and Noise - where large, expensive pieces of exotic woods are converted to valueless, hard to dispose of sawdust, chips and scraps.