We ended up getting regular construction grade spruce for the legs and base of the table, and some pine for the top (pine was slightly more expensive than the spruce). There were a lot of pieces, but once we got them all into place it really started to look like a table.
This entry was posted in DIY projects and tagged Ana White harvest table, country tabl, DIY harvest table, farmhouse table, pine dining room table on October 26, 2012 by gemma.
I will do my best to restrain my over-the-top excitement about this for your sake, but the plain and simple truth is that I LOVE THIS TABLE. This would be our new table, built by Steve (the man who claims he doesn't know how to build things. I spotted these plans on Ana's site, and when I saw the photo below from Country Living I was sold. Since my table had to be slightly narrower and longer than Ana's in order to fit our dining room, we had to jig around the dimensions and cut list a bit. We did this slightly differently from the plans, where we just put the pieces right into the legs, rather than building the apron separately first.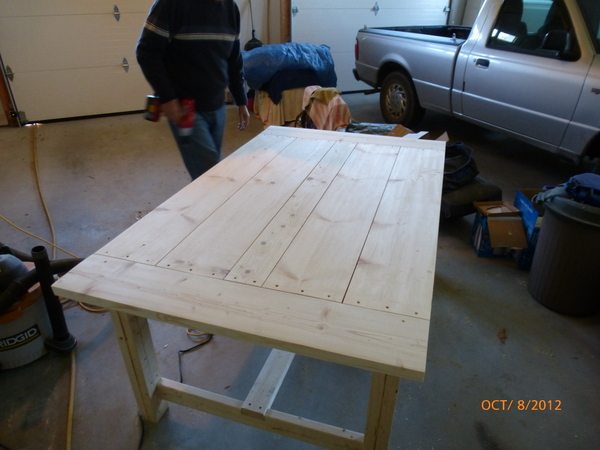 My parents had come around and thought the table was nice, but were still sitting on the fence a bit. I am in love with this table, but the original plans make the table too big to fit in my kitchen – I just need it a bit smaller!!
An awesome tutorial for a farmhouse table…beautiful, simple, and best of all…cheap! This table is really very simple (well, in relation to other tables) and is just pine planks from Home Depot. I wanted the table distressed so that I won't have to freak out when the kids abuse it. I built that same table for our dining room, but with slimmer legs, a little shorter length and with 1″ thick boards. But what I love just as much as all of that, is the way this man, who certainly never grew up building things, just dove on in and gave it a go one step at a time (with at least one child underfoot at all times).
Each time I sit down at it, I imagine the past of this wood, while dreaming about the future stories yet to come around this table.
I have a total girl crush on her and have been wanting to try out one of her building projects for a lonnnggg time.With a few free weekends over the fall, and my lovely Dad saying yes to mentoring me in his workshop, I built a table. Sorry it's been several years since we made the table… and it has somewhat faded from memory! I'm not going to repeat all of the building specs here, as you can get all the info you need from the plans themselves. So if you're in the San Antonio area and want to purchase an awesome farmhouse table and bench, please e-mail me!