From that one garbage pick up so far I have made the legs for the DIY wood bed frame and the reclaimed wood wall art in the guest bedroom. You could easily make this same style frame with new wood, a 2 x 4 would be a similar dimension. Speaking of friends, I emailed my friends at Ryobi and told them my idea to make some frames where I wanted the mirror to be set into the frame so the chunky reclaimed wood would sit flush on the wall so they sent me over their router to try out.
For the top and bottom pieces of each mirror frame I couldn't router straight from one end to the other, I needed to stop so the ends of the wood would sit flush with the sides of the frame.
It didn't take long to feel comfortable enough to make the actual router cuts on the reclaimed wood.
I even gave it a go without a straight edge as a guide because I knew these cuts would be safely hidden from the world behind the mirrors never to be seen by anyone at anytime. For the 4 boards that would be the sides of the mirror frames I just ran them each through the table saw cutting out a little rectangle of wood. Two of these heavy-duty D hooks worked great to hang each mirror and then the hardest part was just centering and leveling everything.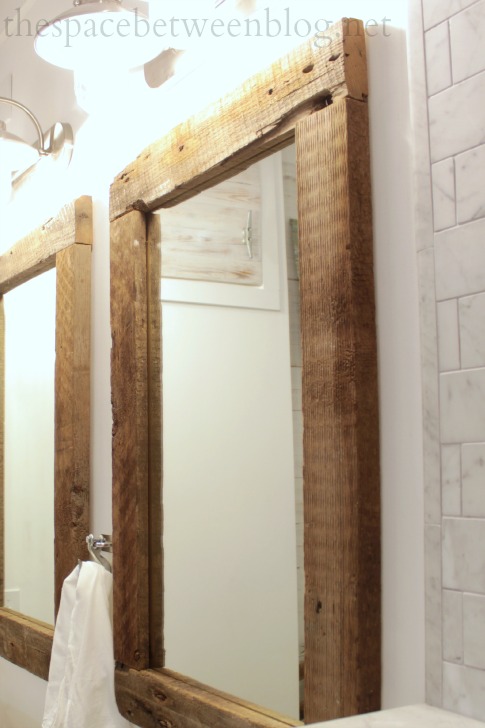 No matter which celestial body you choose to call them, these trendy mirrors add a sparkle to any wall. Catie started with a round mirror and added over 100 kabob skewers to create a silver sunburst. Echoing my thought that you can't have too much bling at Christmas, Roeshel made a lighted starburst mirror tree topper.
This next group of mirrors shows that, with a little creativity, all kinds of materials make unique and beautiful frames. A recent guest here at Pretty Handy Girl, this collection of mirrors wouldn't be complete without including this incredible mosaic mirror.
This lovely trumeau mirror was crafted completely by hand using found objects and wood accents. Other options for creating decorative mirrors are to create your own or alter an existing mirror. Marianne removed part of the mirror's backing to create peek-a-boo spots with glimpses of an old fifties fashion magazine.
Beth actually made her own mirror, hung it on the fence and now it reflects her lovely garden. Oh my goodness I believe I have the same trimwork and did the same thing for our main bath mirror as #14. We don't have to because Kristi already did and she has a fabulous DIY tutorial to make your own. With the contrasting black and white zebra print, this mirror still offers a classic effect.