We found some very cheap labor (paid with candy) to paint the frames with furniture rollers, and then touched up with a brush.
I love being able to switch out pictures regularly!  And while I love my shabby chic frames, this frame with a little more of a modern flair is pretty fun, too! I remembered this from last year, and just decided to make a longer one, from some scrap pallet wood I have, with three clips with photos of our three grandchildren.
Talia van der Wel of New Zealand wanted a simple and beautiful way to display instant photos, and came up with the idea of an empty frame in which photos are hung on clothespins from twine.
I then used Gorilla Glue Super Glue Gel to attach a small wooden clothespin in the center of each frame.
I'm totally in love with the finish on these and I have another DIY Christmas gift to add to the list!
I love the idea of easily interchangeable frames and these would be perfect for Mother's Day!
After sharing the idea with her husband, he went and created the frame out of an old wood lattice. I bought the raw material today and wanted to make these frames, but bought oil based stain by mistake instead of a water based stain. I have a small wall where I want to put a hook for bags, keys and that kind of stuff and these frames gave the inspiration I needed.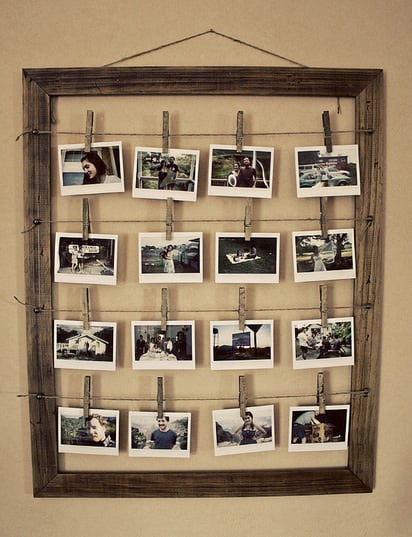 I think I'd like to paint some of the frames white then maybe some other bright pretty colors.