This is the story of my $2 thrift store dollhouse makeover and how I furnished it for nothing. After spending so little on the house itself, I couldn't bring myself to throw a bunch of expensive dollhouse furniture inside. When I was little, one Christmas my parents and my auntie collaborated to create a totally awesome dollhouse for him, and I loved it SO MUCH! ANYway, I loved nothing so much as creating accessories and furniture and things for the dollhouse. Hi Vicky, I didn't make any people for the dollhouse because my daughter has like a thousand plastic figurines (think Mickey Mouse and friends) that I figured she would use anyway.
I love your dedication to using things you've found around your home, your dollhouse looks like it belongs to The Borrowers!
This is soooo beautiful, you did an amazing job…you and your daughter will get so many hours of fun from it, my niece and I love playing with her dollhouses.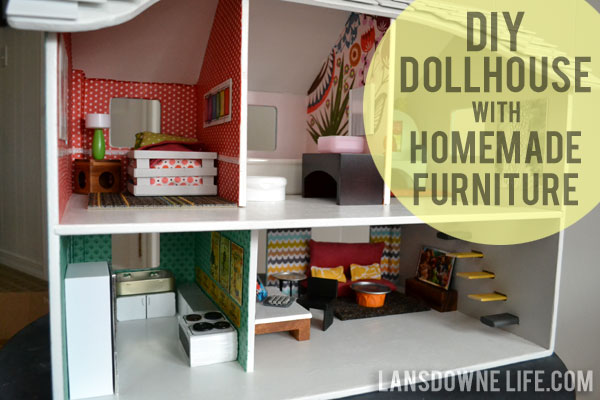 Recently I've been finishing and re-decorating our playroom-which is where the dollhouse was going, so…kick in the pants to finish it, here I come! I had the honor of having some AWESOME blogging friends contribute to this dollhouse, so I will definitely shout out when I talk about something sent to me. I just spend 2 weeks collecting different craft materials with the idea of building my own dollhouse and you post is just the perfect way of the universe saying that I can get staring… THANKS for all the tutorials.
I found your dollhouse on Pinterest and was thrilled to see that one of my prints from LDS Printables was used in your living room!
I saw a headboard at my local Habitat for Humanity Restore for $15 and thought it would make an excellent dollhouse. I may be stealing your fabric wallpapering idea for my little girl's dollhouse, which also came from the thrift store. Having such a cute dollhouse is already awesome, but one that your mom decorated with so much care and love is priceless!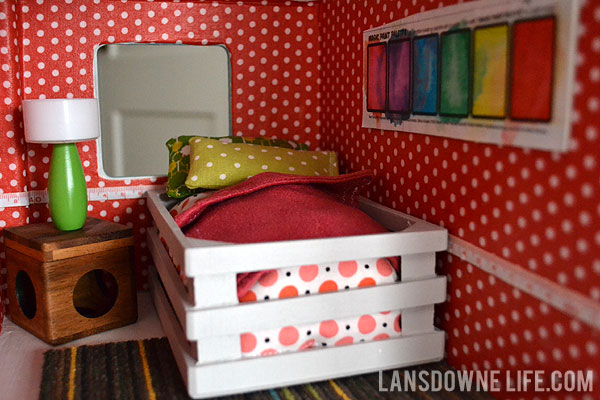 I'm a pre-school teacher and came across what looks to be the exact dollhouse sitting in a neighbors trash. I have a dollhouse of my own but my younger sister wont stop touching it because the one she has now (my old one) needs alot of work. I have 2 daughters (an almost 3 year old and a 9 month old) and I am wanting to make a dollhouse shelf for them for Christmas this year! You have single handedly inspired me to take on revamping our sad old dollhouse- I am in awe of your craftiness! Really inspiring to make a dollhouse someday when we have kids…although it looks pretty tempting to play with it myself.