Loft beds are getting increasingly popular in Singapore due to its compacted, stackable designs that not only save tons of bedroom space but also allow multiple-functional use of the same space.
In this article we share with you how creative and multi-functional loft beds, or some call bunk beds, can be, and how the bed frame can integrate with other custom wooden furniture or extended to another usable component altogether. Loft beds are basically a high-decked bed of which the bed frame is elevated to a greater height than a normal bed's height from the floor, with the support of structures below or suspension from the ceiling.
You may be surprised even with the standard HDB flats ceiling height of about 2.4 metres, loft beds remain doable and help an otherwise small bedroom to free up a significant amount of space.
Because loft beds are made of double deck frames, or sometimes even triple deck (triple bunk beds), they allow multiple persons to sleep on top of another instead of having individual beds laid out across the floor, thus serving the purpose of doubling or tripling the use of the same space.
You can choose to integrate these storage units with the bed posts or have them in loose furniture tucked under the void space for flexible layout planning or easy switching up of the furniture from time to time.
Easy accessibility to the upper deck of the bed has to be provided for especially for kids' bunk beds.
If your kid's bedroom allows more space, you may also consider adding a fun touch by including a slide for them to slide down out of the bed instead of having to take the steps down. For even more space-saving ideas, skinnier bunk bed ladders can replace storage stairs as they can be vertically attached to the bed frames and do not occupy a lot of space. Loft beds are best for landed properties with high attics so that there is more room and volume for comfort and not restricted to lower ceiling heights that may pose hazards for some. We manufacture loft beds in both Solid wood frames and plywood frames in veneer or laminate finish with optional molding and trimming. The void underneath the upper-decked bed is open for other usage, other than including another bed on the lower deck in the case of a double decker bed. The void space beneath the high deck bed can be used to accommodate a work station or a study area complete with bookshelf, cabinet units and even built-in table and benches. For younger children, safety has to be considered in the designing of loft beds as climbing up and down regularly can risk them falling off.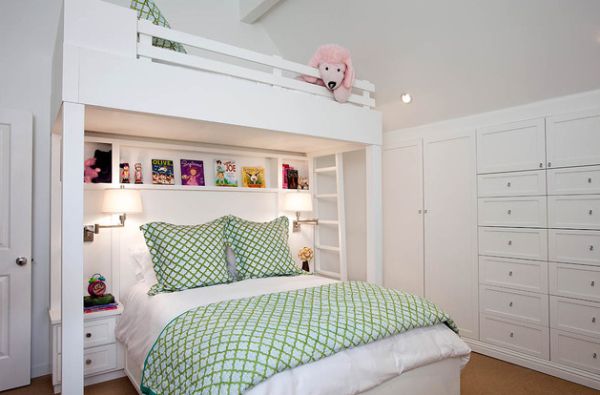 They are usually single or super-single sizes however there are also family beds that include a single bed frame above a queen sized bed below.
Therefore storage stairs in the form of storage boxes staggered to form a short flight of steps with some kind of handrail support are particularly preferred for children bunk beds because they have deeper-set treads for more stability.
Girls may prefer a princess-themed bunk bed, then canopies complete with twinkling lightings can be added, or the whole bed frame can be designed to replicate a castle structure.
The safety handrails along the open sides of the bed can also be custom designed and decorated according to the customers' wishes.