We love the classic style and necessary storage that a built-in shelf, cupboard, or desk adds. Because we needed a desk somewhere in the room for homework and, even more importantly, video games, we decided to build wall to wall, floor to ceiling built in bookcases with a desk in the middle at one end of the room. After removing all the doors and hardware, I cleaned everything with TSP to remove the oil and dirt. The next day I painted everything with two coats of Sherwin Williams Promar 200 Extra White Semi-gloss. To attach the cabinets to the wall we found the wall studs with our trusty stud finder and marked them with painters tape. I conditioned the wood with Minwax Wood Conditioner then I stained it with English Chestnut also by Minwax.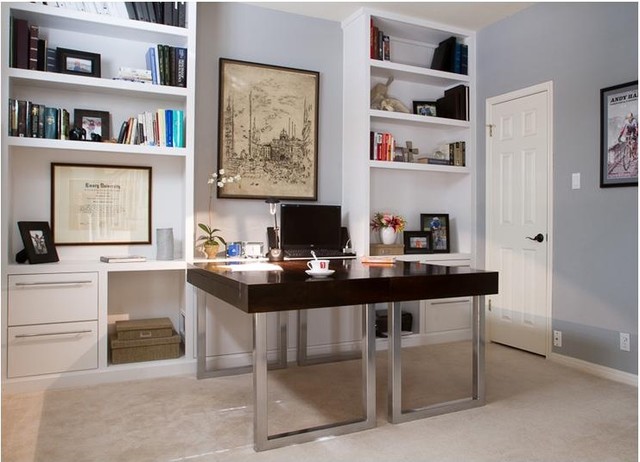 After we cut the dados for the shelves, we used wood glue and nails to hold the shelves in place. The top shelf is full of my collection of vases that have been filled with flowers at one time in our lives and given to me from the LOML (Love Of My Life). So when our guest today shared this AMAZING built-in desk and bookcase at our weekend link party, I jumped at the chance to have her share it with you.
Our family room is a pretty good size with a fireplace on one wall which limits where the furniture can go. That's a little higher than a standard desk but we solved our problem by buying a chair that raises to the desk. We decided to have the butcherblock go all the way across the whole built-in which is 16 feet.
We attached picture frame molding around each section with Loctite adhesive and nails, caulked everything and VOILA!! Thank you so much for sharing and giving such great information so we can all build a gorgeous desk of our own!