Water-based Wood Dyes are available in the same colour range as the spirit-based dyes, except for Rimu. For a really intense colour, try using the water-based dyes first, then (once dry) apply a spirit-based dye over the top. Water-based dyes can be thinned with water (of course!), and take a little longer to dry completely – around 30-40 minutes. As with the spirit-based dyes, the water-based dyes are not a finish in themselves, and must be sealed with Danish or Teak Oil.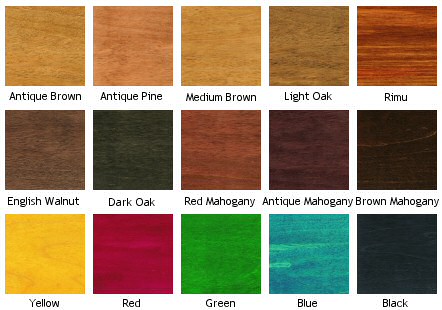 Note: These are pictures of actual samples – Briwax spirit-based dye was applied to bare timber by wiping with a cloth. Briwax gives me that deep shine easily and quickly because when you work alone time really is money.
Ideal for sealed or unsealed furniture, wood carvings, turned wood, for floors, doors and panelling. Available in clear, which maintains the natural colour of the wood, and thirteen wood shades to stain and wax in one operation.