Line up each piece of card as you tape it so that all the folded edges are on one side, and all the taped edges are on the other, which will create your zigzag book for you. Our Rainbow Fun resources gives you everything you need to plan a program of art projects, science experiments, recipes, games and songs, all with a rainbow theme.
Here's how to make one, plus some ideas for rainbow activities you can use with your children.
Really, you can make your book any size you like – whether you want a big one you can use for scrapbooking, or a tiny one to fit in your pocket for when you head out and about. Then all you need to do is tape the ends of the cards together, as shown in the photograph above, to make one big long line of card.
It's also good because you can add extra pages to the end of a book, extending it if you want to add in extra writing or pictures over time.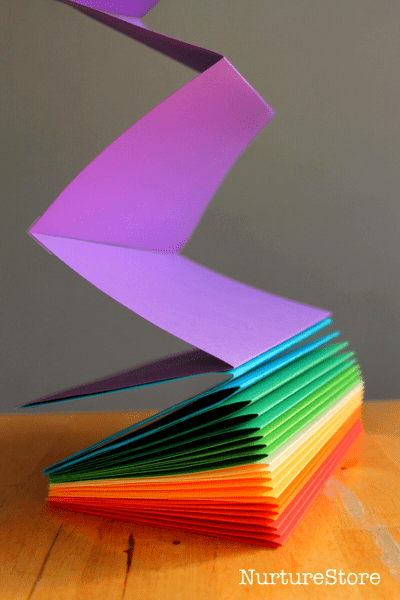 It feels a bit like an accordion or a slinky, and with the rainbow colour scheme it makes a really inviting book for your children to use.