A couple of days ago, on 2nd October, we all got a day off, thanks to the birth anniversary of Mahatma Gandhi – the Indian freedom fighter who is barely known to all in the nation.
Named as Gandhi Jayanti, the day was celebrated by posting updates on Facebook, Twitter, and other social media sites, where people were admiring the struggles made by the 'Father of the Nation' to bring freedom to the countrymen.
There were many amongst us, who did not think twice to spread hate messages about the bespectacled man who had a resolute strength of mind, even when he is already quite famous for being mocked for his deeds. Mohandas Karamchand Gandhi, who was honored with the title of Mahatma, played a major role in India's struggle for independence. There is no surprise that many of us know at least a single person who completely hates 'the then legend'. So, who are we to put blames on one of the most important figures that emerged during that unfortunate time?
I mean, just think of it – a man, fighting alone without carrying any armaments and facing the British colonialists with inspiring speeches and non-violent protests – this definitely calls for some guts, and Mahatma Gandhi surely had them!
When I look at the country's current plight where anyone can openly blame another person, and people blindly follow the accuser, it makes me blow a gasket.
This is what has happened with our beloved freedom fighters as well – for whom achieving India's Independence was shedding blood, sweat and tears, all the way.
Based on a few movies and social media posts, many of our present day nationalists claim Gandhiji to be a backer of India's partition. The man who fought without violence, who demanded his land to be free of foreign rule, can he really endorse partition? A plot between Muhammad Ali Jinnah and Lord Mountbatten, came out to be a coercion plan in the corridors of power that Indian political leaders mutually supported, and Gandhiji was not the only one responsible for it.
Just because Mahatma Gandhi did not differentiate between Hindu and Muslim, does not mean that he favored the country's division, and this, in no way makes him anti-Hindu. Probably, the extremists who wished to adopt violent methods of independence got miffed with Gandhiji's non violence struggles and simply needed a reason to spread hatred against him, just to turn the events.
Bhagat Singh, Sukhdev and Rajguru – the three highly revered martyrs of India, whose significance in India's struggle for Independence is consummate, are the inspiration of many youngsters of the land. They have a high place in the hearts of the Indian citizens, and they conquered that reverence with their bravery, patriotism, and revolution. However, there are many who believe that Gandhiji was insecure of the prominence of Bhagat Singh and he happily signed the Gandhi-Irwin pact to move Bhagat Singh out of his way, to change the face of the fight for freedom. The man who preached nonviolence to all, could he stoop so low that he can put his own countrymen in for trial? A popular Bollywood movie –The Legend of Bhagat Singh, depicted the 'ill motives of Gandhiji', which no one is really sure about.
What I fail to understand is that how can somebody portray history with so much conviction? There are many who believe that Gandhiji did whatever he possibly could to save the trio from their tragic execution. Aside from being the leader of the non-violent struggle to achieve India's freedom, Mahatma Gandhi was a true visionary.
To pursue this vision, he inspired and mobilized the masses of India from over the nation, notwithstanding their differences of religion, language, caste, creed or sex.
Such was the impact of this great man's principles, that Martin Luther King and Nelson Mandela, the two renowned leaders of our age, adopted Gandhiji's approach towards non-violence and succeeded. But are we successful enough when it comes to practicing the principles of the legendary figure of our nation, who is being followed by numerous non-nationals? As luck would have it, the protagonist of non-violence lost his life due to assassination in 1948. I'm not here to praise about the Gandhian principles, nor am I advocating that whatever he did was right at every phase. All that I know is that whatever he may have done, it was in the interest of the nation – to achieve freedom from the British Raj, which had turned the lives of our countrymen into hell. If not for his actions, then we should at least respect him for his wisdom, uprightness, and most of all, for his love for the country.
He wasn't the first freedom fighter that the nation had, nor would he be the last one, but his contribution in India's Independence is definitely ineffable.
So, the next time when you celebrate Gandhi Jayanti, don't just enjoy the holiday by heading towards the nearest mall, or catching the latest movie – but take some time out from your schedule and pay homage to the man who had the dream to metamorphose humanity at all levels. It's about time we woke up the Gandhi in us and transform ourselves to be worthy of the India that our freedom fighters envisaged in the past. And, it's about time we stopped criticizing those who have done 'so much' for 'their' nation — for we now need to start doing at least 'something' for 'our' nation! I am an entrepreneur by profession, a political analyst by passion and a social activist by compassion.
Quote that defines me" No one who does good work will ever come to a bad end, either here or in the world to come. With power in hands and a purpose to defame Congress, belittling Gandhi and his legacy became one of the main motives of these political parties.
But as the final authority of the judicial procedure for the murder of Saunders rested on the shoulders of Lord Irwin, the trial become inescapable – making it an inglorious episode in the Indian history! He dreamt of a land where people rise above the differences of race, religion, caste, language and culture.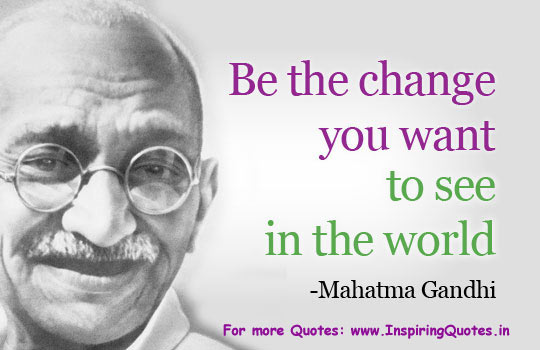 With the congregation of the grass roots of the country, he fought with dignity and strengthened India's national identity, which was crushed miserably over the two centuries of the colonial rule. And, in doing so, the major weapons that he used were social harmony, Satyagraha, and observance to truth. Are we that knowledgeable to judge a person who was a part of the history, and not of our present? People need to stop blindly following others without any valid proof, adding fuel to the flames and worsening the situation. They succeeded in mutating the facts and represented them as per their whims and fancies – due to the support they got from the blind citizens of our 'democratic' nation. And, it is still meeting death, day after day, when people spread rumors and hate messages about Gandhiji. See the degree of our impatience while standing in a que , violent road rage & what not.
A man that changed a nation and changed the world with his compassion, vision, tolerance and patience. Mahatma Gandhi is an undying reminder of how one person can inspire a community, a nation and the world. Gandhi stood for peace, equality and non violent protest and was even an inspiration for Martin Luther King, Jr. Be SelflessGandhi believed that we should focus more on positive impact and kindness, instead of personal achievement and personal gain. Always Be YourselfGandhi led by example and refused to dress any other way than what he thought was right for him and his mission. Gandhi believed that before we even consider changing the world, we commit ourselves to personal improvement.
Only then, we will know, understand and appreciate what it takes to make meaningful change.5. The Mind Will Always Be Stronger Thank Your BodyGandhi believed that the person with the stingiest mind wins.