20.02.2014
Apart from the luggage being ultra sexy they were extremely secure as well with easy to use Transportation Security Administration (TAS) locks. For a very long time I wanted to go to Kokomo until I realised (as an adult) that the Beach Boys invented.
I want to go back to Paris…5 days was not enough I would love to stay for weeks and just eat and explore! I desperately want to go to Japan but the husbot is just not interested (damn you radiation). I am actually thinking of doing the trip solo which would be my first solo OS trip ever or maybe I will take Mr 9 with me. I'd LOVE to go to the Roller Derby World Cup, America for all the roller derby goodness they have and of course travel around Australia to see our roller derby talent. To answer your question, Miss Baddazzeller-Suitcase-Lady, the place I want to travel most in the world is New York. I would definitely travel to Las Vegas – I have always wanted to visit after working in the Casino industry for nearly 25yrs just to experience the vibe and I have a feeling that my dream may come true within the next 18 months – HOW EXCITING!! It was helpful to read your comments on travelling such a long distance and I so fear that woud be the case for me too….
My poor old shabby pink suitcase has done me a good 6 or 7 years but I'm looking to update it (need money!). I have checked AT to update my suitcase, but I'm a bit wary of hard suitcases, I feel like they might get smushed and cracked and marked easy. Barcelona – I could wheel it around the colourful streets, eat some tapas and check out the beautiful Gaudi buildings. So later in the year I am leaving here for the first time ever and travelling with my terminally ill sister and other family members. I didnt realise they were a sister company to Samsonite, I love my lilac suitcase I got from them in Berlin. PS I would start in America, routee 66 in my dream car a mustang that I would love to export home! Oh, the green in an amazing colour, I thought the Danimezza blue would be noticable, but you'd see that suitcase coming! Hard-shell, 4-wheeled cabin suitcase by American Tourister, available in a variety of bright colours. The trolley system is push-button operated and extends to 85cm, 95cm or 105cm, when not in use it sits below the top of the suitcase to protect it. The suitcase can be locked by securing the zipper-pullers into the fixed TSA combination lock. Overall: The American Tourister Prismo 55cm is a funky and colourful suitcase, the colour scheme continues throughout the case giving a quality look. After I knew my trip to FFFWeek was confirmed I contacted American Tourister via facebook asking if they would be interested in a collaboration.
I pined for it for about 18 months and it wasn't until I did a fairly decent freelance job that I invested in it. I decided that even though the cases were shiny and blue they'd still need an identifying marker incase someone else also had fabulous taste in luggage.
I only did it to the carry on as I didn't think Steve would appreciate a bedazzled suitcase upon my return.
When travelling overseas if you don't use TSA locks and your bag needs to be open and inspected your locks are usually broken and zippers run the chance of being damaged upon inspection. The width of the case is perfect for me to set my camera bag on top of it with the straps wrapped around the extended handle too.
The one my old suitcase had was wibbly and wobbly and often got jammed but I didn't have any of those issues with these cases. It's completely lined and has elastic buckle straps on one side and a zippered compartment also fully lined.
There is something so magical about exploring a destination that I feel I know so well from book and movies only to discover that the reality is even better! It will help me work to redefine my place in life from who thought I was going to be [a mum] to where I actually am [a childless 33 year old] – what better way to fall in love with the life I have [rather than the one I wanted] than under the Tuscan sunshine, while indulging in some pasta, sipping a full bodied red and listening to Italian chatter and laughter? After seeing and hearing all about it from friends who have been there recently (and seeing all of the FFFW posts) I am dying to go. These bags would all be perfect for my gear, the 75cm one would be more than ideal for jet setting!!! But when I travel there, I will possibly never come back to Australia because for the first time in my life, I felt like I belonged.
You're such a beautiful lady, you give nice cuddles and made me feel good when I was feeling like a failure. I haven't had the time or money to visit my family since January, so I'm pretty much missing them all like crazy!! I'd love to go to the US so I could see family over there, some of whom I have never met!
The Prismo can also be carried by its colour-coordinated top handle (rubberized for a comfortable grip).
Often major luggage brands won't go out on a limb to produce a colourful case like the Prismo, so it is left to smaller manufacturers to fill the gap and that can lead to poor quality products. I knew they were experimenting with social media as their facebook page was new and they'd recently done a giveaway with Nuffnang.
Steve and I had bought cheap sets in the past as neither of us had done much travelling but in the last 2 years attending conferences and travelling to visit my friends, the suitcases we owned had been used to death and had to be tossed. When I flew over to the US I put my ShutterBag Camera Bag in the carry on case, it's the perfect size.
In the past I'd done the tried and true method of tying a ribbon around the handle but these cases deserved something a little bit fancier.
I didn't use any special glue, just the adhesive that came on the back of the crystals. I was concerned about how these would go with other luggage plonked on top, I could just imagine them being snapped off.
The push release button at the top of the handle allows the handle to fully extend and lock into place. Along the side of the case there is also hard feet to protect it from rubbing against the ground when it isn't being rolled. I'd never owned a suitcase that had two separate compartments like this and it really made packing easy. It's been a lifelong dream of mine to pack myself up and soak up everything Italian for a few months while I tour around the Tuscany region. So that's where my first EVER overseas trip will be – hopefully in the not too distant future!! The American Tourister Suitcase looks amazing and would be a blessing for me, whether I was trekking through the Mud at Glatsonbury, The California Desert for Coachella, The crowds for Fuji Rock or the Beach in Byron Bay for Splendour In The Grass, it would be amazing to be decked out with such a fabulous case.
I felt like I had a connection that kept pulling me deeper in, the lure of the culture and lifestyle. I would have to go back to New York I think, that place is just amazing and I don't think you could ever see it all no matter how regularly you go.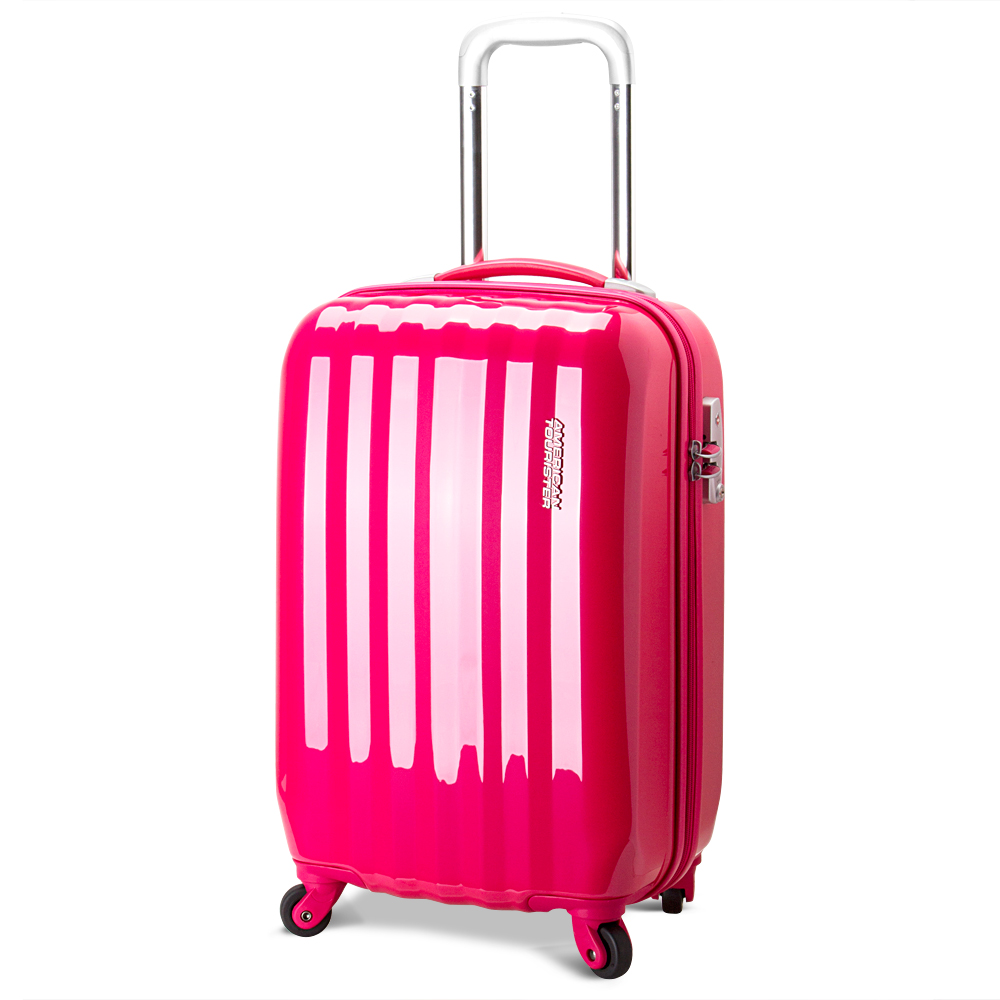 Unfortunately, I still have to wait another 3 months before I meet him, but I'm already thinking about packing my case!
For this reason we are pleased that American Tourister have decided to produce this suitcase, allowing those of us who like colourful luggage to purchase something of good quality. I was worried that I'd wasted my money but took comfort that American Tourister is a sister brand to Samsonite and was keen to see how it travelled.
The 360 degree tough spinning wheels, the sturdy retractable and adjustable height handles, the TSA locks, the lightness, the gorgeous glossy colour… I was in love and that was just from a simple trip by train and plane to Melbourne and back!
No one knew it had camera gear in it and it was safe, secure and saved me from lugging it on my shoulder whilst we waited in lines. I didn't expect them to stay on, just thought it was a bit of fun but surprisingly I only lost one and the monogram is still intact! It also allows it to lock at different heights so you get the perfect length for your body to safely lug your load. The 55cm carry on case fit perfectly on the plane and didn't take up much room at all compared to what a lot of other people seem to consider carry on size to be. I put all my clothes in the elasticated section and all my bulky items like straighteners, toiletries, chargers and cords in the zippered section to avoid them falling out when I opened the case. I'd love to go to London as one of my closes friends lives there and I LONG to see her and her new Bub in person!
I asked very politely for a matching 73cm Cube Alfa as well as a 55cm carry on sized case for my trip to NYC as Qantas allowed 2x 23kgs of luggage as well as carry on for international flights. On the way back I carried my camera bag and that left more room for me to bring home lots of shoes!
I got a lot of compliments and smiles when I spun my little bedazzled case through the airport, from kids and adults alike. Enjoying mouthwatering food, fabulous wine and immersing myself into the culture and hopefully brushing up on my Italian while there – there is no better way to learn the language than to live it. The more I get older though the more I feel that travel (at least for me) should be about opening myself up to new experiences and challenging myself. I get excited just thinking about walking the streets, camera in hand, credit card burning in my back pocket. That way Steve and I would have our own cases for future trips and Aidan would have the mini one. Even with all the flight changes, taxis and being crammed with all my stuff there wasn't a single crack, zipper failure or sign of damage. I approached American Tourister to collaborate and didn't seek payment for this post (opinions are my own regardless) and I was gifted two pieces of luggage and one to giveaway. They did get a few black rubber scuffs from the luggage collection belt but nothing a quick wipe down couldn't remove. Standing ontop of the Empire State Building, the freezing cold winds blowing me away, I knew that I would have to return here and explore the city even further. This time round I hope to use some of the knowledge and experience I've gained in the last few years to be more active, challenge myself and open myself up to meeting new people.