TATTOOS AND WATERCOLORS In Myths, Legends, Ghosts and Demons, mixed-media artist and world-famous tattoo artist Jason Loui exhibits his brilliantly executed watercolors that combine imagery from traditional Japanese folklore and ghost stories with contemporary tattoo-inspired visual structures and motifs.
NEW YORK ARTIST DAVID KRAMER A selection of smart, funny drawings and paintings offering wisecracking sayings and stories reflective of everyday expectations, desires and failures. COMIC-INSPIRED ART Cast of Characters: Part II, An exhibit of comic and comic-inspired artwork by over twenty artists that challenges the parameters of conventional comic art.
JOHN LENNON IN NYC Twenty-five years have passed since John Lennon was killed in New York City. SMALL ARTISTIC TREASURES Exhibit features up-close and personal views of landscapes, figures, still lifes and abstract concepts in watercolor, oil and acrylic by nationally recognized artists.
Cavin-Morris Gallery, 560 Broadway, 212-226-3768: SYSTEM IN CHAOS, Exhibition focuses on four very different artists whose diverse ways of coping with illness create four different world visions. Written permission of the publisher must be obtainedbefore any of the contents of this newspaper, in whole or in part, can be reproduced or redistributed. This exhibition features exclusive photographs of the legend who wanted so much to be seen as an everyday New Yorker. The show also reveals the diverse ways in which artists have captured and conveyed the sensual body.
Memoir-like notes accompany the artist's paintings which capture images and sites integral to New York and Jewish culture in the U.S.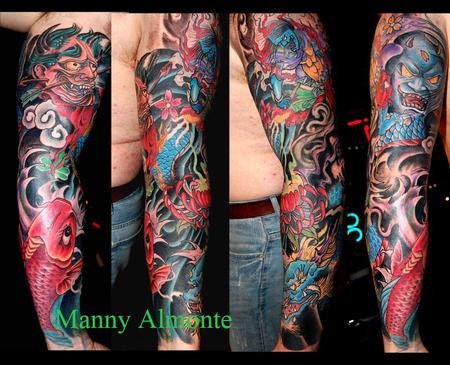 None can be used for any purpose whatsoever without written permission from TattooNOW and the tattoo artist. NUDES TO NATURE, The premiere of the newly published catalogue raisonee for mezzotint master Mikio Watanabe in conjunction with an exhibition featuring both recent editions and rare early works. BORROWED SUN, Exhibition incorporates slide projection, large-scale drawings, sculpture and 16mm film to create a poetic network of relationships among the astronomer Galileo, the jazz musician Sun Ra and the conceptual artist Sol LeWitt.