20.12.2014 admin
This file contains additional information, probably added from the digital camera or scanner used to create or digitize it. If the file has been modified from its original state, some details may not fully reflect the modified file. After you kill the first zombie, start adding another column of Puff-shrooms and Sea-shrooms in column five.
Basically he slowly walks towards your plants and after short while turns around and slowly walks away. This is also the time to start planting your Sun-shrooms in Pool columns one and two, and NOW plant Scaredy-shrooms on land in column three. Right away, your Tall-nuts should be ready to be planted, so plant them on rows two and four to column six.
You also need to replace your Fume-shrooms with Repeaters to deal with the Dancing Zombies!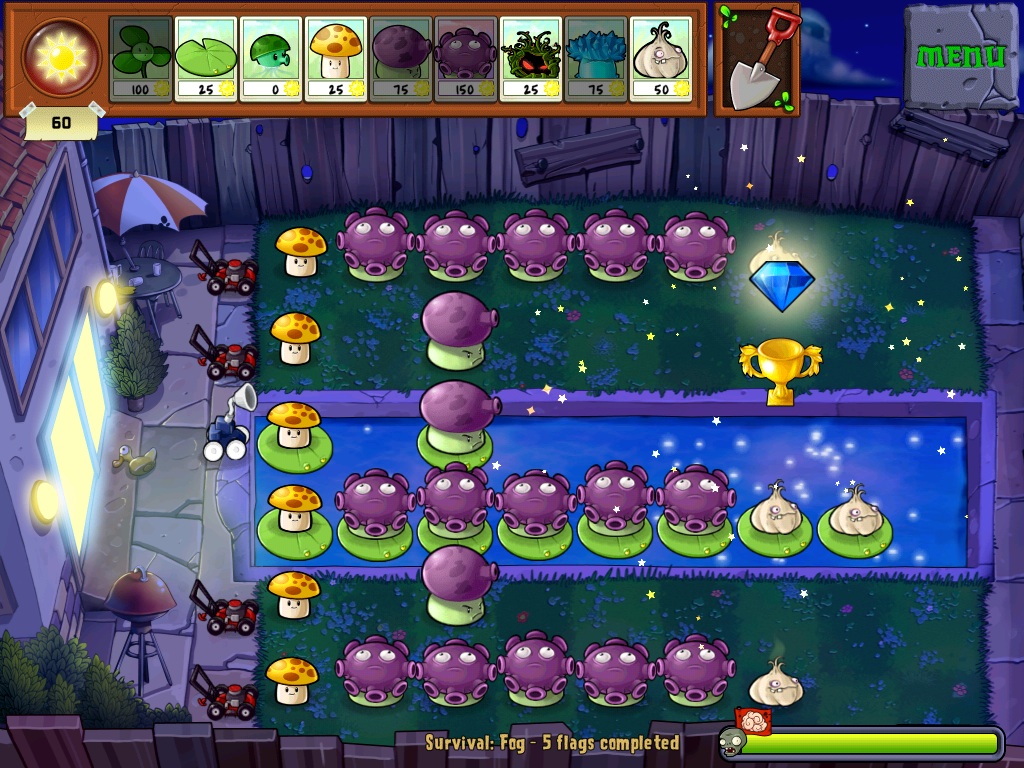 When you get to 4-10 you'll see him on the right as one of the zombies that will come through the level.
Slowly replace the Puff-shrooms with plants like Fume-shrooms, but you can keep some Puff-shrooms as delayers. Your Cattail should be ready to go too, so dig up one of the Sea-shrooms on column four, plant a Lily Pad, and then a Cattail. Just pay attention, because he only comes out for a bit then he runs away, you'll know if you killed him because he drops three diamonds. Your next job is to plant Planterns in rows one and six, column six (you could do this slightly earlier).
You should be able to have planted two Cattails before the huge wave, and if you are lucky you could have three. Being set in the Fog, the objective is to survive five waves with one flag given to the player for each wave.
You can try placing the Gloom-shrooms on the first flag, but it is preferred to do it on the second. You also add any plants needed to counter some zombies, like Cattails or Blovers against Balloon Zombies, Umbrella Leaves against Catapult Zombies, land Gloom-shrooms close to the left against Digger Zombies, etc. But remember to upgrade the Lily Pads on column four before the ones on column five, so they do not get eaten as quickly. In both pool lanes at columns six, seven, eight, and nine, place Gloom-shrooms with Pumpkins. Finally, replace the Puff-shrooms with Fume-shrooms and replace the Sea-shrooms on column three with Scaredy-shrooms, then you are complete for the first flag!
Rubric: Survival First Aid Kit