06.06.2014 admin
If the Summer is making you wistful, why not channel that nostalgia into your seasonal reading list with a few YA books?
Being young and in love is exciting, exhilarating, and — if these 2014 YA romance novels are any evidence — sometimes downright dangerous.
Rick Yancey returns to the world of his critically acclaimed novel "The Fifth Wave" with its sequel, "The Infinite Sea." In this sci-fi thriller series, Yancey's young characters explore a post-apocalyptic world where aliens inhabit the Earth and resemble humans. To help you get started, we reviewed titles publishing in September and October with the help of numerous sources (Kirkus, School Library Journal, Booklist, Publishers Weekly, Book Riot and Upcoming Books Blog) and came up our top picks. With dozens of young adult books released every week, it can be hard to focus and find the books you want to read. In the post-Harry Potter world, young adult seemed like the best place (outside of the comic book racks) to find those kind of new franchises.
2015 promises to be another exciting year in young adult fiction after a great year of YA books in 2014, a period that included the UK's first YA conference, curated by Children's Laureate Malorie Blackman. This bittersweet story is also being described as "'The Fault in Our Stars' meets 'Eleanor and Park,'" citing two of last year's most popular YA books. Why the Best Kids Books Are Written in Blood - Speakeasy - WSJ Some cultural critics argue that kids books have become too violent, too dark, too adult. I'm so excited to read Just One Day and The Statistical Probability of Love at First Sight is on my list too! Wow I have to agree this year was especially tough narrowing it down to 10 favourite reads, I may have cheated a little and added a few at the bottom like you too ?? Shatter Me made it to my list too, it's not usually the type of book I pick up, but I loved it!
I have a few of these, but I've only read Every Day, Sky is Everywhere (one of my favorites ever!), and Statistical. All the books on your list are either books that I ADORED or books that I desperately want to read. I haven't read *any* of these books yet, but at least 5 of them are on my to-buy list! I have yet to read all of these except Looking for Alaska, which was my least favorite by JG. I really need to read For Darkness Shows the Stars, Under the Never Sky, Tiger Lily (and another one of your recs: The Lost Girl). My reading year started out a bit rocky but then I hit this AMAZING stride and was picking all the right books for me! My list is a mix of old and new, fun and emotional but they all really stood out to me this year!! Ooh you have some of my favorites (2014) and some past ones (Fangirl, The Book Thief, Amy & Roger, Through The Ever Night)!! It was incredibly thought-provoking and just AHH I don't even have words for how much I love this one. They are some of the best contemporary books I've read in a while so you have some good reading ahead of you!! YOu should definitely read Since You've Been Gone soon ?? It made me smile just as much as To All The Boys! To see our content at its best we recommend upgrading if you wish to continue using IE or using another browser such as Firefox, Safari or Google Chrome.
BEST YOUNG ADULT FICTION OF 2014 THE GHOSTS OF HEAVEN BY MARCUS SEDGWICK (INDIGO) Marcus Sedgwick's beguiling novel about human longing, The Ghosts of Heaven, contains four separate stories.
This year saw the release of some epic high school love stories, final conclusions to series spanning years, and the introduction of new and lovable characters we can't wait to see again.
Booklist calls it "a breathless, grueling survival story kicked off by a gut-wrenching concept." Melissa Marr, author of the bestselling Wicked Lovely series, returns with a thriller. Out of the top 10 books, four of them were YA series: Harry Potter, Lord of the Rings, The Hunger Games, and The Chronicles of Narnia. Nielsen just released its annual list of the top-selling books of 2014 and YA fiction clearly dominated the year, nabbing 8 out of the ranking's 10 spots. Just One Day by Gayle Forman: Ok, so I know this is a 2013 release but it honestly was one of the best I read! The Sky Is Everywhere by Jandy Nelson: This book was one of the most beautiful books I read this year! Wanderlove by Kirsten Hubbard: This was just such a fun contemporary that just both satiated AND stirred up the travel bug that is oh so present in my life. Shatter Me by Tahereh Mafi: Holy page turner — I stayed up until 4am to read this one because WHAT IF I DIED IN MY SLEEP AND NEVER KNEW WHAT HAPPENED??
For Darkness Shows  The Stars by Diana  Peterfreund: This book was sooo unique and I just was easily transported to this world!
When she's not reading you can find her doing Pilates followed by eating ice cream, listening to music with oversized headphones and having adventures with her husband and dog. I really liked The Sky is Everywhere and Shatter Me (can't wait to read Unravel Me!!)…and a lot of the other books are on my TBR!
You have a few on here that I haven't read yet and you're making me want to get to them before the end of the year!!
And I've heard so many great things about Tiger Lily, but I haven't gotten around to reading it! And I love the fact that Wanderlove takes place in South America, so that will eventually get read as well.
I decided to include a blurb of sorts from my review and I'll link to the books below if you want to further check out my review! I've only read 4 of these, but the rest are absolute on my TBR and you totally have me wanting to read them sooner rather than later.
I feel like she's always able to do something different in each one of her books and always makes me feel SO MUCH! Lots of these are on my TBR list but I've yet to read any of them – definitely will get a move on now! Some of these will make great summer reads for you — Open Road Summer, To All The Boys and Since You've Been Gone!
With a mix of timeless coming-of-age novels, must-read sci-fi books, and contemporary classics, here is a range of sweet, funny, and inspiring reads you can bring to the beach and beyond.
I read that at the beginning of the year and then this Fall I got the chance to read Through The Ever Night and OHIOHWOGPIHW it is so good. A definite surprise for me because I didn't expect to love this one so much because I really didn't know much about it!
Your solo novels I've read so far have just blown me away (totes love your collabs as well). It does start off a little slow but I had this slow burn love for this story and by the end I was just wrecked! I just can't get enough of him and his writing and how I always THINK THINK THINK after I read his books.
Smith:  This was one of my most recent reads and well that's what I get for already making my End of Year Book survey post because this needs to get added!!
Tell me a few of your faves from this year that you think I would love and should read SOOOON!! The only one we share is Tiger Lily (LOVELOVELOVE), but I've read a lot of the other ones and they were AH-MAZING.
I'm trying to make sacrifices to the book gods to please not let me get in another slump like the one I was in in the beginning of the year.
Two of these books, The Sea of Tranquility and Since You've Been Gone, are on my wishlist.
After hearing that you stayed up late reading it, I can imagine it will be a memorable story! The Sea of Tranquility is one of those books that gutted me wide open but I absolutely adored. When she discovers that she can foresee people's deaths when they touch her, the mystery deepens.
In the ruins of a place once known as North America lies the nation of Panem, a shining Capitol surrounded by twelve outlying districts. The Capitol is harsh and cruel and keeps the districts in line by forcing them all to send one boy and one girl between the ages of twelve and eighteen to participate in the annual Hunger Games, a fight to the death on live TV. Partly because this book is so good and partly because I really slow down during this time. I suddenly feel like I need to spend the next two weeks doing nothing but reading all of these fantastic books! You can also check out my top ten favorite new-to-me authors of 2012 or my answers to my 2012 End of Year Book Survey wherein you'll get a bigger picture of my year in books!
Four high school girls team up to anonymously get their revenge on bullies in Gretchen McNeil's "Get Even." Billed as "The Breakfast Club" meets "Pretty Little Liars," "Get Even" centers on members of the Don't Get Mad club.
When one of their targets ends up dead, it seems that someone wants revenge on the revenge-takers themselves.
The classic tale of Cyrano de Bergerac gets a new twist in Kat Spears' "Sway." Jesse, known as "Sway," can get you anything you want for the right price or a favor.
While trying to help a bully get a date with nice girl, Jesse finds himself falling for her.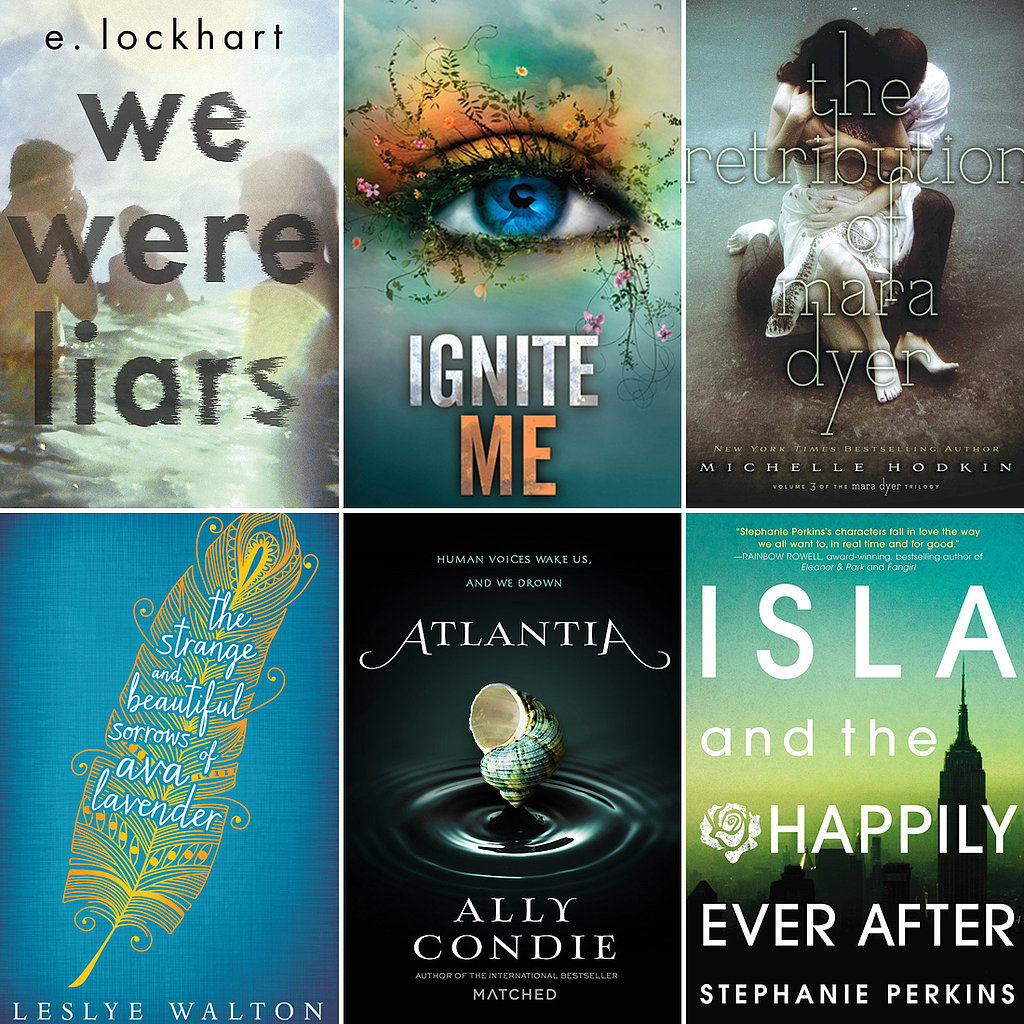 Rubric: Training First Aid