13.10.2014 admin
K-Gr 2-These titles offer independent readers imaginative stories, an opportunity to build vocabulary, and memorable characters.
In an unusual twist on the school field trip theme, a second-grade boy named Sam manages to take the class hamster along on a visit to the science museum. New Precious Moments for 2013 are now available.Over 400 fun and festive Precious Moments in stock and ready to ship!
Item Description:Get swept away by another heartwarming movie featuring beloved characters from Janette Oke! Ann's Gift Shop respects your privacy and will never sell or distribute your email address to any third parties.Please read our Privacy Policy for more details. Ann's Gift Shop is an independent dealer and is no longer affiliated with Hallmark Cards, Inc. Ann's Gift Shop does not claim any copyrights to the collections or pictures listed on this page.
I seem to be continuously searching for books that will pique my girls interests and motivate them to read.
In my efforts to provide you with a variety of choices I even enlisted the help of family and friends who openly also shared their children's favorites with me via Facebook (Don't you love social media?!). My girls enjoy reading mysteries and trying to figure out what happened before it's revealed in the book. Magic Tree House has been one of the most popular series in both my home and classroom over the years. Flat Stanley is such a fun series because there are so many different adventures to read and follow along with. Roscoe Riley is a 1st grader who always seems to find himself involved in some sort of mishap. This series has been around awhile and though it has chapters, the chapters are actually short stories. Here on Mom to 2 Posh Lil Divas you will find mom talk, family fun, learning ideas & resources, creative crafts, playtime fun, product reviews and giveaways and plenty of Lil Diva antics!Being a mom is its own unique kind of adventure! Enabling JavaScript in your browser will allow you to experience all the features of our site. So when his class takes a trip to the science museum, Sam decides to bring along something extra .
Mildred, which is about overprotective parenting, has the thinnest plot, but the endearing illustrations encourage readers to keep turning the pages. The hamster, George Washington by name, has the distinguishing trait of frequent sneezing, which proves critically important when George Washington is dropped into the museum's hamster display and must be retrieved.
It's wonderful to see her work through some of the word play and laugh out loud as she reads her books. My oldest started reading Young Cam Jansen in Kindergarten a few years ago and we added many of the books to our home library. Well the Clue Crew is a hip, modern version featuring a young Nancy Drew and her two best friends as they work together to uncover mysteries. Each book in this series features one of the main characters - the Critter Club members and a mystery involving an animal.
Bink and Gollie are friends who appear to be opposites but who actually complement each other in all the right ways. The illustrations are nice, the vocabulary is simple enough for independent readers but still entertaining plot wise that it will keep them reading. Second Grade tells of a boy who sits next to the class hamster and the trouble that ensues when he decides to take it along on a field trip.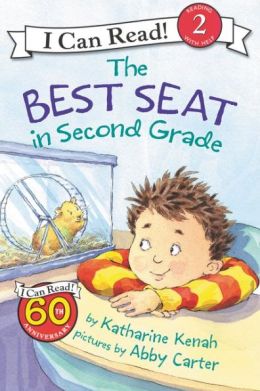 Lots of humorous details add to this mid-level easy reader's appeal, and the story will be enjoyed by newly independent readers as well as serving as a read-aloud in any classroom (or home) with a hamster as a pet. Besides these delightful easy readers about Room 75, Katharine has written The Dream Shop, Eggs Over Easy, and many exciting nonfiction books for children. As they preside over their growing family, their prairie house begins to feel crowded---but never too full to welcome new friends and neighbors from the frontier! She enjoys the chapter books even more than the originals because in these books Amelia is a little girl just like her, experiencing many things for the first time. My 2nd grader started reading these last year in 1st grade and we've gone through quite a bit of the series. My 1st grader was instantly taken with her upon reading the first book in the series where we find she can communicate with animals. This series is definitely geared towards girly-girls who will certainly find themselves endeared with the main character. The characters are their age, the adventures are fascinating and you learn interesting facts while enjoying the books.
The vocabulary is not difficult, the books are short (for chapter books) and they have color illustrations. The characters are funny, the illustrations are like a comic book and add to the appeal of the story. In an age where so much is fast paced it's nice to read a series that doesn't rely on magic, crazy kid antics, etc.
After a visit to the planetarium, the wind tunnel and other sites, Sam takes the hamster to the Animal Zone. First introduced in Big Max (HarperCollins, 1978), this title's star is a clever detective who dresses like Sherlock Holmes and travels via umbrella a la Mary Poppins. Carter's expressive watercolor illustrations help bring the kids in room 75 and their furry pet to life. You know what I mean - that book that hooks them and makes them want to keep reading long after you've called them to dinner or told them to go to bed.
The books are perfect for this age group as they make that transition into chapter books but still need pictures and fun to keep their attention for a longer (chapter) book.
They are engaging reads with characters that will appeal to this age group (especially girls). My older daughter wasn't as fond of the series because she's not the "beauty queen" type like my youngest it.
The books are great for this age group because they have a large font, illustrations and wording and vocabulary geared for younger readers. These books will keep your kids reading and working on those essential reading and comprehension skills.
The characters are relatable and the addition of animals will appeal to many young readers. My girls enjoyed correcting her grammar and mispronunciations - they always found it hilarious.
This series is great for 1st & 2nd graders who are delving into chapter books but still need illustrations (picture clues!) and a simplified vocabulary while telling an interesting and engaging story. These stories will appeal to any animal loving children and there are quite a few in the series to explore. The books are short and sweet introductions to chapter books for children that are ready to make the transition. When she's not making a racket in the kitchen, she stays busy illustrating many beautiful picture books and early readers.
The book that keeps them turning pages, till they reach the end and has them immediately wanting to pick up the next one in the series. This is a "newer" series that we look forward to following and reading more of as they are published.
After reading the first book in the series alongside my daughter, Posey had won me over and my little one was hooked. They are short (typically about 30-35 pages) and follow a chapter format with color illustrations interspersed throughout the book. This is a book we read together because it does have some some words that require assistance (which I love!).
The book is interspersed with fun comic strips, written by Stink himself, which new readers enjoy having. If you have a pink loving, performance giving princess at home - you'll want to try this series! They just keep coming out with more and I just keep buying them because it keeps my girls reading, haha. The earlier books are perfect for my 1st grader and my 2nd grader gets a bit more of a challenge from the more recents books in the series.
Nothing beats reading a book that makes you laugh out loud and Junie B always does that for us at some point in the story.
My girls had great success with these books and still read them as independent readers on their own. There are lots of books in this series and libraries are usually well stocked so you can enjoy them by the stack.
Fans of Marjorie Weinman Sharmat's "Nate the Great" series (Delacorte) will enjoy this whimsical mystery. I had a few of those in my childhood (Insert mental image of me reading the Babysitters Club by moonlight long after my parents told me to get to bed here) so I wanted to compile a list of our recent favorite series in the hopes that it would add a good read or two (or hopefully lots more!) to your book shelf. Posey is a spunky girl who gives voice to many of the same fears and wishes that most 1st grade girls have.
The newer ones are a bit longer with more complex vocabulary which has allowed us to transition right along with the series. Beginning readers will be motivated by these clever tales and pore over the imaginative illustrations.-Laurel L. My daughter always figures them out before the Clue Crew and ends with a "See, I told you!" as we turn the last page. CruzJune 1, 2014 at 12:22 PMAnother series to add to your list is the A to Z mysteries by Ron Roy. The next day, Sam suggests they move George Washington's cage to the front of the classroom. Posey is the kind of character that will endear little girls and not leave parents cringing.
Expressive faces and clues in the illustrations of this "An I Can Read Book" will encourage emergent readers.
The humor in the story and illustrations is just right for the reader who has developed some proficiency in reading.
Rubric: Survival First Aid Kit