24.12.2013
Server virtualization juggernaut VMware pretty much owns the hypervisor and management tools market for enterprise data centers on x86 iron, but if it wants to keep parent EMC and therefore Wall Street happy, it can't rely on servers alone.
This plan includes its Horizon Application Manager, its Project Octopus enterprise-grade file sharing, and its View virtual desktop infrastructure (VDI) applications. Last May, VMware rolled out the central hub for controlling end user access to applications and files, called "Project Horizon" and then commercialized as the Horizon Application Manager. Last August VMware updated Horizon App Manager, the number of SaaS apps that have SAML connectors ready for Horizon was boosted from 15 to 45 in the May release. With Horizon App Manager 1.5, which Vittorio Viarengo, vice president of end user products at VMware pitched to El Reg as a "personal cloud broker," VMware is adding the promised ability to do ThinApp application provisioning, and VMware is working on support for Microsoft's App-V and Citrix Systems' XenApp alternatives.
The new View 5.1 VDI stack also snaps into Horizon App Manager, and perhaps more importantly, the vCenter Operations Manager console plug-in for the vSphere server virtualization stack now knows how to reach into View and do troubleshooting on desktop performance.
In my last article on Evaluating VMware vCenter Operations Management Suite, I covered how VMware vCenter Operations Management Suite stacked up to my list of 9 questions to ask when selecting any virtualization management tool.
Thus, let's analyze the major components in the Advanced and Enterprise editions of the vCenter Operations Management Suite. Because vCenter Operations Manager is an agentless performance monitoring tool, there is some application insight that it is lacking if you want to delve into something like SQL Server transactions per second (TPS), Exchange Server inbound messages per second, or similar. The latest version of VIN even allows you to use the knowledge gained to create protection groups and recovery plans that are compatible with VMware's Site Recovery Manager (SRM).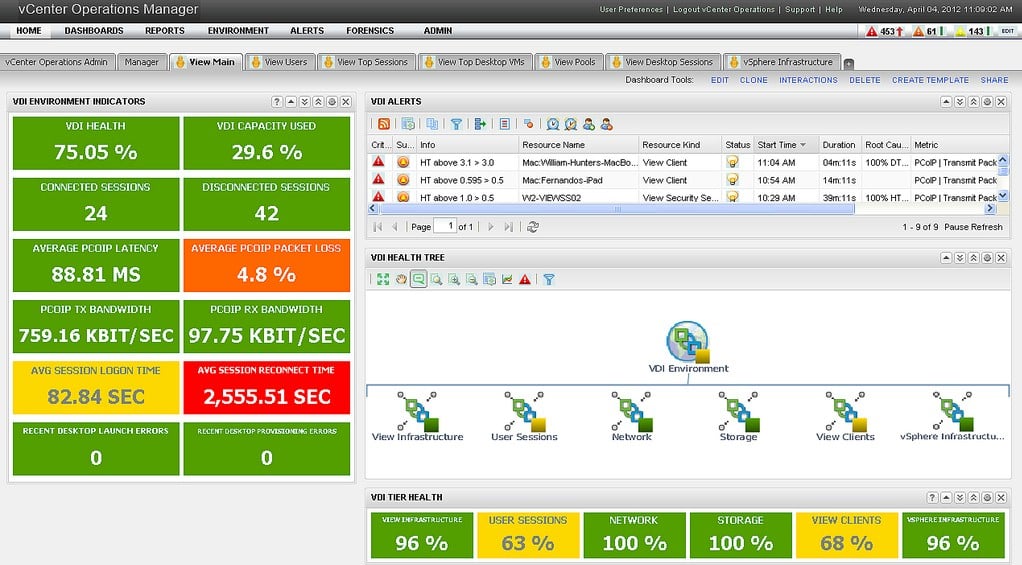 At this point, we learned about advanced components like VCM, VIN, Hyperic, and the custom dashboard – all of which are part of vCenter Operations Manager Advanced. For example, the new extensibility with with Oracle, NetApp, and EMC found in vCenter Operations Manager Management Packs, is available from the VMware Solution Exchange. In summary, there is a lot more to the vCenter Management Suite than just vCenter Operations Manager. The VMware Virtualization & Cloud Management Blog brings you the latest news and highlights on virtualization management, especially related to management products from the VMware vCenter product family.
VMware vRealize Operations Manager for Horizon extends operations management to Horizon (with View) deployments.
All of these are in various stages of completion and sophistication, but are also being integrated to provide a single way to manage the hairball of access to all kinds of applications (running on servers, PCs, or the cloud) and files in a button-down manner that enterprises expect.
This was done either through the Security Assertion Markup Language (SAML) variant of XML or an enterprise connector that VMware cooked up and dropped into an ESXi virtual machine that acts as gatekeeper, in conjunction with LDAP.
The August tweak (Horizon maddeningly does not have release numbers) also allowed for apps to be pushed to Android devices as well as using the Horizon Mobile type 2 hypervisor for Android (formerly known as MVP) that VMware bought and now controls. Hyperic is used to collect data from there special use cases so that you can analyze it in vCenter Operations Manager. With the custom dashboard capability, you are able to shape vC Ops into your own custom management tool by designing your own dashboards.
Radius two-factor authentication (for those of you who aren't provisioning View seats through Horizon App Manager) is now part of the View Connection Server. Many of you may be interested to find out that Configuration Manager works for not just your virtual infrastructure but also on your physical servers and even servers running offsite in a public or hybrid cloud. Sure, vC Ops has a nice interface already, but by being able to customize different dashboards for different types of users in your company, you'll be able to, for example, provide application owners their own dashboard, database managers their own dashboard, and vSphere admins all their own custom dashboards. When the time comes to select an edition for your company, hopefully this more comprehensive understanding of what makes up the vCenter Operations Management Suites will help you to make the right choice. Additionally, Chargeback can be monitored through its own vCenter Operations Manager built-in dashboard plugin. To ensure compliance, Configuration Manager uses security best practices developed by the Defense Information Systems Agency (DISA), the National Institute of Standards and Technology (NIST), and the Center for Internet Security (CIS).