Vin 909 eastport yacht,vin decoder plymouth yarn,grammar check key spotlight 10 - PDF Books
Maryland's state capital Annapolis boasts a varied, vibrant community of restaurants offering local foodies everything from authentic Italian and Spanish cuisine to award-winning seafood and seasonal, farm-to-table fare.
Informal French fare and an elegantly cozy interior have made Les Folies Brasserie one of Annapolis' most raved about restaurants since veteran chef and owner Alain Matrat opened its doors in 1999.
A must-try dining destination for fans of fine food and history, Reynolds Tavern is not only the oldest tavern in Annapolis but also one of the oldest in the country and a fine example of local Georgian architecture to boot. One of the area's most lauded restaurants, Osteria 177 was founded by Verona-raised owner and chef Arturo Ottaviano in 2006 and has since welcomed a steady stream of guests who leave raving about the restaurant's authentic northern Italian fare. With its lovely location on the shores of Spa Creek, it's not surprising that Carrol's Creek was voted the city's favorite waterfront restaurant in What's Up? Located in a beautifully converted bungalow in Annapolis' charming Eastport neighborhood, Vin 909 has been delighting local diners with its seasonal, farm-to-table fare and stunning wine selection since 2011. For a laid-back evening of great beers and delicious seafood, local diners in the know head straight for Boatyard Bar & Grill — an Eastport dining destination since owner Dick Franyo set up shop in 2001. Owners Gonzalo Fernandez, a native of Asturias, and Oaxaca-born Alberto Serrano came together in 1999 to open Jalapenos, and the restaurant's raved about cuisine is a perfect combination of the Spanish and Mexican heritages. Founded in the spring of 2015 by husband and wife duo and Culinary Institute of America graduates Jeremy and Michelle Hoffman, Preserve is a casual and contemporary American restaurant with a focus on seasonal produce.
Voted Annapolis' best seafood restaurant countless times since its first opened back in the 1980s, O'Leary's is a pescatarian's paradise. Located in the heart of historic downtown Annapolis, the cozy, kitsch deli is known for its delicious diner food and boasts a menu featuring everything from breakfast fare and pizzas to burgers and its legendary piled-high sandwiches.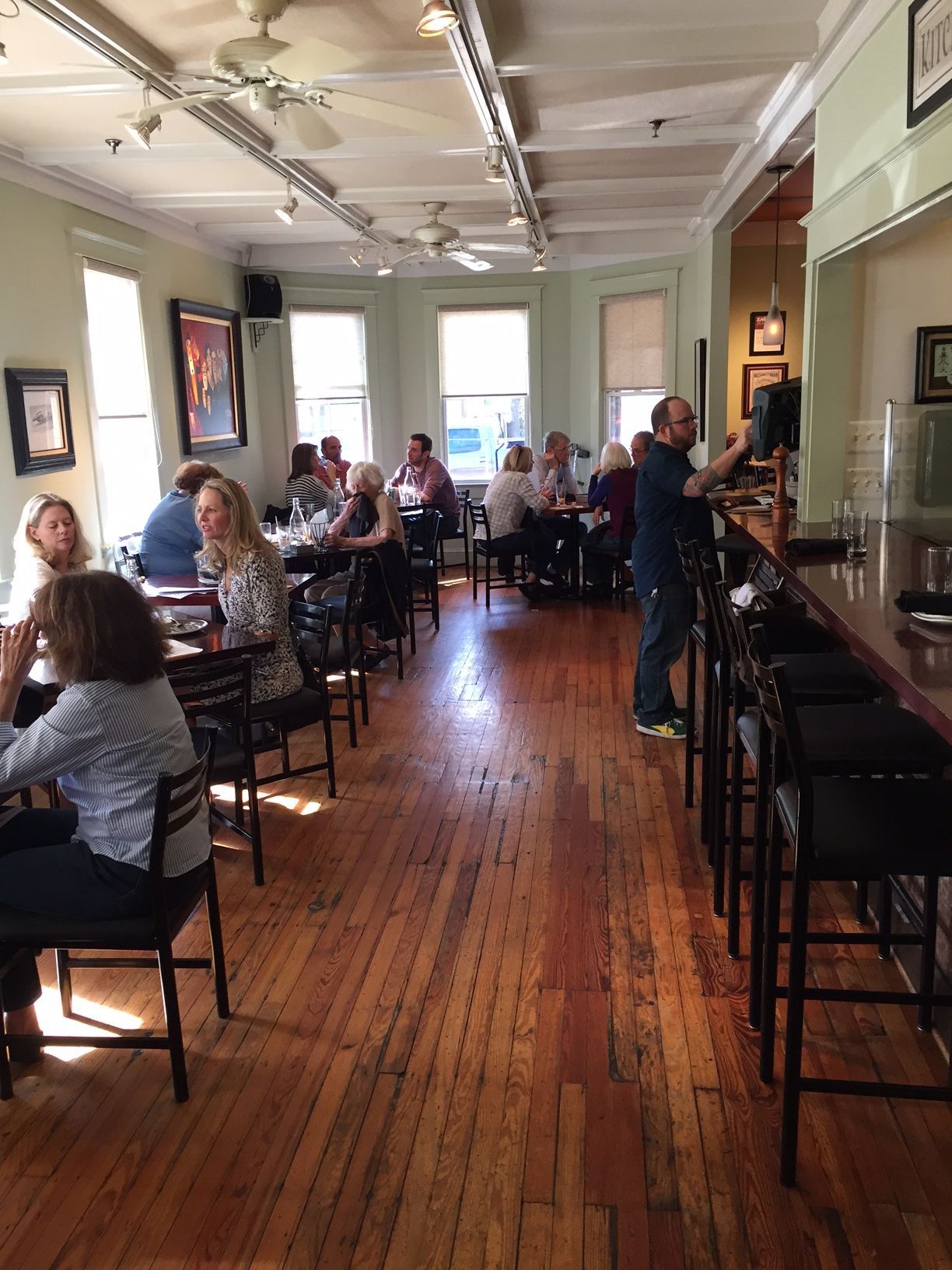 Rustic, regional recipes like fresh foie gras sauteed with caramelized apple and coq au vin with pearl onions, mushrooms and bacon are complemented by indulgent desserts like chocolate souffle and dacquoise hazelnut cake. A traditional English afternoon tea is served in the tavern's restaurant, followed by a dinner menu of contemporary American plates like the shrimp and grit appetizer with bacon tomato jam and tasso ham gravy and the Chesapeake crab cake entree with succotash and mash potato.
Elegant appetizers like beef carpaccio with arugula, parmesan and capers are combined with exquisite entrees such as duck breast with fresh blueberries in port wine sauce or homemade gnocchi with gorgonzola cheese sauce — perfectly paired with one of Osteria 177's carefully selected range of Italian wines. Magazine's 2015 Best of Annapolis Awards, but its charming locale isn't the only thing that's kept diners coming back for more since the restaurant first opened over 30 years ago. While owner Alex Manfredonia and Executive Chef Justin Moore class Vin 909's ever-changing menu as American, eclectic influences come out in dishes like pan-fried rockfish with egg noodles and green chili curry broth and the restaurant's much-loved brick oven pizzas (heads up: try the 'spotted pig' topped with spicy soppressata, wild boar meatballs, mozzarella, basil and provolone). Inside, the restaurant is a tribute to all things Chesapeake Bay with plenty of wood, nautical colors and maritime memorabilia setting the scene for dishes like spicy Maryland crab soup with beef broth, bacon and lump blue crab meat and the Boatyard's specialty beer-battered cod served with crispy French fries and homemade tartar sauce. Alberto's brother Chef Obed Serrano heads up Jalapenos' kitchen, cooking a wide range of tapas and antojitos — think Spanish-style chicken meatballs with brandy cream sauce or Oaxaca-style guacamole — and bigger plates like traditional Mexican mole with chicken and the salmon a la Navarra (filet of salmon sauteed with Serrano ham, capers and white wine). Despite being a relative newcomer, it is already staking its claim amongst the Annapolis dining scene. Located in a beautiful, bright blue bungalow in the city's Eastport neighborhood, O'Leary's smart dining room sets the perfect backdrop for sampling its creative, eclectic seafood — the Jamaican-style salmon with rice and peas, jerk spices and smashed avocado and the grilled scallops with crab risotto and sauteed spinach are just two tempting options. Naturally, plenty of fine French wines are served, and fans of seafood will love Les Folies' raw bar — the biggest in the Washington and Baltimore area, the bar offers fare like Blue Point oysters, littleneck clams and Taylor Bay scallops. Head downstairs to the 1747 Pub, located in the tavern's cozy cellar, for casual fare like bangers and mash or a burger served up alongside craft brews.
Its interior is just as elegant as its menu, with a chic art deco space complemented by modern art and stylish chandeliers. Seafood and steaks are Carrol's Creek's specialty, and guests will find local favorites like Maryland cream of crab soup alongside elegant entrees like almond-crusted mahi mahi with sugar snap peas and tropical fruit salsa or grilled filet mignon with caramelized sweet onions, wild mushroom saute, scalloped potatoes and a cabernet glace de viande. Vin 909's wine list might not be the biggest, but it's well thought out with carefully selected offerings from Europe and America. Regular live music and annual events like Boatyard's charity Beach Bash offer extra entertainment. Jalapenos' drinks are just as authentic as its eats with plenty of Spanish and Mexican beers, tequila and sangria on offer. Its concise, but tempting menu features creative dishes like pan-roasted Rhode Island fluke with chow-chow and cauliflower puree and gnocchi with kimchi, oyster mushrooms and crispy onions, while weekend brunch offers diners fare like fried egg grits with roasted vegetables and pea shoots or cinnamon chip French toast with whipped cream and maple syrup served alongside mimosas and bloody marys.
Finish with an indulgent dessert of bread pudding or Chicago-style cheesecake and wash it down with one of O'Leary's signature craft cocktails. Food Challenge where consuming a six-pound milkshake and a colossal one-and-a-half-pound burger or sandwich within one hour wins daring diners a t-shirt, but if you try just one thing, make sure it's Chick & Ruth's jumbo lump crab cakes — they're often hailed as the best in all of Maryland.