This free woodworking plan will help you make a wooden nesting box suitable for a woodpecker family, similar to the bird house shown at right. For general directions and sound advice, check out Build the Right Bird House, which includes a chart showing recommended dimensions for a variety of nesting boxes.
You can follow the basic plan outlined here, but attract different species of woodpeckers, or flickers, by adjusting the measurements of the bird house floor, the size of the entrance hole, and the size of the nesting cavity.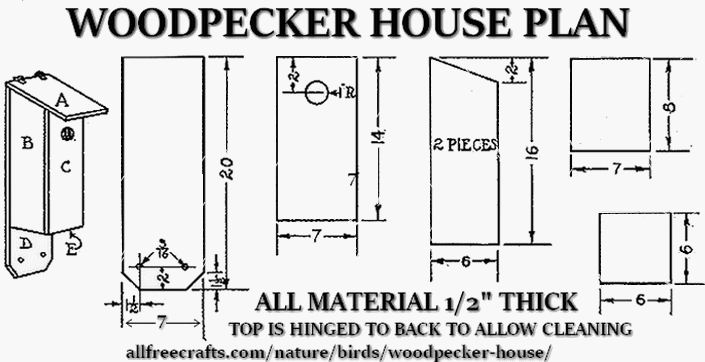 Although the schematic plan was originally published in 1916, in the book, Bird Houses Boys Can Build, by Albert F. A nesting box for a Downy Woodpecker should be mounted from six to twenty feet above the ground; for a Hairy Woodpecker, twelve to twenty feet high. Siepert, the nesting requirements for these engaging birds hasn't changed very much in nearly 100 years.