John- I'd love pictures once you've turned that lumber into something fit for a picnic! I am also using a pocket jig to hide all my connections under the bench and where they will be less noticable.
I know we have a picnic bench that we look forward to bringing out from the garage this year! Otherwise, the plans are great and saved us hours of mocking up (and probably mucking up) the table and benches. I built this years ago, so I don't remember the exact price, but it was comparable to the wood picnic tables you see for sale at big box stores or lumber yards. I've always wanted one of these classic picnic tables, and then I stumbled upon this!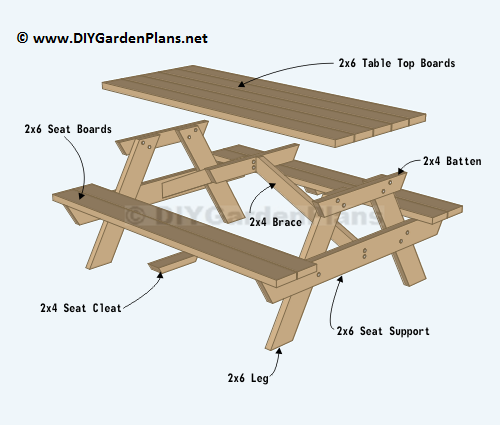 This basic picnic table design calls for five cutting patterns only, making it low-cost and easy to build. We realize that not everyone has the time or the facilities to construct the "polygonal picnicker" described in Build a Hexagon Picnic Table.
I made a couple of modifications, making the table and benches a few inches longer, and using a whole lot more powertools than they suggest. Ironically, we were faced with a similar situation ourselves last summer when we needed to build a veritable fleet of utilitarian dining structures for use by the folks who camp out at the Eco-Village. Since we were building so many tables, no one managed to keep close track of the number, but it looks to have been over 40!
If you still want to go with PT then build it and let it sit in the sun and weather for several months to dry it out, not using it, then paint it with an outdoor latex paint to seal the PT stuff inside.
PS: I used Hubs big screwed down clamp on his bench to hold my wood while i was using the sawsall and chiseling. Next, following the cutting diagrams, saw out one bench support and one leg from each of two 2?4's. Make each four-piece unit by positioning a tabletop support and a bench support beneath two legs, as shown in the accompanying illustration, and nail the components together.
Then carefully turn the unit upside down and attach the two 45° braces as shown. There it is: Your picnic table is complete!