I thought I would give you a peek and show you what's growing in the greenhouse right now.
I think this may be the last week for daffodils and grape hyacinth flowers in front of the greenhouse. This entry was posted in Gardening, Homesteading and tagged chickens, greenhouse, raised beds, self-watering containers, tomatoes, Topsy Turvey planters.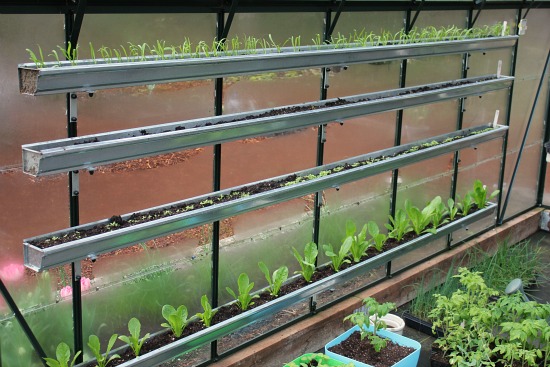 I planted two tomatoes in the first bin, but perhaps I will try one or two bins with only one tomato and see how much of a difference it makes in their growth. I do think I will invest in a greenhouse fan this year, so if you have any ideas on what brand or type I should buy please let me know in the comments below. In spite of a weather forecast that predicted mostly cloudy weather today, it was really mostly sunny, making the greenhouse quite warm.