This basic picnic table design calls for five cutting patterns only, making it low-cost and easy to build. We realize that not everyone has the time or the facilities to construct the "polygonal picnicker" described in Build a Hexagon Picnic Table. Though I have to admit, I already have plans for a kids picnic table in a woodworking book.
Since we were building so many tables, no one managed to keep close track of the number, but it looks to have been over 40! Next, following the cutting diagrams, saw out one bench support and one leg from each of two 2?4's. Make each four-piece unit by positioning a tabletop support and a bench support beneath two legs, as shown in the accompanying illustration, and nail the components together.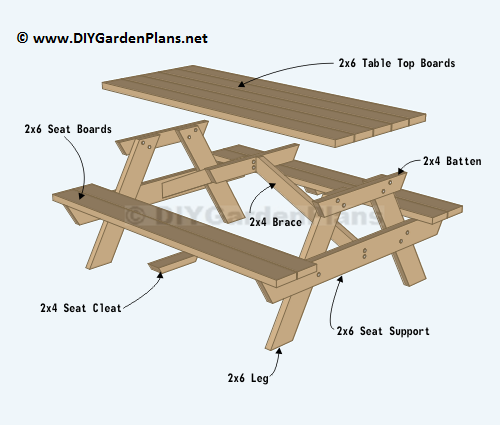 Then carefully turn the unit upside down and attach the two 45° braces as shown. There it is: Your picnic table is complete!