December 31, 2014 by Julie 20 Comments The Top 10 Most Popular Posts of 2014 series continues today with a glimpse into the top 10 most popular PBF workouts of the year according to pageviews.
This is a roundup post of some of my all-time favorite boot camp-style workouts in one place.
I love this workout because you can easily do it in front of the TV at home in your living room. Completing this circuit two times through will take you through a challenging total-body boot camp workout.
This is one of the first workouts I posted last year and I loved it so much that I ended up creating several variations!
You always have the best workouts (they're not overly complicated) & make them so pretty too! I meant to leave this comment on your Piyo Choreography Study Time post but didn't get around to it until today.
About 2 years ago I started screencapping your workouts on my phone, and created a little stockpile for myself. It's a great resource if you're looking to quickly find a workout that will make you sweat!
After completing each exercise for 45 seconds, the idea of going through the circuit again and only doing each exercise for 30 seconds makes it easier to motivate myself to tackle another round.
I love putting these posts together because they organize my workouts by category making them much easier to find!
The ones I haven't tried are getting saved for my New Year's Day workout session! I end up doing a lot of the same things since I am a creature of habit, so I'm glad you have all these different variations!
I'm Julie and I am a new mom, personal trainer and blogger living in Charlotte, North Carolina.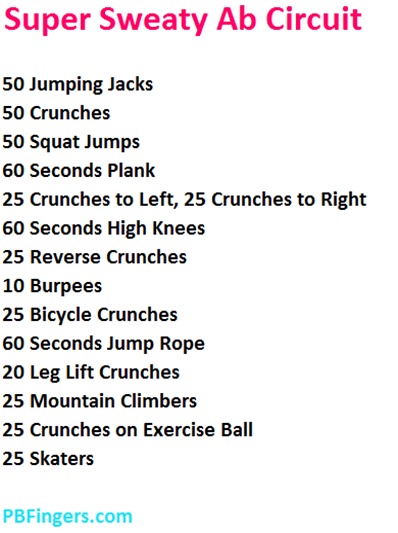 This workout incorporates running and incline walking for a sweaty 30-minute cardio workout. I hope you enjoy little glimpses into my life and have fun trying the sweaty workouts I frequently share and making some of my favorite recipes along the way!
Peanut Butter Fingers follows my life and my interests in food, fitness, family, travel and (mostly) healthy living.
Comments to «List of workout moves»